I love tzatziki! I could stop there! I just love it…so fresh and healthy too! Healthy Tzatziki!
Whether it be with a traditional Greek gyros, a healthy substitute for sour cream with fajitas, or just a simple summer dip with pitta bread or celery, carrot and cucumber crudities. It is just fantastic! Yum Yum!
Now we all know we can buy it from the local supermarket but its never as good as making it yourself and with only 7 simple ingredients it can be knocked up in next to no time.
Now one important thing to note is to use the right Greek yoghurt. Both thick and thin Greek yoghurt will work but thin yoghurt is more suitable for sauces. For healthy tzatziki make sure you use thick Greek yoghurt. It is by far the best.
Finally, it's key to make sure the cucumber is drained for as long as you can. Preferably overnight. A cucumber is over 90% water so a poorly drained cucumber just makes the healthy tzatziki watery where really you want it nice and creamy in texture.
The recipe below is so easy so don't wait for summer. Just get on and make it always keep a bowlful in the fridge.
1. The Cucumber
As I said above, a cucumber is 90% water and you have to remove as much of this as you can. The good thing is that the majority of this water is in the centre of the cucumber, where the pips are.
Firstly, therefore, slice the cucumber in two lengthways and scoop the seeds out with a teaspoon. Once de-seeded the cucumber should look something like this:
Now you need to grate the cucumber. I use the normal cheese grater for this and use the standard cutting side as if you were grating cheddar. Once grated put the cucumber on a small sieve, add a pinch of Maldons sea salt and place on a bowl or measuring jug so the water can drip out. This will take at least a couple of hours and, if you have time, leave it in the fridge overnight.
2. The Garlic
Take the garlic cloves and crush them in a pestle and mortar. You can use a garlic crusher if you don't have a pestle and mortar but once crushed add a couple of good glugs of extra virgin olive oil and mix.
Now add this to the yoghurt and stir in the garlic.



3. Add the rest of the ingredients
Firstly finely chop the dill and mint and add this to the garlic and yoghurt mix. Now add the juice of one lemon and mix it all together.
Next, take the drained cucumber and lay it out on some kitchen paper. Pat it dry to remove as much of the remaining moisture as possible and add to the yoghurt mix. Add some seasoning and the give it another good mix.
4. Serve and eat!!
Spoon the healthy tzatziki into a serving bowl and use as a dip for pitta bread, crudities or whatever you like! For me, I like to use my parsnips crisps for a really healthy little snack. Far healthier than dipping your Doritos in cream cheese! ???? Yum Yum!
Ok food lovers that's it for this instalment. As always the printable recipe is below so why not give it a go? Let me know how you get on and if you have any questions just use the comments box below.
Enjoy my friends and until next time…
5. Printable recipe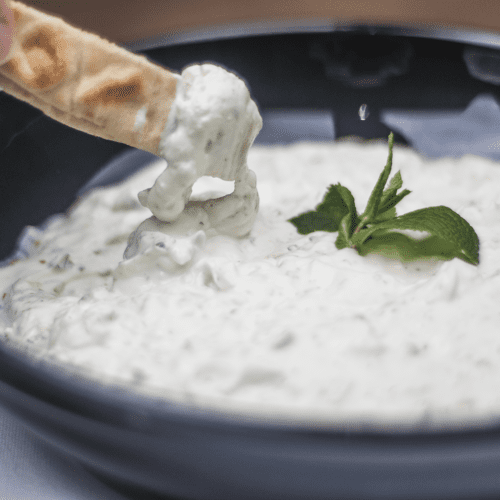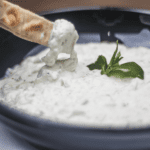 Cool, Fresh and Healthy Tzatziki
Course:
Dip, Lunch, Side Dish, Snack
Ingredients
1

tub of 500 grams of thick or strained Greek yogurt

2

cloves of garlic

1

handful of mint

1

handful of dill

1/2

cucumber

1

lemon

Extra virgin olive oil

Seasoning

Pitta bread for dipping
Instructions
Firstly cut the cucumber in half and remove the seeds. A cucumber is around 90% water and most of this is held in the centre.

Next grate the cucumber on a normal sized grater, the same as you would use for cheese, and then place the grated cucumber in a sieve, add  a pinch of Maldons sea salt and then place on a bowl or jug to strain the excess water. The straining will take a couple of hours but strain over night if you have the time.

Now crush the garlic in a pestle and mortar and add a good glug of extra virgin olive oil.

Spoon the yogurt into a large bowl and add the garlic and oil and stir well.

Finely chop the mint and the dill and add this and juice of one lemon to the yogurt and garlic mix and stir well.

When the cucumber is strained remove and lay on some kitchen paper and pat as dry as possible. Then add this to the yogurt and add a good pinch is salt and pepper and stir well.

Add to a serving bowl and dip toasted pitta bread for a wonderful snack.