Hey guys and girls! Smoothie time again. This time it's a touch of green, red and yellow. A green tea, raspberry and banana smoothie to be more precise. Another healthy start to the day with the added advantage of the green tea to make it antioxidant-rich. Yep, that's right. Low fat. Low cholesterol. Plus a bit of de-tox mixed in. You'll be bouncing to work!!
So let's make it…




1. Get the ingredients together
Only 7 ingredients for this one, and, I bet you have most of these kicking around the house already. Some green tea bags, honey and vanilla essence in the cupboard. Milk in the fridge. Frozen fruit (I've used raspberries but you could use any) in the freezer. a banana in the fruit bowl.
As always, remember the printable recipe below only makes 1 smoothie so just scale up if you need more.
2. Brew the tea and sweeten
The first thing to do for this green tea, raspberry, and banana smoothie is to add the green tea bag to the boiling water and brew for 2-4 minutes.
Once brewed, add the honey and dissolve into the tea.
3. Put the ingredients in the blender and blitz
Use a food processor if you have one, although, a glass and a stick blender will do. It all ends with the same result.
That's it. Just pour and drink. A wonderful, tasty, healthy, de-tox smoothie to start the day.
I hope you enjoyed this short post. If you try this smoothie do let me know how you go on. I'd love to hear from you.
Also, remember, this is just one of an ever-growing series of smoothie recipes. Check out the smoothie page by clicking the photo below. And remember to bookmark it. I'm continually adding to this. ????
Until the next one… Steve.
5. Printable recipe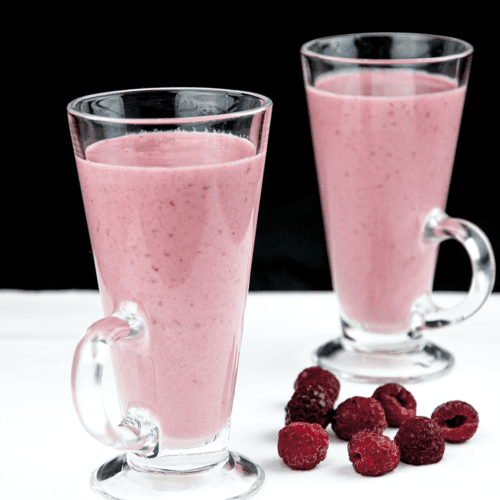 Green Tea, Raspberry and Banana Smoothie
Green tea, raspberry and banana smoothie. Not only tasty and healthy but antioxidant-rich too!! What a great start to the day! Yum! | theyumyumclub.com 
Cuisine:
American, English
Keyword:
banana, green tea, raspberry, smoothie, Vegetarian
Ingredients
3/4

cup

milk

1 1/4

cups

frozen raspberries

1

banana

1

green tea bag

1

tsp

honey

1

tsp

vanilla essence

4

tbsp

warm water
Instructions
Get all of the ingredients together.

Brew the green tea in the water for around 5 minutes.

Mix the honey and vanilla essence with the milk.

Remove the tea bag from the water and place all ingredients, including the tea (less bag) in the blender.

Blitz, pour and enjoy the start to your day! Yum.