Well, it's smoothie time again! Are you ready for a great start to the day? Today it's pineapple! One of my favourite fruits. And this is such as a simple smoothie recipe. Just 3 ingredients. Pineapple,  vanilla yoghurt, and ice. That's it!!
What's more, this Pineapple Perfection is zero fat, low in cholesterol and only 274 calories. What a great start to the day…
So let's make it…
1. Get the ingredients together
As I said, only 3 ingredients for this one. Make sure the vanilla yoghurt is zero fat. No reduction in taste I can assure you. Also, try and buy a nice and ripe pineapple. Just press it at the shop and go for the softest. This will ensure a really sweet and juicy smoothie.
A quick tip, if the pineapple is not that ripe then just cut away and discard the core. It's this part that ripens last.
As always, remember to note the serving size in the printable recipe below. This one is for 2 smoothies so just scale up or down as you need.
2. Put the ingredients in the blender and blitz
Use a food processor if you have one. A glass and a stick blender will also do. The result will be the same.
That's it. Just pour and drink. A wonderful, tasty, healthy, de-tox smoothie to start the day.
I hope you enjoyed this short post. If you try this smoothie do let me know how you go on. I'd love to hear from you.
Also, remember, this is just one of an ever-growing series of smoothie recipes. Check out the smoothie page by clicking the photo below. And remember to bookmark it. I'm continually adding to this. ????
As always, thanks for reading and until the next one… Steve.
3. Nutritional values
4. Printable recipe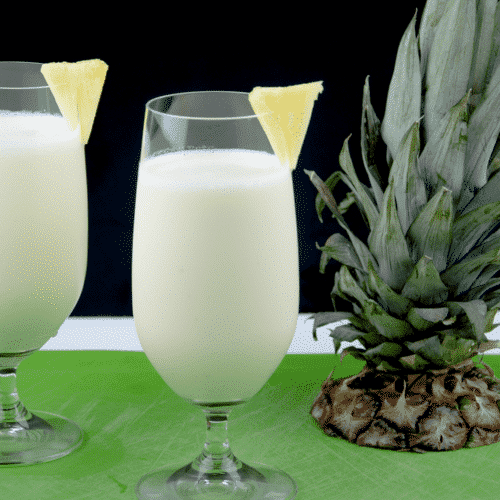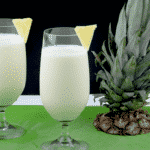 Pineapple Perfection
Start your day with the perfect pineapple smoothie. Just 3 ingredients! Pineapple, vanilla yoghurt, and ice. Simple. Zero fat and only 274 calories! Yum!!  
Cuisine:
American, English
Keyword:
pineapple, smoothie
Ingredients
2

cups

pineapple chopped

2

cups

vanilla yogurt
Instructions
Get all of the ingredients together.

Blitz, our and enjoy pineapple perfection.