Smoothie time again my friends! "But what's on the menu today Steve?", I hear you all cry. Don't you worry Foodies. You'll never go hungry in The Yum yum Club. The larder is always full here!!
Today, I can reveal the most wonderful and tasty Cherry and Banana Smoothie. This is a good one I can tell you. Just look at these couple of beauties.
I do have to confess that before today I had never tried this recipe. It's just that I was walking through my local grocery store and over in the frozen fruits were these wonderful frozen cherries. My mind went racing and an hour or so later here we are. Cherry and banana smoothie. Yum!
So let's make it…
1. Get the ingredients together
Only 4 ingredients for this beauty. Just 200 ml milk, a banana, a couple of cups of the fantastic frozen cherries and a touch of vanilla essence. That's it.
Once the ingredients are together the only prep is to add the vanilla essence to the milk and give it a quick stir before blending.
2. Blend and blitz
Use a food processor if you have one but a stick blender will also do the job. The result will be the same.
And that's it. This is quite a thick smoothie, mainly due to the cherries being frozen. If too thick you can either add a little more milk or just leave it for 5 minutes or so to warm up a little.
For me, I just wolfed it down. Yum!
I hope you enjoyed this short post. Give it a go and let me know how you get on. I'd love to hear know.
Also, remember, this is just one of an ever-growing series of smoothie recipes. Check out the smoothie page by clicking the photo below. And remember to bookmark it. I'm continually adding to this. Yum! ????
As always, thanks for reading and until the next wonderful smoothie… Steve.
3. Nutritional values
4. Printable recipe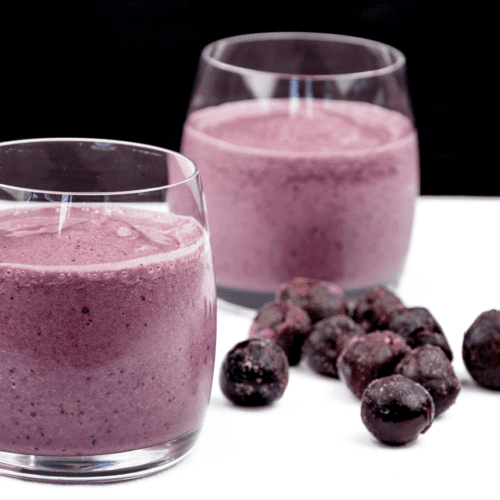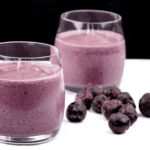 Cherry and Banana Smoothie
Look at this wonderful cherry and banana smoothie. Just 4 ingredients! Cherry, banana, milk, and a touch of vanilla essence. 1% fat and only 324 calories! Yum! | theyumyumclub.com
Cuisine:
American, English
Keyword:
banana, cherry, smoothie, Vegetarian
Ingredients
1

banana

1

tsp

vanilla essence

200

ml

milk

2

cups

frozen cherries
Instructions
Gather all of the ingredients together.

Mix the vanilla essence with the milk and then add all of the ingredients to the blender.

Blitz, our and enjoy. Yum!