A 6 ingredient smoothie can be viewed as a little unnecessary. But when you have the Ultimate Detox Smoothie as a result then you can excuse a little excess. This bad boy (in the good sense) has so many great health qualities it hard to believe. I run through a few of them below but what's more amazing is how good it tastes. It has 233 calories only per glass and zero cholesterol. Full of antioxidants and just so different to the average frozen fruit smoothie.
I give you almond milk, bananas, honey, turmeric, cinnamon and honey. I give you the ultimate detox smoothie…
1. A closer look at the ingredients
As with most of my smoothie posts, I like to take a closer look at the health benefits of some of the key ingredients. I've used all of the ingredients before in other smoothie recipes, apart ginger and turmeric. So let's have a look at these.
a) Ginger
Ginger contains gingerol which contains many medicinal properties including anti-inflammatory and antioxidant properties. It's also great at reducing muscle pain and soreness. In addition, and what a lot of people know ginger for is reducing feeling of nausea, especially feeling of morning or motion sickness.
b) Turmeric
Turmeric is a powerful anti-inflammatory and antioxidant. It also helps to prevent heart disease, Alzeimer's disease and cancer.
Turmeric and ginger, combined together, are very strong antioxidants which is why I have named this The Ultimate Antioxidant Smoothie. So let's make it…
2. Gather all of the ingredients together
There are 6 ingredients in this smoothie, so a little more than normal. However, it's still a simple recipe to make. All you need is 300 ml almond milk, 2 tbsp chia seeds, 1 tbsp each of ground cinnamon and ground tumeric, 1 tbsp of honey and 2 bananas.
3. Prepare the chia seeds
The chia seeds will be dried so to avoid the smoothie being a little crunchy you should soak them in the almond milk for 5-10 minutes prior to blending. Nothing more difficult than mixing the two together and waiting. Easy.
4. Blend, blitz and enjoy
With the chia seeds soaked, simply add all of the ingredients to your blender and blitz until smooth.
Once smooth you'll have a wonderful smoothie. In fact, the ultimate detox smoothie. This is a really good one. A great start to the day and fantastic as part of any detox plan.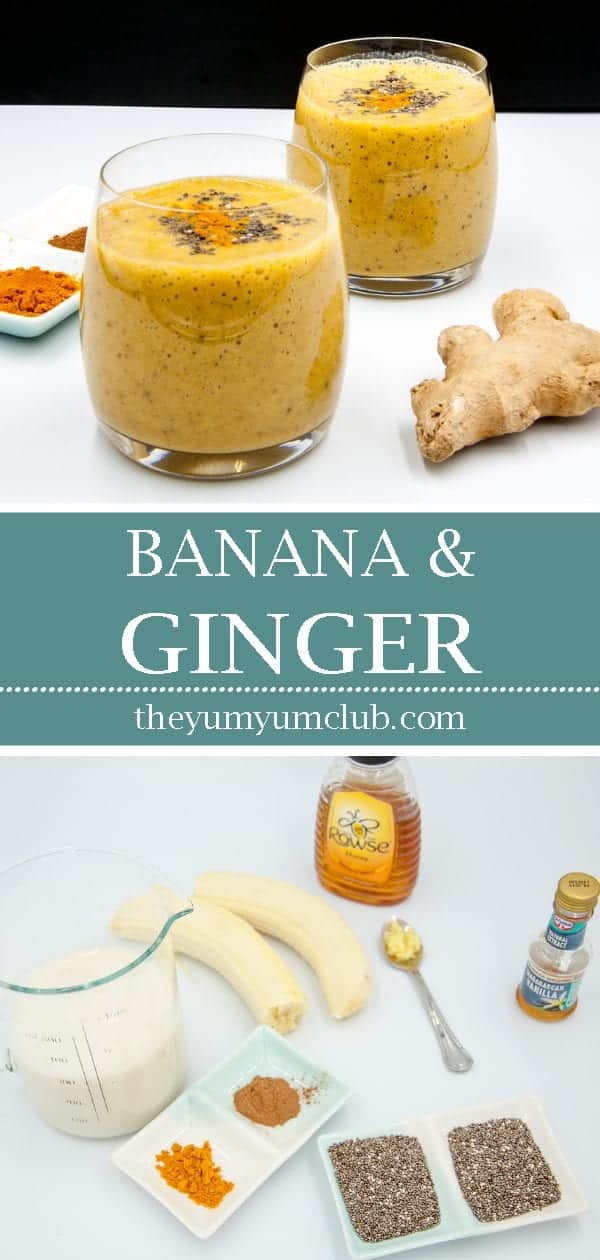 I hope you enjoyed this short but healthy post. If you want to see many more great recipes from The Yum Yum Club just sign up to our newsletter at the top of this page or try clicking any of the below…
As always, many thanks for reading and until next time… Steve.
5. Nutritional values
6. Printable recipe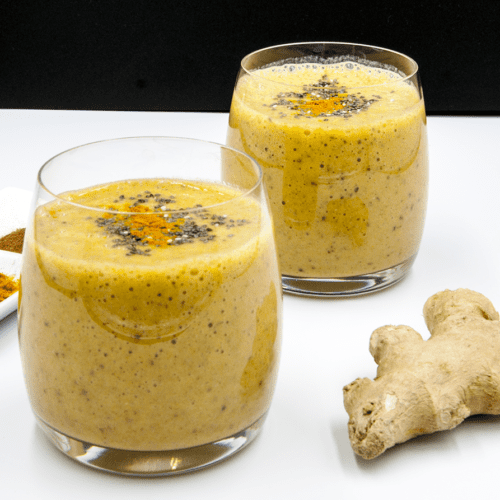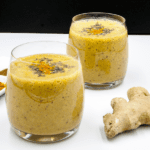 The Ultimate Detox Smoothie
This really is the ultimate detox smoothie. A great base of banana and almond milk. Then, the magic... Fresh ginger, turmeric and chia seeds. Wow!! | theyumyumclub.com
Course:
Breakfast, Lunch, smoothie
Cuisine:
American, English
Keyword:
almond milk, banana, chia seeds, cinnamon, Healthy, honey, smoothie, turmeric, Vegan, Vegetarian
Ingredients
300

ml

almond milk

2

tbsp

chia seeds

2

bananas

1

tsp

cinnamon

1

tsp

turmeric

1

tbsp

honey

3

cubes of ice (optional)
Instructions
Gather all of the ingredients together.

Soak the chia seeds in the almond milk for 5-10 minutes.

Then add all ingredients to your blender and blitz until smooth.