We all love a cocktail, right?  Sitting outside on a warm summer's day trying to be sophisticated. You know you do.
Cocktails are great. Very moreish. Easy to have more than one. The problem is they are not always healthy with lots of sugar and, of course, alcohol. So what happens when you get that cocktail urge in the morning (don't tell me you never have)? Easy, you have a Virgin Pina Colada!! ????. A cocktail that is not only healthy but one that will set you up for the day and allow you to drive to work. It's a win-win!!
Just look at this beauty. Unsweetened coconut milk, pineapple and desiccated coconut. Blitz it with a load of ice and away you go. A Virgin Pina Colada right at you. The national drink of Puerto Rico (almost) as a healthy breakfast drink. Who'd of thought of that!!
Before we make one let's have a quick look at a couple of the ingredients…
 1. Virgin Pina Colada ingredients
a) Coconut milk
The key when you make your healthy Virgin Pina Colada is to use unsweetened coconut milk. Don't worry you sugar fiends, the vanilla essence will sweeten it down. However, using unsweetened coconut milk keeps it at it's most natural and also keeps the calories down.
The health benefits of coconut milk are many but the key 3 are that, initially, coconut milk can help with weight loss but decreasing the urge to snack. Further, although relatively high in fat, it's good fat. This means coconut milk adds good cholesterol to your body reducing your overall bad cholesterol. Great for your heart. Finally, coconut milk contains lauric acid which supports your immune system and fights off infection.
For more information about the health benefits of coconut milk click here ▶.
b) Pineapple
Pineapple is almost a super fruit. It has many health benefits and should be a regular part of your diet. There primary 2 health benefits. Firstly, pineapple is packed full of vitamin C. This is essential for our body's immune system and, like coconut milk, helps fight infection.
Secondly, pineapple contains almost 75% of our daily requirement of manganese which is great for bone strength. For more information about the health benefits of pineapple click here ▶.
Ok, so let's make one of these fantastic Virgin Pina Coladas…
2. Gather all of the ingredients together
This Virgin Pina Colada recipe uses only 5 ingredients if you include the ice. All you need is unsweetened coconut milk, desiccated coconut, frozen pineapple, and vanilla essence.
The printable recipe is below and gives the ingredient measurements to make 2 Virgin Pina Coladas so just scale up or down as you require.
3. Blend, blitz and enjoy
Making this cocktail (smoothie) is simple. Start by adding the vanilla essence to the coconut milk and giving it a good stir, Next, just add all of the ingredients into your blender and blitz.
If you only have a hand blender this will also work. Just be careful to cover the top with a tea towel or something similar to stop it splashing.
And there you have it my healthy cocktail fans. One cocktail you can drink in the morning ????. Virgin Pina Colada. Very tasty and a great start to the day. Yum!!
I hope you enjoyed this post. There are many other healthy smoothies on The Yum Yum Club so why not check them out here ▶. Or, if you want something a little more substantial, check out some of our other recipes like those below.
As always, many thanks for reading and until next time… Steve.
4. Nutritional values
5. Printable recipe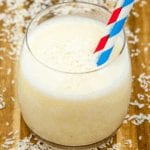 Virgin Pina Colada
Ever fancied a cocktail first thing? Well, you can now. Virgin Pina Colada. The wonderful taste of coconut and pineapple without the alcohol. Healthy too! | theyumyumclub.com
Course:
Breakfast, smoothie
Cuisine:
American, English
Keyword:
Breakfast, coconut, pineapple, smoothie
Ingredients
500

ml

unsweetened coconut milk

1

cup

frozen pineapple

2

tbsp

desiccated coconut

1

tsp

vanilla essence

Ice
Instructions
Gather all of the ingredients together.

Mix the vanilla essence with the coconut milk.

Place all of the ingredients into a blender and blitz. If you only have a hand blender this should also work just be careful of the splashing.

And there you have it. One Virgin Pina Colada to start your day with. Yum!