Beef Rendang is one of my very favourite recipes. There is a heated debate in South East Asia as to whether Rendang as a dish, you can cook it with other meats, e.g. chicken, originated in Malaysia or Indonesia. Well, although I have eaten it in both countries, my first and glorious experience was in Penang, Malaysia. So, without in any way trying to upset my Indonesian friends, I am calling this recipe Malaysian Beef Rendang. In truth, however, who cares. Either way, it's damn good!
So what makes Beef Rendang so special? Obviously, the main ingredient, the meat, is slowly cooked so very tender. Think a great western beef casserole. The chilli gives it a little kick too which is something I always like. Remember, you can add more or less as you like. However, it's the spices and coconut that makes it for me.
The spices add a lovely fragrance to the overall aroma and taste. Especially the cinnamon, cardamom, lemongrass and ginger (all them then… ????). Almost flowery and certainly adds a sweetness to the taste. As does the coconut milk and the dry roasted, or toasted desiccated coconut. A wonderful combination I cannot recommend enough.
I'll show you how to this wonderful Malaysian Beef Rendang now but if you are interested in the history and variations this is a good overview ▶.
Ok, let's cook…
1. Get the spices together
I always for this first as it starts to bring back the memories. As we all know, aromas are a big part of nostalgia.
There are a number of spices required in any Rendang. You will need cinnamon (I used ground here but if you can get a fresh stick then all the better), fresh root ginger, cardamom pods, cloves, lime leaves, lemongrass, garlic and chilli. Hmm, I can smell the fragrance wafting over me right now.
2. Prepare the spices
To prepare the spices, start by taking 3 lemongrasses and peeling the outer skins to leave on the white flesh. Now, peel 5 shallots and 5 garlic cloves and the ginger. Place all of this, along with the chilli, into a blender and blitz on the pulse function. The aim is to get a shredded texture.
3. Prepare the beef steak
This is a slow cooker recipe so I recommend a good old fashioned braising steak. You'll get it from your local butcher. One tip is always to buy it whole. That way you get to trim the fat and any gristle from it. If you leave it to the butcher they may not be as thorough as you would be.
All that's needed with the steak is to trim any of the white fat from it and cut into good-sized cubes. I recommend around 1-2 inch square if you can. You need to get your teeth into something right?
4. Gather the rest of the ingredients
With the spices ready and the meat prepared now just pull together all of the other ingredients. This consists the oil, water, coconut milk, sugar and lime juice.
The final bit of preparation is to toast the coconut.
5. Dry roast, or toast the coconut
The phrase dry roast and toast in this context are synonymous. The actual process is to lightly burn, or toast the desiccated coconut to give it a great roasted flavour. The key is to keep stirring and do not burn the coconut otherwise it will taste bitter.
To toast the desiccated coconut, first, place it in a dry (no oil) small skillet or saucepan.
Now, place the pan over low heat and keep stirring and tossing the coconut until it starts to colour. Once a slight colour has started to form then remove from the heat and place in a cold bowl. If you leave the coconut in the pan the residual heat will continue to cook the coconut and may well burn it.
6. Prepare the Malaysian Beef Rendang
To prepare the Beef Rendang for slow-cooking start by heating the oil in a suitably sized casserole pot. Now add the prepared blended spices along with the star anise, cardamom pods, cloves, and cinnamon and heat through until the wonderful fragrant aroma from the spices hits your senses.
Now, increase the heat slightly and add the beef. keep stirring this until the meat has been sealed.
Add the coconut milk, lime juice and water and stir everything together. Finally, add the single bruised lemon grass and sliced lime leaves and the toasted coconut and mix in.
Doesn't look much now right! Haha! Don't worry, it will transform.
Once the mixture has started to simmer place the lid on the casserole dish and place the whole thing in a pre-heated oven at 180C / 160C Fan.
7. Cooking the Beef Rendang
This is where your own taste comes in. The Beef Rendang will be ready after around an hour. However, there will still be a watery fragrant sauce with it. Rendang is traditional quite a dry dish so my recommendation is to cook for around 2 hours making sure that you check and stir it every 15 minutes after the first hour.
Simply remove from the oven and serve with boiled Jasmone rice whenever the consistency is too your liking. For me, I like it fairly dry so all of the flavours are condensed. As always though, there is no hard and fast rule with cooking. Make it as you like it…
And there you have it, sweet, fragrant, spicy Malaysian Beef Rendang. What a recipe. You choose whether you want a traditional dry curry or something a little saucier. Either way, this is a wonderful South East Asian recipe I am sure you will be cooking over and over again. Yum!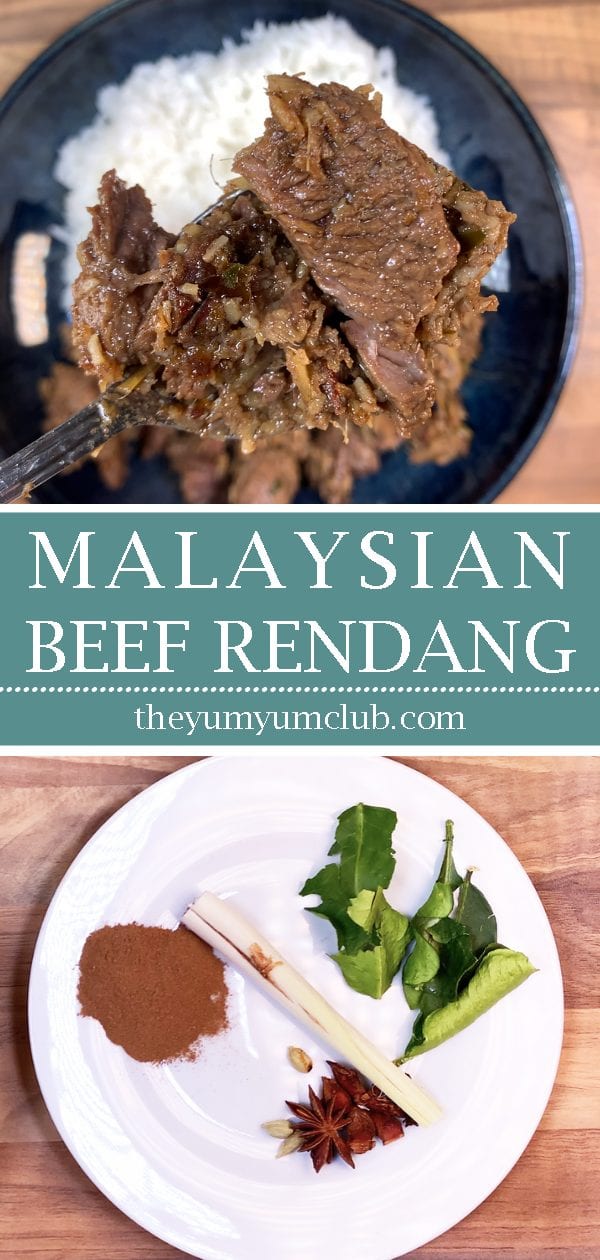 8. Video tutorial
I hope you enjoyed this recipe. This is one of my favourite dishes of all times and brings back many memories. I hope you enjoy it as much as me. If you'd like to be kept up to date of all new recipes then sign up to The Yum Yum Club's newsletter at the top of the page and click and like our Facebook and Pinterest pages.
As always, many thanks for reading and until next time… Steve.
9. Nutritional values
10. Printable recipe
Malaysian Beef Rendang
Malaysian beef rendang is a classic tasty South East Asian recipe. The sweet taste of coconut combined with chilli, ginger and eastern spices. Yum!
Course:
Dinner, Main Course
Keyword:
asian, beef, malaysian, rendang, spicy
Ingredients
2

lb

lean diced braising steak

Metric 900 grams

1

teaspoon

ground cinnamon

3

star anise

1

cardamom pods

3

cloves

4

lemon grass

4

tbsp

olive oil

10

fl oz

coconut milk

Metric 300 ml

Juice from 1 lime

6

kaffir lime leaves

1

tbsp

caster sugar

5

shallots

1/2

cup

fresh peeled ginger

4

birds eye chillis

1

cup

water
Instructions
First, gather all the spices together. The cinnamon, lemongrass, star anise, cloves, cardamom pods and lime leaves.

Trim all of the fat off and cut into good-sized cubes.

Finally, gather all of the other ingredients together. Oil, coconut milk, sugar, water and lime juice.

Now, mince all of the spices in a blender. If you don't have a blender then finely chop, crush and grate the spices. 

Prepare the desiccated coconut by, first, placing on a small fray skillet.

Now, place this over low heat and keep stirring until the coconut has toasted, or dry roasted.

Heat the oil over low-medium heat in a casserole pot and lightly cook the blended spices along with the star anise, cardamon, cinnamon and cloves through until you can smell their fragrance.

Now, add the beef and seal the meat.

With the meat sealed add the coconut milk, water, lime juice, bruised lemongrass and toasted coconut and heat through for 5-7 minutes. Keep stirring.

Pre-heat the oven to 180C / 160C Fan.

Finally, add the dry roasted coconut and stir in. Place the lid on the casserole dish and place in the oven. Check after one hour and then cook for up to another hour depending on how dry you want the curry. If the curry does dry up then add more water or coconut milk.

Once cooked, remove from the oven and serve with boiled jasmine rice. What a recipe! Yum!!