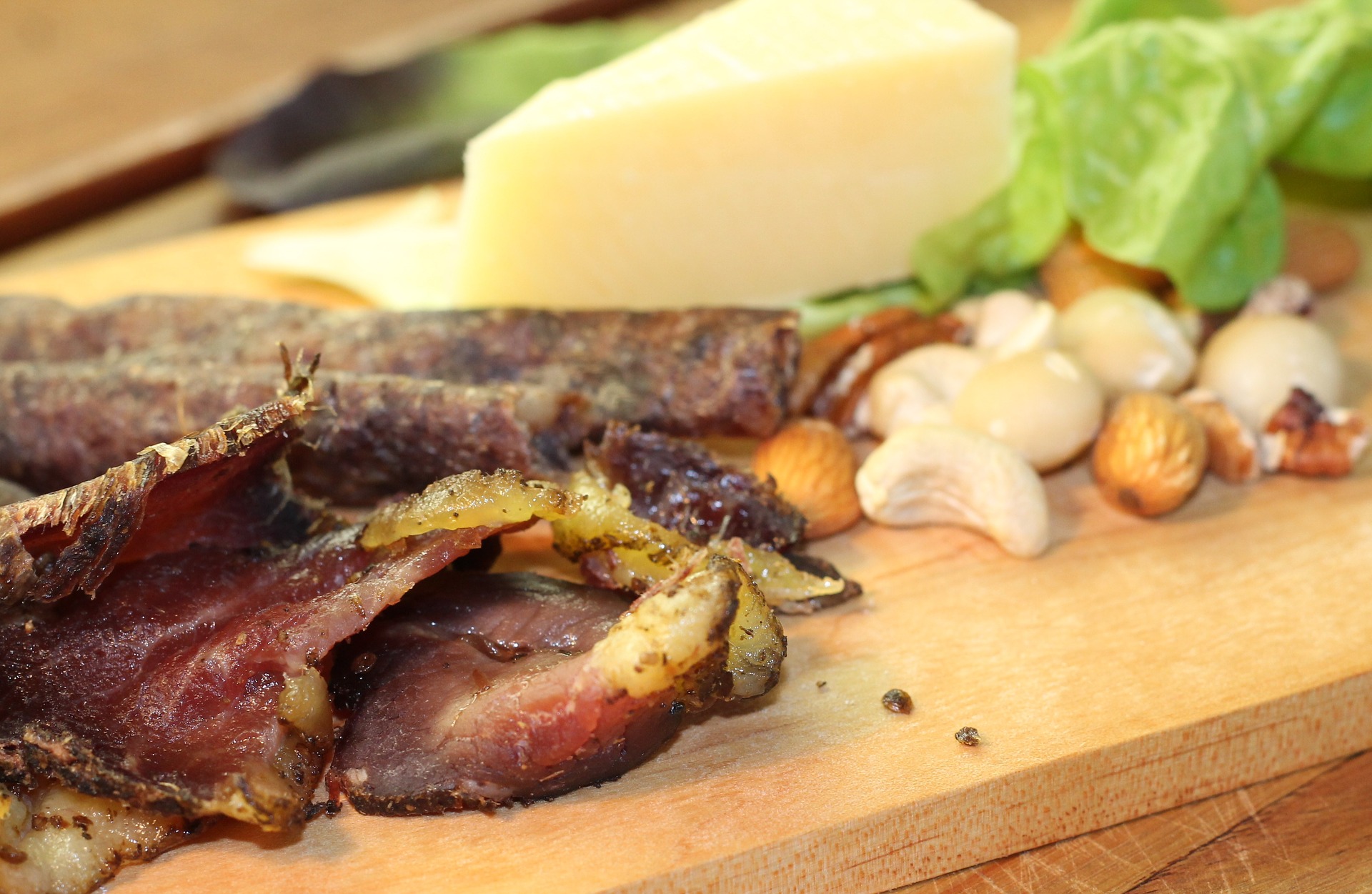 If beef jerky is one of your favorite foods, you're in the right place. Read on to get unique ideas to incorporate beef jerky into different meals.
If you are a meat lover, beef jerky has got to be one of your favorites! Did you know that the word "jerky" comes from the Quechua term "ch'arki", meaning "dried, salted meat". These trimmed and dried meat strips are not only scrumptious but are very versatile and can be put into different recipes.
Let's indulge in the most delectable meal options you can create using this ingredient. Here are ten fantastic ways to incorporate beef jerky into your meals in modest amounts and enjoy the flavorful bite of the meat slices.
Other than as a snack, you'll be able to use your beef jerky in a variety of ways.
Add Jerky to Your Brunch
Replacing bacon with beef jerky will make your brunches way more intriguing and unique. The jerky will give your cocktails extra crunch and protein to give them a new taste. Because beef jerky is easy to chew and swallow, it will appeal to children in breakfast cocktails.
Beef jerky is high in protein, so incorporating it into your breakfast will meet your protein needs for the entire day. If you are looking for the best quality beef jerky, infused with different spices, check out https://jerkybrands.com/.
Meaty Scrambled Eggs
Level up your regular scrambled or poached eggs with beef jerky in the morning for a protein-rich breakfast that will keep you active and hunger-free for the rest of the day.
We already know that eggs are a high-protein food, and incorporating additional protein sources will boost the nutrient content. This breakfast is designed for those who are constantly busy during the day and have little time to eat healthily.
You can also combine the beef jerky with additional items such as cheese and vegetables. Before adding the jerky, grate or cut it into medium to tiny pieces.
Snack it Up
Although it is not typical to keep beef jerky on a snack board, you can make an exception. A beef jerky effortlessly complements other food items on the board because of its versatility, offering a great savory crunch to anything. This modification will undoubtedly delight your guests.
Cheese, crackers, almonds, pickles, and sautéed vegetables go well with beef jerky. Besides its nutritional benefits, beef jerky gives a fantastic texture to these items.
Use As a Snacks Topping
Did you know that beef jerky is a great topping for pasta, porridge, poutine, and ramen? I'm sure you didn't because no one ever mentions it.
We're all so engrossed in bacon pieces and chopped meat that beef jerky isn't even on our minds. Add some beef jerky over your savory meals to make them more appealing and healthy. To add a great variety of flavor and texture to your savory cuisine, use beef jerky instead of meat.
Beef jerky can also be an amazing pizza topping. Instead of traditional pepperoni, sausages, and bacon, make a unique pizza topping with beef jerky. You may not have considered introducing beef jerky in this form, but trust me when I say that your family will beg for more!
Because beef jerky comes in a variety of tastes, you can experiment with them and mix them up to create new flavors each time.
Furthermore, the beef jerky is roasted with the pizza which makes it crispier. As a result, topping your pizza with beef jerky adds a layer of texture to your pizza.
Add to Your Soup
If you're currently adding chicken bits, pork bacon, or beef to your soups as an add-on, it's time to switch to beef jerky!
Beef jerky is adaptable and pairs nicely with a variety of soups, including fresh vegetable soups, corn soups, and stews. You can try different tastes of beef jerky with different kinds of soups. Furthermore, beef jerky gives your soup a mild crunchy feel.
Toast with Sprouts or Nuts
Instead of eating beef jerky on its own as a snack, combine it with something nutritious. It will boost the nutritious value and enhance the flavor even more.
Munch on them after they've been dry roasted with Brussels sprouts or other dried fruits of your choice. Because it's a dry snack, you will be able to pack it in a container and eat it on the go.
Add to Sandwiches and Burgers
Beef jerky is not often used in sandwiches and burgers, but we can bet that you'll love it once you try it! Inside the burger, beef jerky strips can be used to replace the sausages and bacon. It will give your juicy burger a great meaty taste and a crispy texture.
Sandwiches can be made by grating the strips, mixing them with mayonnaise, and spreading it on the bread. You will not be disappointed with the taste, regardless of how you include them.
Add to Your Salad Bowl
Incorporating beef jerky into a plain salad or replacing bacon from your salad with beef jerky is the simplest method to improve its taste and nutrition. Simply sprinkle a little bit of dried beef jerky into your salad and toss it in. You'll not even think of your go-to bacon bits once you've done it.
Beef jerky, unlike bacon bits, contains more protein and much less fat, which will go well with your salad. Furthermore, the flavors of beef jerky pair beautifully with salads. You can definitely experiment with beef jerky with different flavors and find your perfect salad bowl!
Beef Jerky as a Side Dish
Beef jerky can be used not only as a snack but also as a side dish to offer a different texture character.
Serve it with mashed potatoes, stir-fried vegetables, baked beans, salmon croquettes, or rib-eye steak. It's a healthy side dish that uses less fat and oil.
Experiment with several ways to serve beef jerky as a side dish and see which one works best for you.
Use it to Simmer Your Sauce.
Adding some beef jerky shreds to a red or white sauce while cooking it at home will add depth and richness of flavor. Add little amounts at a time to test the thickness you want, then bring the sauce to a boil before pouring it over your pasta or noodles.
Conclusion
Who'd have guessed that beef jerky could be so versatile? You can have them for breakfast, supper, and lunch, in addition to snacking on them.
However, keep your additions to a minimum as too much of anything is harmful and beef jerky contains salt and preservatives, which can be detrimental to your health if consumed in large amounts.
Good luck with experimenting with beef jerky and bon appetit!