Are you a fan of hot chocolate? Do you want to spice up your hot drink routine? Well, you are in the right place! We know that hot chocolate is one of the best drinks to enjoy at any time of day, but rather than using the same recipe time and time again, it's time to try a new way to make it. We've rounded up the best ways to make hot chocolate and have shared the recipes below so that you can indulge at your leisure – check them out now!
Chocolate Chip Hot Chocolate
If you are a true chocolate lover, then you may find that even the most chocolate-laden hot chocolate still isn't enough to satisfy your tastes, especially when the weather has turned and all you want to do is cozy up with a blanket, film, and your favorite drink. The best way to get the result you want is to invest in a high-quality hot chocolate with real chocolate flakes as part of the mix, as this will give you a dreamy chocolate lay drink that will hit the spot.
Once you have created your favorite hot chocolate drink, don't stop there! Take some chocolate chips and drop them into the cup, allowing them to melt slowly as you make your way through the experience. Once you are around halfway through your hot chocolate, stir the remaining drink and watch as your now melted chocolate creates a thick and tasty result that you can enjoy.
One cup of this will leave you fully satisfied and feeling great, but if you don't want to pile on the pounds, it is a recipe that is best left for special occasions only! This may seem like a very simple recipe, but when you have quality hot chocolate, you don't want to overpower it with other flavors when you can just enjoy it for what it is.
Rocky Road Hot Chocolate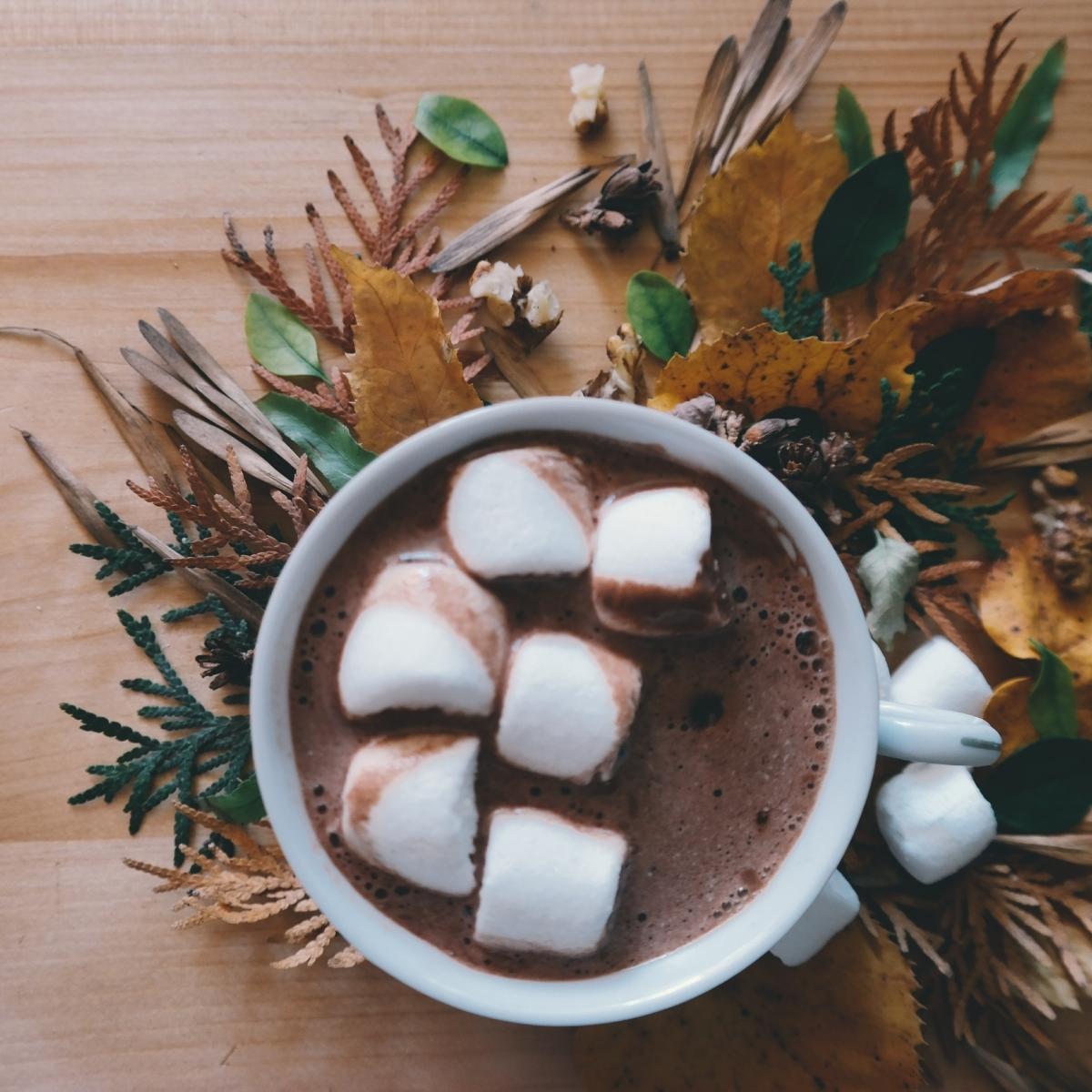 Do you love a rocky road bar when you want a sweet, chocolatey treat? So do we! The mix of chocolate, marshmallows, fruit, and biscuits tastes great and is always a hit with others – just imagine what it would be like if you could make a hot chocolate version! Well, now you can.
Start with your selected hot chocolate, mix it into a cup of steaming hot milk, and stir – you can even add a kick of your favorite spirit to mix it up if you want. Next, drop some marshmallows on the top and lightly toast them with a kitchen blow torch or grill.
Finally, drizzle some raspberry syrup over the top and serve with digestives to create the taste we all know and love. This hot chocolate recipe is not only decadent, but it is really a party pleaser that works perfectly for bonfire night or any other celebration during the autumn and winter months.
Citrus Packed Hot Chocolate
As hot chocolate has grown in popularity, so have the number of flavors that are on offer, but we think the very best is chocolate orange! The mix of citrus and chocolate is genius, with the citrus cutting through the sweet chocolate and providing a cleaner and sweeter finish for you to enjoy. Now you can find basic chocolate orange flavors in most shops, but these can taste synthetic and leave you feeling disappointed. If you want to enjoy the best citrus hot chocolate, follow our simple steps.
First, you will need to get hold of the best hot chocolate flakes that you can afford – these can be milk, dark or white chocolate and shouldn't already be flavored with orange. With your chocolate flakes sourced, you need to slowly heat your milk, frothing it as you go to create an aerated result into which you can stir your hot chocolate. Once the drink has been made, flavor it up with some orange zest. Remember there is no fixed amount, just add zest according to your own personal preference. As you drink, you will notice the hint of citrus that works its way through the hot chocolate and provides you with a drink that tastes fantastic every time you indulge!
Traditional Hot Chocolate
Even though these other recipes sound amazing, nothing beats the traditional hot chocolate you can get when you head out to your favorite coffee shop! Start by taking the milk chocolate flakes from your hot chocolate set and prepare enough servings for everyone you are with. Once the hot chocolate is smooth and silky and all the powder is properly dissolved, you can start to top your hot chocolate.
Traditional hot chocolate comes with whipped cream and mini marshmallows on top that slowly sink into the drink and melts as you enjoy it. However, you can also add a dusting of chocolate powder to the top to give it a luxurious look you are trying to achieve. This hot chocolate will not only look great, but it will also taste amazing and rich. However, with so much sugar and cream added to the mix, we suggest you keep this serving method for special occasions!
Start Your Journey of Hot Chocolate Discovery Today
When you think about the recipes we shared, you'll probably start thinking about all the other possible recipes you can tweak and try too! That's the great thing about hot chocolate – it provides a delicious base you can add to depending on your mood and palate, helping you create a personalized drink that leaves you feeling amazing.
Take the time to try each of our recipes, and remember that no matter what you want to add to your drink, you should always start with the very best hot chocolate you can find, as this is what will hold all the components together and produce a hot drink that you can enjoy over and over again – start making yours today!