I know I would say this but this Chinese chicken thigh recipe is fantastic. It's fantastic not only because it's so tasty and yummy but also because it is so easy to make. In simple terms, it's chicken thighs in a Chinese marinade cooked in the oven for 30 mins or so. But how can something so simple turn out so delicious…
Well, my fine foodie friends I'm going to show you…
1. Gather all of the ingredients together
Apart from the chicken thighs, all you need ingredients for is the Chinese marinade. I made dinner for 2 people only so when looking at the printable recipe below just scale up or down depending on how many you are catering for.
For the marinade, all you need is olive oil, honey, dark soy sauce, minced garlic and ginger, some sesame seeds, and seasoning. Easy.
2. Prepare and trim the chicken
I always use free-range chicken simply because it has a better taste. I gauge on 3 thighs per person so I bought for this recipe. The chicken thighs were already bones so almost ready from the start.
You will need to trim the fat from thighs though. Nothing scientific. Using a sharp knife just trim and white fatty parts or sinew inside the thighs. You won't take a lot off but there will be some to remove.
3. Prepare the marinade
To prepare the marinade just put all ingredients other than the chicken thighs into a mixing bowl and stir well. Remember to add some seasoning too.
Now, add the chicken thighs to the marinade.
And mix it all together.
Once mixed put some kitchen film over the mixing bowl and place the marinade in the fridge for at least one hour.
4. Cook the Chinese chicken
The marinaded chicken thighs should be cooked in a pre-heated oven at 200C / 180C Fan. There is no need for a lid when cooking the chicken but do make sure that you turn each thigh every 10 minutes.
The chicken will be cooked in around 35 minutes. However, you may want to cook the thighs for a little longer if you want the honey properly caramelized on the chicken. Those below took around 45 minutes. Just make sure the marinade and chicken do not dry up.
And that's it my Oriental aficionados. A very simple recipe delivering a wonderfully tasty Chinese chicken thighs. Serve with puffy jasmine rice for a truly traditional Asian experience. Yum!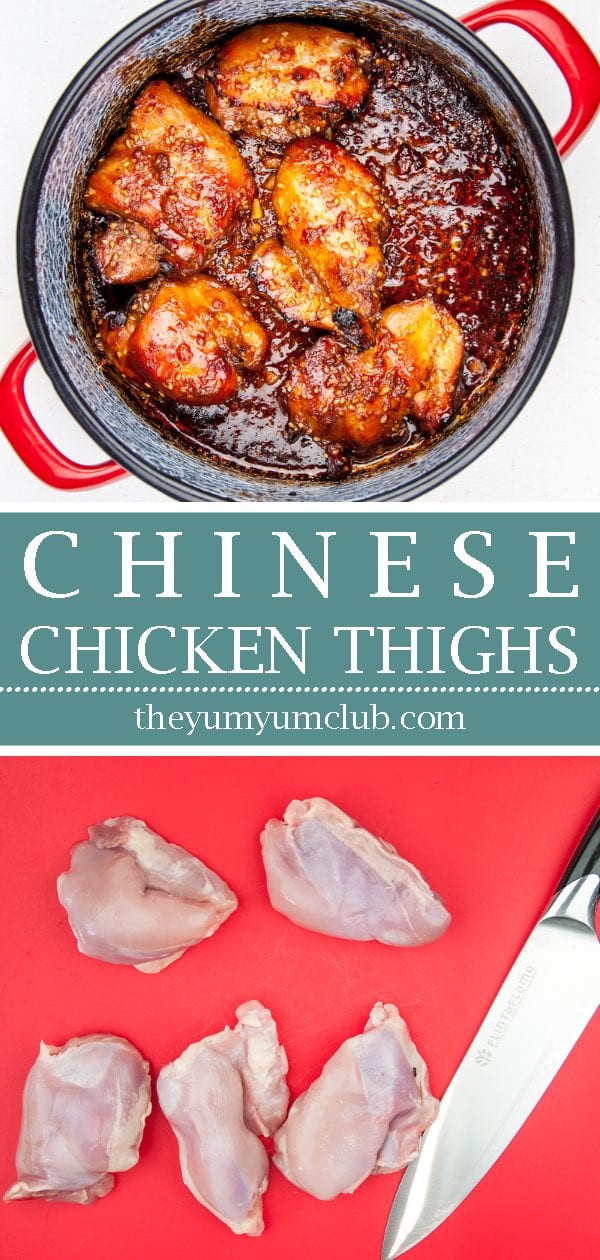 I hope you enjoyed this journey East. If so then why not try on of the Yum Yum Club's other recipes. There is a selection below or just click the recipes link at the top of the page.
If you'd like to be kept up to date with new recipes as they're released just sign up for our newsletter at the top of the page. We have also set up dedicated Facebook and Pinterest pages for The Yum Yum Club. Just click the icon at the top right and follow us and you'll see everything new immediately it gets posted.
As always, many thanks for reading and until next time… Steve.
5. Nutritional values
6. Printable recipe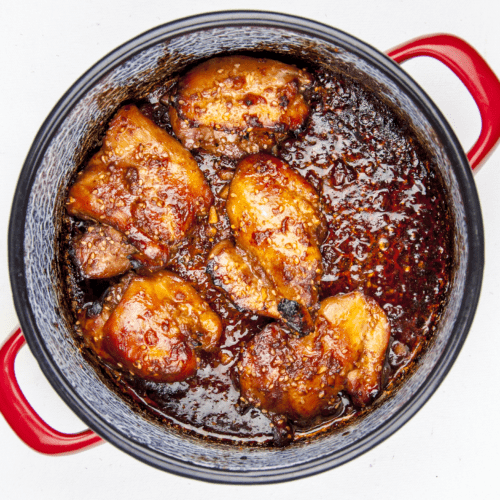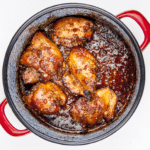 Chinese Chicken Thighs
This Chinese chicken thigh recipe is so simple and wonderfully tasty. A marinade of honey, soy sauce, ginger, garlic and sesame. Sounds fantastic right? Yum! | theyumyumclub.com
Keyword:
chicken, chinese, ginger, honey, sesameseeds, soy
Ingredients
6

free range chicken thighs

2

tbsp

olive oil

1/2

tsp

minced ginger

2

cloves

minced garlic

3

tbsp

honey

2

tbsp

dark soy sauce

2

tsp

sesame seeds

Seasoning
Instructions
First, gather all of the ingredients together.

Now prepare the garlic and ginger by mincing each.

Prepare the marinade by placing all of the ingredients in a bowl, barring the chicken thighs, and mixing together.

Place the chicken thighs in the marinade and cover mix well.

Place clingfilm on the bowl and place in the fridge for at least one hour.

Pre-heat your oven at 200C / 180C Fan.

Now place the chicken and marinade into a suitably sized casserole dish and cook in the oven for 35 minutes being mindful to turn the chicken every 10 minutes.

Once 35 minutes if up the chicken will be ready. However, if you like the honey it a little more caramelized then just leave it for a further 5-10 minutes.

And that's it. Wonderful fragrant and sweet Chinese chicken thighs. Serve with jasmine rice and you'll have a true taste of Asia. Yum!