Raspberry and pineapple smoothie. Sound healthy, tasty and refreshing right. Well, it's not just raspberries and pineapple. Oh no. There is some ripe banana for texture and a good pinch of cinnamon for a hint of flavour at the end, all blended with healthy almond milk. Yum!
If you've read any of my smoothie recipes before (you can see them all here ▶) you'll know I like to give spend a little time talking about the health benefits of the ingredients. This time I thought we'd look at almond milk.
Almond milk is a great substitute for cow's milk if you are dairy intolerant or following a vegan diet. It is also full of the key nutrient our bodies require, especially Vitamin E which is a great antioxidant. Almond milk is also low in calories, at least as low as skimmed milk, and low in sugar and carbs. Just make sure you use the unsweetened variety. Finally, there are studies that suggest almond milk can reduce the risk of heart disease and the Vitamin D content supports healthy and strong muscles and bones.
If you want to know more about almond milk then try the article here ▶. Not only does it explain the health benefits of almond milk in detail it actually shows you have to make your own.
Now, let's make this raspberry and pineapple smoothie…
1. Gather all of the ingredients
Just 5 ingredients only for this bad boy. The printable below makes 3 good sized smoothies or 4 smaller, knock it back and go beauties. For this, you just require 2 cups of frozen raspberries, 1 cup of frozen pineapple, 5 ml almond milk, 1 banana and 1 tsp of ground cinnamon.
Just one tip here. When I made this it did turn out pretty thick. Now, I loke a smoothie like this but if you prefer a little more liquid just either add more almond milk or throw in 5 or 6 cubes of ice when you blend.
2. Blend, blitz and serve
Unlike some of my other recipes that use dried ingredients like chia seeds, which require re-hydration, there is no other preparation required for this raspberry and pineapple smoothie. Just put all of the ingredients in your blender and blitz.
Once blended, check the consistency and then just pour and enjoy. That's all you need to do. Raspberry and pineapple smoothie with creamy almond milk, banana and cinnamon. Very healthy and really does set you up for the day…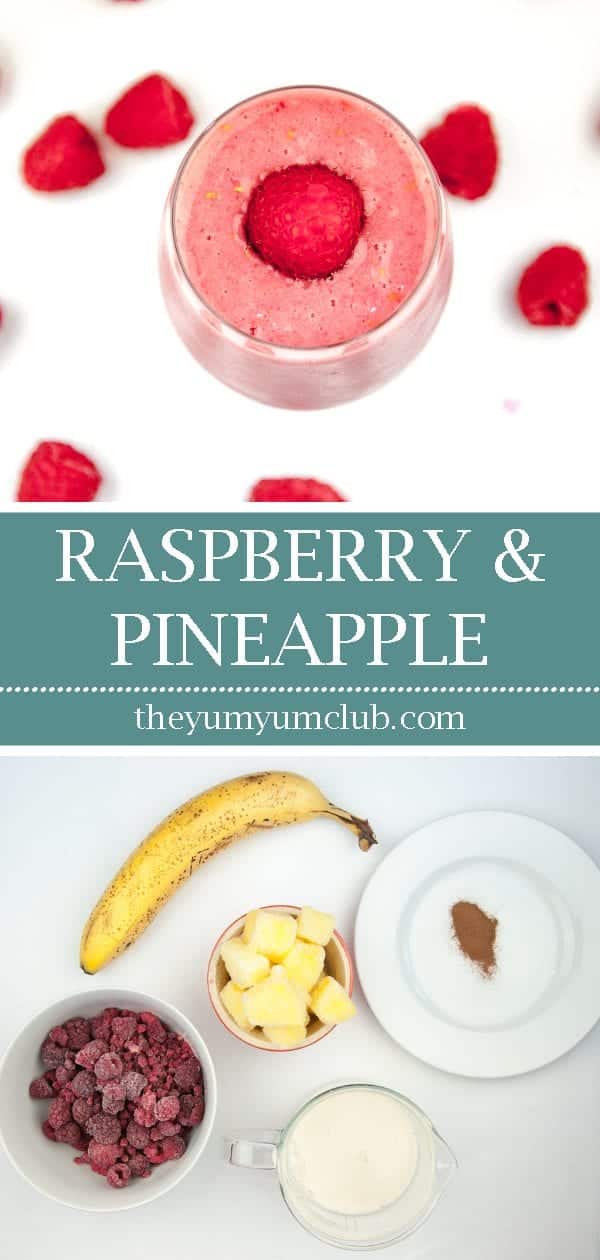 I hope you enjoyed this recipe. If you did then give it a go all have a look at some of the many other great recipes at The Yum Yum Club. There's a selection for you below…
As always, many thanks for reading and until next time… Steve.
3. Nutritional values
4. Printable recipe
Raspberry and Pineapple Smoothie
Raspberry and pineapple smoothie, with a little surprise! Banana to add texture and a wonderful hint of cinnamon to taste. A great start to the day. Yum! | theyumyumclub.com
Course:
Breakfast, smoothie
Cuisine:
American, English
Keyword:
almond milk, banana, cinnamon, pineapple, raspberry, smoothie
Ingredients
2

cups

frozen raspberries

1

cup

frozen pineapple

500

ml

almond milk

1

banana

1

tsp

ground cinnamon
Instructions
Gather all of the ingredients together.

Put them all in your food processor and blend and blitz.

Pour, enjoy and have a great start to the day!!