This creamy chicken gnocchi recipe is a really yummy dish. Yes, you have the lovely gnocchi texture mixed in with a touch of cream. However, I've added an Italian twist with this wonderful recipe and added some fantastic kalamata black olives (I know, Greek, not Italian! Doh!!), sun-dried tomatoes, garlic and baby spinach. How delicious does that sound!
What's more, this is a single pan dish. Just a large skillet or frying pan (you'll need a lid) is required with around 10 minutes cooking only. A great tasting recipe with hardly any washing up. What a win win!!
I'm going to show you how to make this beauty in a couple of minutes but first I want to talk little about some the ingredients.
1. You choose how healthy and how tasty
Now, don't let this heading mislead you. Whichever ingredients you choose you are going to have one tasty creamy chicken gnocchi dish. It's just there are options. The same goes for the healthy part. You can add a few extra calories here or opt for the lighter option. It's your call. Either way, I assure you, you will be very happy with the result.
a) Gluten and gnocchi
Gnocchi is just not gnocchi you know. There are many different types. You can even make you're own. (I didn't, by the way). The standard is potato based but you can also get gnocchi made from pumpkin, beetroot, sweet potato, butternut squash and more…
However, the main point I want to make here is that most gnocchi has flour added and so cannot be considered gluten-free. You can, though, buy, or make gnocchi using different flours, e.g. rice flour. This means no gluten. For all those on a gluten-free diet, therefore, just look out for gluten-free gnocchi in your grocery store and you will be fine.
If you do fancy having a go at making your own gluten-free gnocchi you can get a good recipe by clicking here.
Whatever your need, or whichever you choose, gnocchi is a great food…
b) The sun-dried tomatoes
We all know and love sun-dried tomatoes. Very Mediterranean, very Italian, not Greek and very tasty.
The only issue I have with them is that they can be a little chewy. That's great with a salad but with a recipe like this creamy chicken gnocchi, I think the chewiness can detract from the texture of the gnocchi. But no worries. There is an alternative. You can also get semi-dried tomatoes which are far less chewy.
It's your preference but I recommend if you can get them, using these semi-dried tomatoes for this recipe. It's not essential but it does help with the whole taste/texture experience.
c) The chicken
You can use any cooked chicken for this recipe. However, you want it lean so the breast is best. Also, you don't want it too much grease and fat added to the dish. I recommend you buy a ready-cooked rotisserie chicken from your local grocery store. They are very tasty and you can make a sandwich with the leftovers tomorrow. Another win-win!
d) The cream
My comments around the cream are really health related. Of course, you can use good old fashioned double cream and you'll have a wonderfully rich creamy sauce. However, my experience with this creamy chicken gnocchi recipe is that the law of diminishing returns applies.
The recipe has so many great flavors and textures that if you use half and half cream, or even creme fresh the reduction in creaminess is nothing compared to the reduced saturated fat content and cholesterol. It's up to you're own preference but believe me, you will be fine with half and half cream. Promise!
2. Gather all of the ingredients together
I've already mentioned that this is a single pan dish. You can cook this recipe in around 10 minutes but it follows a clearly defined sequence of events. It needs, therefore, all of the ingredients ready to hand before you start cooking.
The measurements for serving 4 good sized portions are in the printable recipe below. Just scale up or down as you need to but have everything around you before you get the pan out…
3. Let's cook!
As already mentioned, this is a quick sequence of events recipe. Don't worry, it's not too rushed but you need to keep close to the pan.
a) Heat through the base ingredients
First things first, get your skillet or frying pan and add the olive oil over medium heat. Now add the sliced garlic, chopped semi-dried tomatoes, and the kalamata olive. You can halve the olives if you like. I, personally, like to keep them whole.
Heat these through for 1-2 minutes being careful not to burn the garlic. Now, add the gnocchi and coat with the infused oil.
b) Make the base sauce
With the base ingredients heated through, add a little seasoning to this but remember there is already a lot of salt in the stock and olives. Now, add the chicken stock and bring to a simmer.
Once simmering, turn the heat down and add the cream. Stir this in so all ingredients are coated with the sauce.
d) Cook the gnocchi
Now, you just need to cook the gnocchi. To do this, cover the pan with a lid and leave to cook through for 5 minutes. Make sure the heat is quite low. You don't want the mixture boiling over.
Once the gnocchi is cooked through your pan should look something like this.
d) Complete the recipe
It's now time to add the shredded chicken.
And the baby spinach
Cook the spinach through for 3-5 minutes until it has wilted. The sauce should be creamy and thick now. If too watering just reduce down a little more until you have the texture you require.
Finally, add the parmesan cheese on top. No need to stir this in. Just let it melt on its own.
And that's it. Fantastic creamy chicken gnocchi with olives, sun-dried tomatoes and baby spinach. Just serve in bowls and enjoy. This is one tasty recipe. Yum!
Well, that's all, for now, my fine food friends. I do hope you enjoyed this creamy chicken gnocchi recipe and give it a go yourself. If so let me know how you get on in the comments section below. I'd love to know.
Oh, and if you want to be kept up to date in all new recipes just sign up to the newsletter at the top of the page. Or have a look at other recipes from The Yum Yum Club like those below…
Many thanks for reading and until next time… Steve.
4. Nutritional values
5. Printable recipe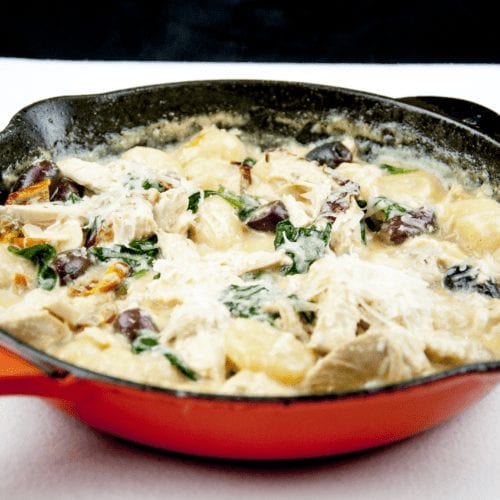 Creamy Chicken Gnocchi
This creamy chicken gnocchi recipe brings the taste of Italy right to your own kitchen. Black olives. Sun-dried tomatoes. Baby spinach. Sounds good right? Yum! | theyumyumclub.com
Course:
Dinner, Lunch, Pasta
Keyword:
gnocchi, Italian, olives, Pasta, spinach, sun-dried tomato
Ingredients
350

grams

gnocchi (gluten free if you like)

1

clove

garlic, sliced

1/4

cup

semi-dried tomato, roughly chopped

1/4

cup

kalamata olives

300

ml

chicken stock

1/2

cup

cream or cream substitute

2

cups

shredded cooked chicken breast

2

cups

baby spinach

1/2

cup

parmesan cheese, finely grated

1

tbsp

olive oil
Instructions
First, prepare and get all of the ingredients together.

Now, heat the olive oil over medium heat and add the garlic, olives and sun-dried tomatoes. Cook through for 1-2 minutes.

Add the gnocchi and cover with the infused oil.

Add the chicken stock and bring to a simmer.

Lower the heat and add the cream.

Now, place a lid on your skillet and cook on low heat for 5 minutes, being careful not to allow the pan to boil over.

After 5 minutes remove the lid and check the texture. Reduce the sauce slightly if too watery.

Now add the shredded chicken.

Cook the spinach through for 3-4 minutes until it has wilted.

Finally, sprinkle the parmesan over the top.

And there you have it. Wonderfully creamy chicken gnocchi. Serve in bowls and enjoy! Yum!!