This pomegranate and banana smoothie is a fantastic recipe and a great way to start the day. What's more, it's full of surprises. This smoothie is made with almond milk and freshly squeezed orange juice which is great for vegans. Not only that, I've also added a teaspoonful of ground cinnamon which really adds to the flavour.
Just 5 ingredients and very healthy too. The ingredient measurements are below and make 3 smoothies so you can scale up or down as you need to. But one smoothie is only 219 calories and zero cholesterol! Fantastic if you're on a diet and trying to keep the saturated fat down.
Let's also look a little more at some of the individual ingredients.
1. How healthy are the ingredients in this pomegranate and banana smoothie
As this is meant to be an informative blog, and we are talking about healthy ingredients, I wanted to provide a couple of comments about the health benefits of this strawberry and chia seed smoothies key ingredients.
a) Pomegranate
Pomegranates are such an underrated fruit. They are high in Vitamin C, which fights infection and helps with our immune system. But, more than that, pomegranates help prevent cancer, have anti-inflammatory benefits, so help those with arthritis, and, above all else, are a full of antioxidants and so great if you fancy a bit of detox.
b) Bananas
Bananas are high in fibre which supports slow digestion. This means you feel full up for longer and stops you snacking. The high fibre in bananas also helps support a healthy heart. Bananas are also high in potassium, again, helping your heart by keeping your heartbeat. Bananas also help keep your blood pressure regulated. Bananas really are a super fruit.
c) Almond milk
Almond milk is low in calories and providing you use unsweetened almond milk, it's low in sugar. Almond milk is also a great dairy substitute so perfect for those on a vegan diet or who have dairy allergies.
Now we know that this pomegranate and banana smoothie is really good for us, let's make one…
2. Get the ingredients together
As already mentioned, only 5 ingredients for this super healthy smoothie. To make 3 good sized smoothies you just need 300 grams frozen pomegranate seeds, 2 bananas, 500 ml almond milk, the juice from one freshly squeezed orange and sneaky teaspoon of ground cinnamon. That's it…
3. Blitz and blend
No need to separate any of the ingredients for this smoothie. Just add them all into the blender and blitz away.
One little tip, or really just one of my preferences. I know this is a smoothie but I like to have a little crunchy texture from the pomegranate seeds. If you also like this just blitz the ingredients for around 15 seconds. If not give it a good minute plus.
Whichever way, you're going to end up with a wonderfully healthy and tasty smoothie.
These smoothie posts are only short but healthy tasty food doesn't need to be complicated. I hope you enjoyed it and give it a go at home. If you do, let me know how you get on. Just use the comments box below.
This is just one of The Yum Yum Club's healthy smoothie collection. Check out the smoothie page by clicking the link to see the whole healthy collection. Also, remember to bookmark it. There are 3-4 added every week. Yum! ???? Or have a look at other recipes from The Yum Yum Club like those below…
As always, many thanks for reading and until the next healthy smoothie… Steve.
4. Nutritional values
5. Printable recipes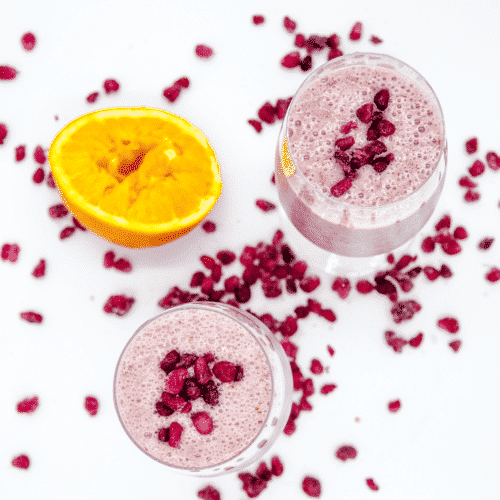 Pomegranate and Banana Smoothie
Pomegranate and banana smoothie. A super smoothie recipe made with almond milk, orange juice, and just a touch of cinnamon. A great start to the day. Yum!! | theyumyumclub.com
Course:
Breakfast, Lunch, smoothie
Cuisine:
American, English
Keyword:
almond milk, banana, cinnamon, orange, pomegranate, smoothie
Ingredients
300

grams

frozen pomegranate seeds

500

ml

almond milk

Juice from one orange

2

bananas

1

tsp

ground cinnamon
Instructions
First, get all of the ingredients together and squeeze the juice from one orange.

Now, place everything in a blender and blitz until smooth. One minute plus.

Just pour and enjoy. Add some pomegranate seeds to the top if you want a little crunch with the smooth. Yum!