No cream Broccoli and stilton soup! No, don't run away!! The extra veggies and a generous helping of stilton cheese still make this a very tasty and elegant soup.
There is no doubt that this soup is full of healthy goodness. Of course, broccoli has all of its antioxidant qualities, but with the base vegetables of potato, celery, leek, and onion you have a wonderful, vitamin and fiber-rich soup. However, it can all be a bit dull…
You could stick with the traditional addition of delicious thick heavy cream but it really is not that healthy. I know, nor is rich Stilton cheese but it does add a great flavor and if used in moderation… ????
So let's make it.
1. Gather all of the ingredients together
As mentioned above, one could describe this really like a vegetable soup with cheese. All you need is broccoli, potato, leek, onion, celery, vegetable stock and stilton cheese. Oh, and some oil and butter.
The recipe measurements are in the printable recipe below and make 4 good bowls of soup. Just scale up or down the ingredients if you want more or less.
2. Prepare the ingredients
There's not too much preparation for this no cream broccoli and stilton soup. All you need to do is finely chop the onion and roughly dice the potato, celery, leek, and broccoli.
3. Cook the base soup
By saying base soup I mean without blending and without adding the stilton cheese (which doesn't mean you still have the chance to add cream!). What we do here is basically cook the vegetables and make the broth.
To make the base soup, first put the oil in an appropriately sized saucepan and add the finely chopped onions over low-medium heat.
Just sweat these off until soft and translucent. Be careful not to brown the onions.
Once sweated off, add the potato, leek and celery along with the butter. Cook this through with the saucepan lid on for around 5 minutes.
One tip here is to also add any broccoli stalked that resulted from you roughly chop the broccoli. They take a little longer to cook than the florets so putting them in to cook now is fine.
After 5 minutes add the vegetable stock and cook through for a further 15 minutes. After this time the pot should look something like this.
Now, add the roughly chopped broccoli and cook through for a further 5 minutes.
With the broccoli cooked through you have your base broth.
4. Finish making the broccoli and stilton soup
To finish the broccoli and stilton soup it's as simple as blending all the ingredients and then adding the stilton.
Using your food processor, or hand blender if you have one, just blitz all of the soup broth until completely smooth. This shouldn't take much more than a minute. Once smooth pour the soup back into your pan and crumble and melt in 90% of the stilton cheese.
Once the cheese is melted you are ready to serve. Garnish with some of the remaining stilton cheese and chunky crusty bread.
And that's it. No cream broccoli and stilton soup in no time at all. Yum!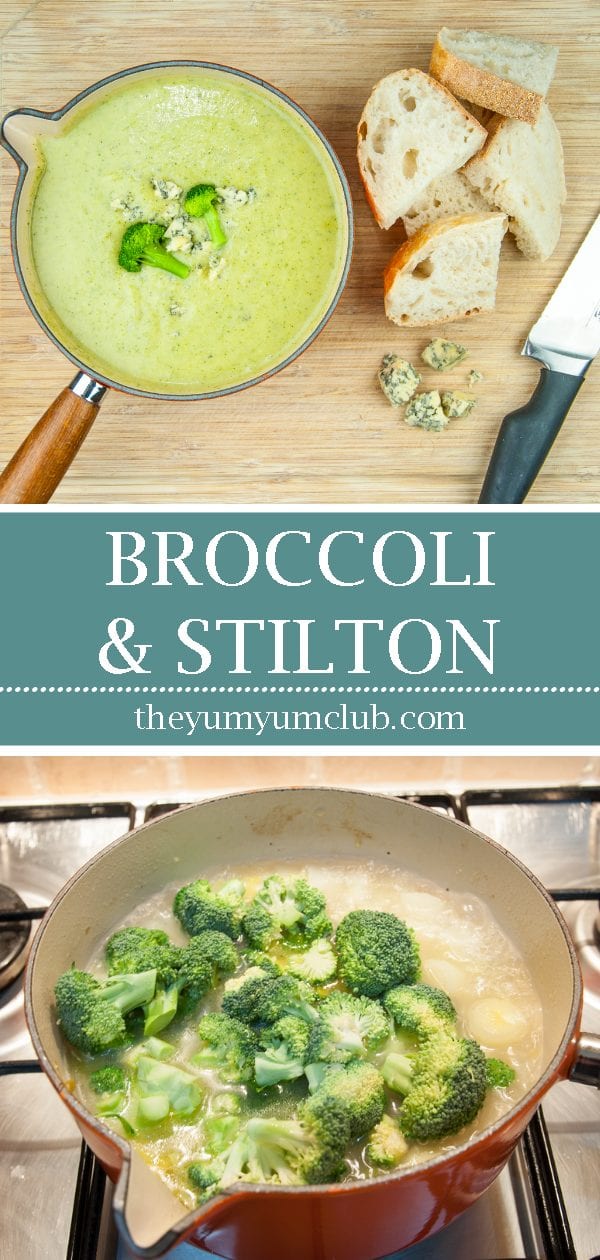 I do hope you enjoyed this recipe. If so then why not try a couple more from The Yum Yum Club. I've posted a few below or just click on the recipes tab at the top of the page.
As always, many thanks for reading and until next time… Steve.
5. Nutritional values
6. Printable recipe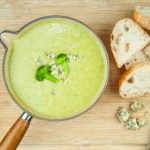 Classic Broccoli and Stilton Soup
Classic broccoli and stilton soup. This is such a yummy soup recipe and so tasty. Healthy as well with all those veggies and a hint of creamy stilton. Yum! | theyumyumclub.com

Keyword:
broccoli, Soup, stilton
Ingredients
2

medium heads of broccoli roughly chopped

1

finely chopped onion

1

roughly chopped stick of celery

1

diced potato

1

roughly chopped leek

4 ¼

cups

vegetable stock

Metric, 1 litre

2

tbsp

olive oil

¼

cup

butter

Metric, 20 grams

5

ounces

blue cheese

Metric, 140 grams
Instructions
First, gather all of the ingredients together.

Prepare the ingredients by finely chopping the onions, dicing the potato, and roughly chopping the celery and leek.

Add the olive oil to a large saucepan and add the onions.

Cook the onion through for a minute or so making sure not to brown the onion.

Add the celery, leek, potato and any broccoli stalk there along with the butter and sweat off for 5 minutes.

Add the vegetable stock and cook through for a further 15 minutes.

Now, add the remaining broccoli and cook through to 5 minutes.

Blend and blitz to a smooth texture and then return to the pan.

Add the Stilton cheese, remembering to leave a little bit for garnish. Once the cheese has melted season to taste.

And there you have it. Classic Broccoli and Stilton soup. Serve with crusty bread. Yum!