Now, this cherry and chia seed smoothie really is a healthy smoothie. I'll talk a little more about the health benefits of the ingredients in a little while but at just over 150 calories per serving of this detox demon, this is one smoothie that should be a regular on the morning list.
Oh, and what's more, the combination of these cherries, the almond milk, banana and chia seeds makes this bad boy one damn tasty smoothie. A great start to the day. Yum!
1. A little about the ingredients
You'll know if you have read some of my other smoothie recipes, I like to try and provide a little information on the health benefits of each smoothie's ingredients. If you have read this before then, by all means, skip to the actual making of the smoothie. If not, then you may well find this interesting.
a) Cherries
Cherries are full of vitamins but are mostly known for their antioxidant and anti-inflammatory qualities. They are a very underrated fruit and there is some evidence that they can help prevent arthritus, including gout. The antioxidant qualities of cherries make these a great compliment to the chia seeds descibed below.
b) Bananas
Bananas are brilliant as they are high in fibre. This supports slow digestion and thus keeps you from feeling hungry longer. Great as a breakfast start to the day. Bananas are also full of vitamins and nutrients including a high level of potassium. Potassium helps, keep your heartbeat regular, maintains good blood pressure, and also keeps your brain focused.
c) Chia seeds
Chia seeds are high in fibre, low in calories and full of nutrients. However, their main benefit is as an antioxidant. A great addition to that provided by the cherries. Antioxidants have been proven to be critical to us humans as we grow older. Antioxidants help fight free radicals which can cause diseases as we age.
d) Almond milk
Almond milk is low in calories and low in sugar in its unsweetened form. Almond milk is also high Vitamin D. One of its key uses, however, is as a dairy substitute so is great for those who have dairy allergies or follow a vegan diet.
2. Get all of the ingredients together
There are only 4 for this super smoothie so bringing them together is simple.
Note that you need to prepare the chia seeds before blending. This is simple and all you need to do is divide the almond milk into two and add the chia seeds to one half of the milk. Then leave for 10 minutes to allow some of the almond milk to absorb into the chia seeds.
3. Blend and serve
Whilst the chia seeds are soaking in the almond milk ad the rest of the milk and the other ingredients into your blender. Note, a hand blender will also do the trick. Now, just blend until smooth.
Once the 10 minutes are up on the chia seeds add these to the smoothie and blitz again. You now have your wonderful detox smoothie. Low calories and full of fibre. Should keep you going until lunch.
Well, that's it for this smoothie folks. I hope you like this one and give it a go. Also, click on the link below to check out all of the other smoothies at The Yum Yum Club. We're starting to get quite a collection.
Click here for more healthy smoothies… ▶
As always, many thanks for reading and until next time… Steve.
4. Nutritional values
5. Printable recipe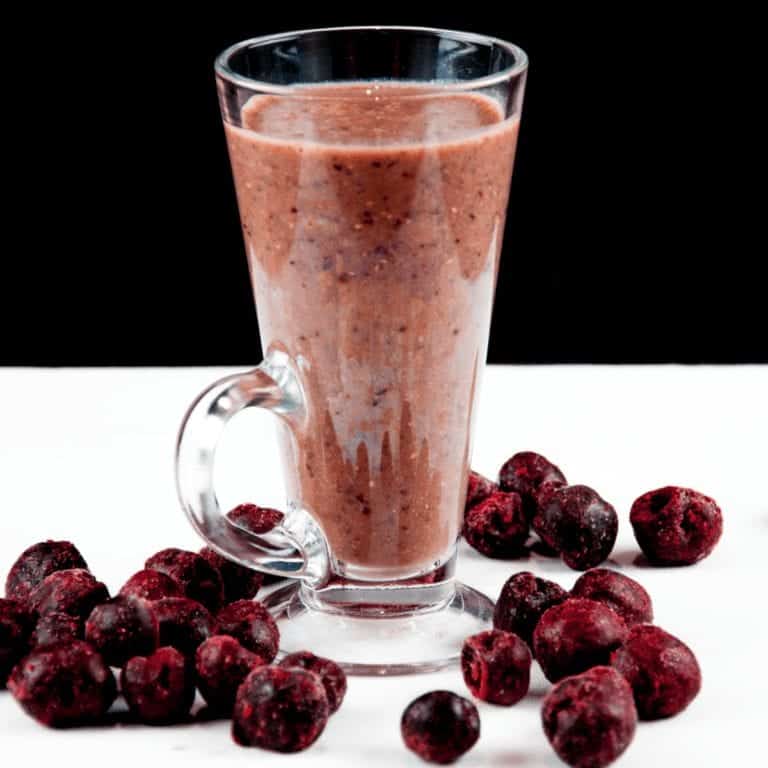 Cherry and Chia Seed Smoothie
Cherry and chia seed smoothie. Made with almond milk. You can't get much healthier. Start the day the detox way. Try this and many other wonderful smoothies. | theyumyumclub.com
Cuisine:
American, English
Keyword:
almond milk, banana, cherry, chia seeds, smoothie
Ingredients
600

ml

almond milk

300

grams

frozen cherries

1

banana

2

tbsp

chia seeds
Instructions
First, gather all of the ingredients together.

Now, take half of the almond milk and pour the chia seeds into the milk. These will need to soak for 10 minutes so the chia seeds absorb some of the milk.

While the chia seeds are soaking, add the rest of the almond milk, the banana and the frozen cherries to a blender and blitz until smooth.

Once the chia seeds have soaked for 10 minutes add to the smoothie and blitz again. Serve and enjoy. Yum!