Muffins of all kinds are fantastic. Honey, banana, cherry, blueberry and even good old chocolate. However, what about strawberry muffins. Ever wondered how to make the best ever strawberry muffins? Yes, the best ever!! The little beauties are like spongey fruit pies. East almost straight from the oven and they melt in your mouth.
But "C'mon Steve" I hear you ask. "Why the best ever? Surely a strawberry muffin is, well, a strawberry muffin right?"… Wrong  ????. These are the best ever strawberry muffins for 2 main reasons, and they are both down to the ingredients.
These muffins are made with a good helping of butter (I never said it was a healthy recipe ????). A number of recipes do this but also a large number these days avoid butter and use various types of cooking oils. This is all well and good but we're making muffins! It's a traditional and proven recipe. Use butter and go for a run afterwards. Muffins made with butter are just so much better.
Secondly, and this does move away a little from tradition, I used frozen strawberries. "Frozen!!" you shout. Well, don't switch over to Amazon quite yet. Hear me out…
Frozen strawberries, and all frozen fruit and vegetables for that matter, are frozen very quickly after picking. Some, peas for example, within one hour. What this does is lock in all of the fruit nutrients, many of which are lost, or certainly reduce, as fresh produce is shipped to the store, or sits in your larder.
Don't get me wrong, fresh produce is absolutely fine and great if you use it relatively quickly, but frozen produce is, arguably healthier, certainly more versatile, and definitely cheaper.
For a very useful and informative article on the differences between fresh and frozen fruits click here… ▶
Have said all of that, this recipe can easily use fresh or frozen strawberries. They will still taste good. Use any fruit for that matter. Just don't use peas… ????
Now, let's make these best ever strawberry muffins…
1. Gather all of the ingredients together
Obviously, strawberries and butter. However, this recipe also requires flour, eggs, vanilla essence, sugar, baking powder, salt and greek yogurt.
The measurements are on the printable recipe below and make 12 good sized muffins. Just scale up or down as you need. Oh, one more thing. I know I implied these best ever strawberry muffins are not that healthy. Well, only 211 calories each so one is ok… right?
2. Prepare the dry ingredients
The only dry ingredients are the flour, baking powder and salt. With these simply place in a sieve over a bowl.
Sieve these through to remove any lumps and then mix gently together and set aside.
3. Prepare the wet ingredients
A little bit of work to do now. If you have an electric mixer this will make life a little easier. If not then go grab a mixing bowl, a whisk and some elbow grease…
First, add the butter (make sure it's at room temperature) to the mixing bowl and then add the sugar. Whisk these two together until light and fluffy.
Now, add the eggs and vanilla essence and mix in.
To this, add the Greek yogurt and mix this in.
With the yogurt mixed in, tip the dry flour mixture into the wet mixture and gently fold the flour in using a spatula until most of the lumps have gone.
Finally, add the milk and mix this to form a smooth cake mix or batter.
4. Prepare the strawberries
The strawberries are frozen but still need to be cut into small pieces. This is easy if using a sharp large kitchen knife. Just be careful the knife does not slip off the strawberry. Be mindful though that the strawberries need to remain frozen otherwise the juice will defrost and make pink muffins.
Once cut, place in a bowl.
Now, sprinkle a little flour over the strawberries. This will stop the frozen strawberries sinking in the cake mix.
5. Prepare the strawberry muffins for baking
Now, complete the cake mix by adding 80% of the chopped strawberries to the mix itself and gently mixing in.
Now, take cupcake baking tray and add cupcake cases.
Spoon the muffin mix into the cupcake cases and sprinkle a few chopped strawberries on the top of each one.
6. Bake the marvellous muffins
Place the muffins in a preheated oven at 180C / 160C Fan and bake for approximately 20 minutes. The key is that the muffins have turned golden on top. Also, test the insides are cooked by poking a cocktail stick through the centre of one of the muffins. If it comes out sticky and wet the muffins need a little longer. If dry, you are good to go.
Once cooked, gently remove from the baking tray and place on wires to cool a little.
The muffins can be eaten straight away or kept in an airtight container in the fridge for around 2 days. They can also be frozen. Just defrost thoroughly and eat on the same day.
And that is all you need to do. Strawberry muffins ready for munching on whenever you like. Yes, a few calories but oh so delicious. Great little cakes and very versatile too. Yum!
I hope you liked this post and invite you to subscribe to The Yum Yum Club's newsletter at the top of the page. This will make sure you get all new recipes posted directly to your inbox. You can also like our FaceBook page and keep up to date that way. Just click here and press like ▶
As always, many thanks for reading and until next time… Steve.
7. Nutritional values
8. Printable recipe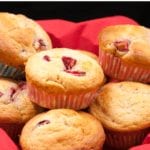 Strawberry Muffins
Strawberry muffins. Yum! Whether it's breakfast, mid-morning coffee or afternoon tea munching on these strawberry muffins will get you through the day ???? | theyumyumclub.com
Course:
Breakfast, Lunch, Snack
Keyword:
coffee break, muffin, snack, strawberry, tea break
Ingredients
2.5

cups

plain flour

Metric 260 grams

2.5

tsp

baking powder

0.25

tsp

salt

1/2

cup

unsalted butter, room temperature

Metric 100 grams

3/4

cup

granulated sugar

Metric 150 grams

2

large eggs

2

tsp

vanilla essence

1/4

cup

Greek yogurt

Metric 70 grams

1/2

cup

semi skimmed milk

Metric 100 ml

1

cup

frozen strawberries, chopped

Metric 250 grams
Instructions
Gather all of the ingredients together.

Roughly chop the strawberries but keep them in the freezer for now.

Preheat the oven to 180C / 160C Fan.

Sieve the flour, baking powder and salt into a bowl and mix together.

Put the butter and sugar into a separate bowl and whisk until fluffy in texture.

Once fully add the eggs and vanilla essence and whisk into the mixture.

Now stir in the Greek yoghurt.

With the yoghurt mixed in, fold in the flour mixture.

Now, stir the milk in gently.

Remove the frozen strawberries from the freezer and coat with a little flour to stop them sinking.

Add 3/4 of the strawberries to the cake mix and stir in.

Now, line a cupcake tin with cupcake papers and evenly spoon in the mixture into 12 cases. 

Sprinkle the remaining strawberries over the top of the cake mix.

Place the cakes in the oven and bake for 18-20 minutes or until they brown on top and a cocktail stick come out dry when placed in the centre of the cake.

Remove from the cake tin and let cool on a wire tray.

Serve warm if you can and enjoy. These wonderful strawberry muffins will last 2 days in an airtight container. Yum!