This leftover Marrakesh lamb ragu pappardelle recipe will be appealing to a many of you for a number of reasons. Apart from being very simple and delicious, it makes the most of any leftover roast meat you may have from the previous day. Something all of us who like a traditional Sunday roast will know oh too well. I just happened to have made a roast leg of lamb.
Look at this wonderful roast lamb ragu. Perfect for a Monday evening…
For those regular viewers of The Yum Yum Club, the recent Aromatic Marrakesh Roast Lamb recipe may well have grabbed your attention. As was mentioned in the post, this was one great variation on traditional roast lamb and very tasty and so delicious!
There's a reminder of this great family food centrepiece below. However, there is one problem with it…
It's very big! Yes, I know, by half a leg Steve. But then you don't get all of the flavours from the whole bone. Further, and in truth, there is also no opportunity to make a delicious next day meal with the leftovers. Which is exactly what I did.
I give you, leftover Marrakesh lamb ragu pappardelle…
1. Gather all of the ingredients together
As alluded to above, any meat can be used to make this pasta recipe. In fact, the meat doesn't have to be leftover roast meat. It's just this is a great recipe for using up any leftovers. If there is no leftover meat to hand then I recommend beef, lamb or pork. Chicken can also be used and, if so, I try chicken thighs.
Whichever meat is used, the only other ingredients, ignoring the pasta, is that for the ragu. For this, just onion, carrot, celery. Some tomato passata and tinned, chopped tomato. A touch of white wine and a few herbs.
As always, the printable recipe is below and is set up to serve 4. If you need more or less just scale the ingredients accordingly.
2. Prepare the ingredients
The only real preparation is for the vegetables and meat. Before I discuss those, however, a quick word on the passata. If unaware, passata is basically a thick tomato sauce used as the base for many Italian recipes. It's simple to make. However, it is also very simple to buy and widely available around my way. I recommend buying if it's available but if not then there is a great and simple recipe here… ▶
For the vegetables, it's as simple as finely chopping the carrot, red onions and celery stick. My personal preference is to chop into very small pieces so the main bulk of the sauce is the meat. However, if a chunky vegetable texture is preferred then just cut larger pieces.
For the meat, just cut into good bite-size pieces. Remember, though, if not using pre-cooked roast meat but raw meat, then this will shrink in the cooking process so cut slightly bigger pieces. Traditionally, ground beef or pork would be used and is actually very good.
3. Prepare the base sauce
To prepare the ragu sauce ready for cooking through start by heating the olive oil on low heat in a large saucepan.
Once up to heat add the onions and heat through. Keep stirring and do not burn.
After a minute or so add the celery and carrots.
All the vegetables now need to be cooked until they are soft. However, it is important not to burn them. Keep the heat low and keep stirring. The lid can also be placed on the pan to create some steam. This cooking process should take around 5 minutes or so.
With the vegetables softened, add the leftover meat, season and heat through.
Note that if using fresh, raw meat then turn the heat up slightly and brown the meat off a little. The full outside of the meat should be sealed.
Once ready, add the white wine and reduce by half.
Now, add the tomato passata and chopped tinned tomato.
Stir the tomatoes in and bring to a simmer. Once simmering add the herbs and Gojo berries and turn the heat down to the minimum.
The base sauce is now ready for cooking and turning into a tasty ragu.
4. Cook the ragu and finish
With the base sauce made all that now needs to happen is for the sauce to cook through slowly on low heat for around 2 hours, stirring occasionally. This will allow the juices from the meat and the vegetables to mix with the seasoning and create a wonderfully rich tomato meat sauce.
After the 2 hours is almost up check the taste of the ragu. If a little bland then season with some good quality sea salt. However, if acidic then add a pinch of sugar. This will neutralize the acidity of the tomatoes.
5. Prepare the pasta and serve
With the ragu just about done put some water onto boil and season. Now, cook whichever pasta you choose. I like pappardelle as the large surface gets fully coated with the sauce. Any pasta you fancy will do though.
Once the pasta is cooked, drain and server in a bowl with the ragu on top. Yum!
And that's about it folks. A simple and wholesome pasta ragu recipe made from a few things in the cupboard and a leftover roast dinner. Simple, resourceful and wasteless. Oh, and pretty delicious too!!
I do hope you enjoyed this post. As mentioned above, any leftover roasted meat can be used for this recipe, as can fresh meat if that's what you have to hand. The recipe for the Marrakesh lamb used in this dish can be found by clicking here ▶.
If you'd like to be kept up to date on new recipes as they are released either subscribe to the newsletter at the top of the page or just follow us on Facebook or Pinterest.
As always, many thanks for reading and until next time… Steve.
Nutritional values
Printable recipe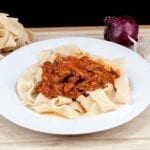 Leftover Marrakesh Lamb Ragu Pappardelle
Leftover Marrakesh Lamb Ragu Pappardelle. North Africa meets the Mediterranean. What a food combination! What a recipe! And using leftovers means no waste!! It's a win win win | theyumyumclub.com
Course:
Dinner, Main Course, Pasta
Cuisine:
Italian, Mediterranean, Morrocan
Keyword:
#lambragu, #marrakeshlamb, #morrocanlamb, #morroco, #pappardelle
Ingredients
17.5

oz

roast lamb (or any other leftover roast meat)

Metric - 500 grams

1

red onion

1

medium carrot

1

celery stick

9

oz

passta

Metric - 250 grams

9

oz

tinned chopped tomatoes

Metric - 7250 grams

6

fl oz

white wine

Metric - 180 ml

1

tbsp

dried Gojo berries

10

fl oz

meat stock (depending on the meat used)

Metric - 300 ml

3

bay leaves

2

tbsp

olive oil

2

tbsp

sugar (optional)

8

twirls

papperdelle pasta

Seasoning

1

sprig

fresh thyme
Instructions
First, gather all of the ingredients together.

Prepare the red onions, carrot and celery stick by finely chopping. Use a blender if you need to.

Take the roast lamb, or other meat, and slice into bite-size pieces.

Heat the oil in a pan over low heat.

Add the onions, celery can carrots.

Cook through for 5-10 minutes until soft. Be careful not to burn. Use the lid of the saucepan to sweat off the vegetables if needed.

Now, add the roast lamb and season the pot. Stir the meat into the vegetables and heat through.

Add the white wine and let this reduce by half.

Add the passata and the chopped tomatoes and heat through.

Finally, add the bay leaves and Gojo berries and heat through.

Keep the pot on low heat for around 2 hours stirring occasionally.

After the 2 hours are almost complete, place a pot of water on the stove to boil and cook the pappardelle as per the packet instructions.

Season the ragu to taste. If too acidic due to the tomatoes then add a pinch of sugar

Once the pasta is cooked strain and serve. Simple place the strained pasta in a bowl and add the ragu to the pasta. Delicious and oh so yummy!