Now, my little band of Foodie Friends, I have to say that I'm not really a chocolate cornflake cupcake man. Haha. Don't get me wrong. It was probably these little babies that started my cookery love many moons ago. However, my pallet has changed over the years and give me a big piece of stilton over a bar of chocolate any day!
Nevertheless, today there was a need to make these lovely chocolate cornflake cupcakes. Let me explain…
My very good friends, Paul and Lotty, you can see them at the Landmark Brunch post, have 5, yes count them, 5 kids. The 3 eldest are almost grown up and self-sufficient (don't laugh Paul!), but the 2 youngest, twin girls still need a little bit of looking after. Well, yesterday afternoon my pals had some personal stuff to do and had no other option than to ask me to keep an eye on the twins for an hour. Gulp!! Jen!!!
Well, my beautiful wife was also out with her cousin some 40 miles away. So there I was, in my best friends house having to entertain a couple of barely teenage identical twins (well, almost). Now, being a father of one son, a big butch 22 years weightlifter, this position left me a little out of my depth. So what to do…?
I know I thought. Let's make some cakes. I only had an hour or so I rummaged around Lot's cupboard to see what inspiration I could find. And there it was, 4 simple ingredients just waiting to be mixed together.
C'mon girls. Let's cook…



1. Let's do the prep…
Firstly, I got the girls to break up the chocolate and add it to the bowl. There did see less chocolate than we started off with but that must be just my imagination. I then measured the butter and then one of the girls added the honey.
2. Making the chocolate sauce…
Now, before I explain how we made the sauce I have added a little disclaimer. Because of the terrible world we live in, even in this innocent food blog, I need to say that this part is the hot bit. If you are making this with young children, therefore, you, as the adult, should do this bit.
For me, the twins are a little older than this, and have told me they'd made these chocolate cornflake cupcakes "loads of times", I knew they could help a little.
Firstly, you need to make a bain marie. This is a French phrase but is a simple method for melting a product that could burn if subjected to direct heat. Chocolate is in this category.
To make the bain marie just get a saucepan smaller than the mixing bowl. Next, pour water into the pan such that the mixing bowl can sit in the top of the pan but not touch the water.
Now put the saucepan and mixing bowl on a hob at a low heat and as the water heats up so does the bowl. This then melts the chocolate and butter mix.
Keep stirring until everything has melted and you have a smooth and creamy chocolate sauce.
3. Add the cornflakes…
Next, just simply add as many cornflakes as it takes to use all the chocolate sauce. All the cornflakes need to be covered with chocolate. Also, make sure that you don't crush the cornflakes when you stir the mix.
As a side note, just remember you don't have to use cornflakes if you don't want to. Any breakfast cereal will do. Try Rice Crispies or Coco Pops for example.
4. Make the chocolate cornflake cupcakes
Let the chocolate mixture cool a little. Just enough that you can touch it with your finger. Then lay some cupcake cases on to a tray.
Now, finally, spoon the chocolate sauce and cornflake mix into the cases.
That's it. Just let them cool to room temperature and then put them in the fridge and let them harden up. An hour or so should do it. Chocolate cornflake cupcakes. Simple and fun!
OK, gang, Paul and Lot are now back and the pressure's off. I do hope you enjoyed this easy recipe. As usual, any comments or questions are very welcome. Just use the comments box below.
Until next time my friends…Steve.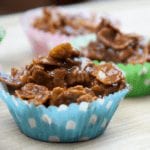 Chocolate Cornflake Cakes
Keyword:
Chocolate, Cornflakes
Ingredients
2/3

cup

cooking or milk chocolate

Metric - 150 grams

1/3

cup

unsalted butter

Metric - 75 grams

1

tbsp

honey or golden syrup

Cornflakes
Instructions
Break the chocolate up and place in a glass mixing bowl. Then add the butter and honey or syrup.

Now make a bain marie by taking a saucepan smaller than the glass mixing bowl and pour water into the bowl such that the bowl sits on top of the pan, but does not quite touch the water.

Now put the pan on a slow heat and watch the chocolate, butter and honey mix slowly melt down. Keep stirring.

Melt fully until you have a smooth chocolate mixture.

Now, add some cornflakes to the mixture and coat fully with the chocolate. I've not measured how many cornflakes here. Just add enough to be fully covered by chocolate.

Mix thoroughly being careful not to smash the cornflakes.

Now lay out some fairy cake or cup cake cases on a tray.

Next, spoon the chocolate and cornflake mixture into the cupcake cases as evenly as possible.

Now let the cakes cool to room temperature and then move to the fridge until the chocolate goes hard. Now simply enjoy! Yum Yum!!