Are you ready to indulge in a delicious and comforting meal that will warm you up from the inside out? Look no further than Slow Cooker Beef Stew! This hearty dish is perfect for those chilly months when you crave something warm, flavorful, and satisfying. With tender beef, a medley of vegetables, and aromatic herbs, this stew is a true culinary delight that will leave you feeling cozy and content. Let's dive into the details and learn how to create this mouthwatering masterpiece!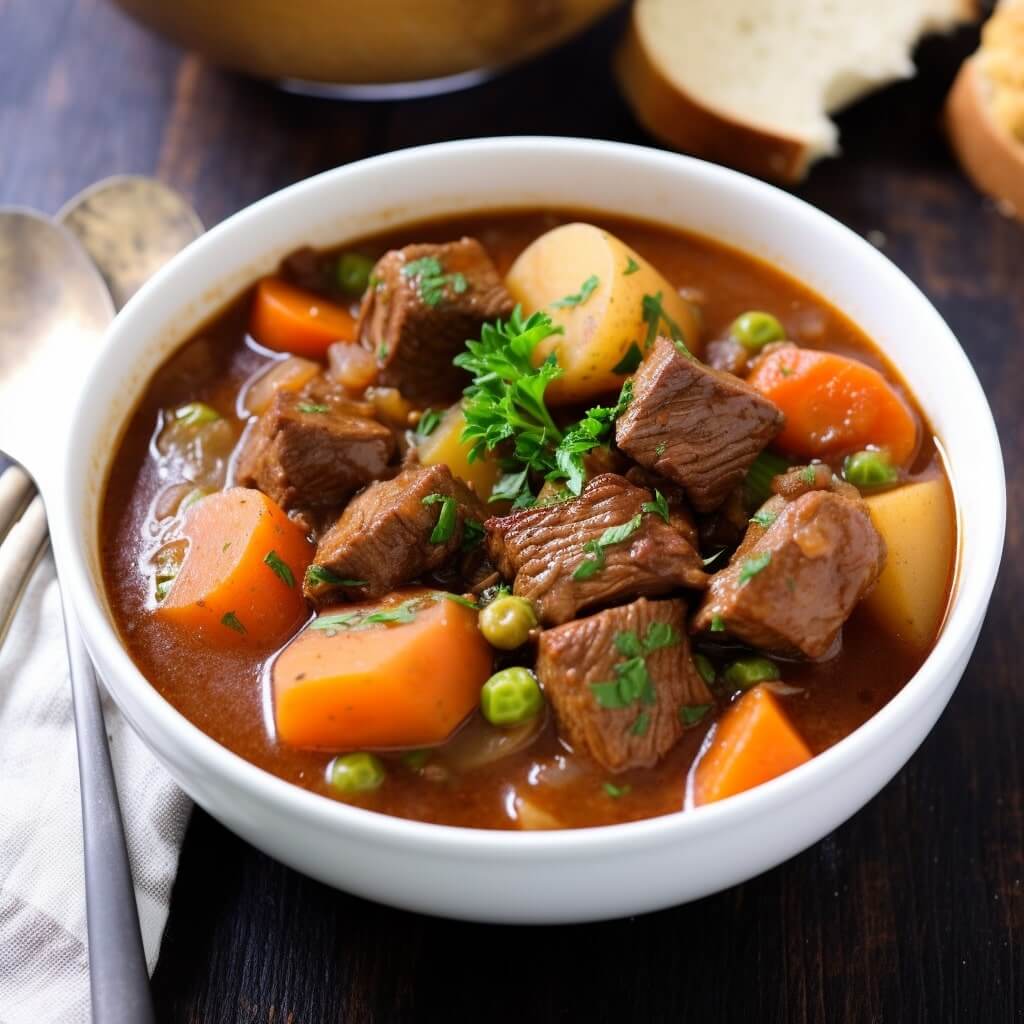 The ingredients: A Perfect Harmony of Flavors and Textures
To bring this Slow Cooker Beef Stew to life, you'll need a handful of ingredients that work together to create a symphony of flavors. Here's what you'll need:
| | |
| --- | --- |
| Amount | Ingredients |
| 2 lbs | Beef stew meat, cubed |
| 1/4 cup | All-purpose flour (gluten-free flour for GF option) |
| 1 tsp | Salt |
| 1/2 tsp | Black pepper |
| 2 tbsp | Olive oil |
| 3 cloves | Garlic, minced |
| 1 large | Onion, chopped |
| 4 medium | Carrots, sliced |
| 3 stalks | Celery, sliced |
| 2 cups | Potatoes, cubed |
| 2 cups | Beef broth |
| 1 cup | Red wine (optional) |
| 2 tbsp | Tomato paste |
| 2 tsp | Worcestershire sauce |
| 2 bay leaves | |
| 1 tsp | Dried thyme |
| 1 tsp | Dried rosemary |
| 1/4 cup | Chopped fresh parsley |
The Preparation: Slow and Steady Wins the Flavor Race
Now that we have all the ingredients at hand, it's time to embark on our slow cooker adventure. Here's how you can make the Slow Cooker Beef Stew:
Coating the Beef: Start by combining the cubed beef stew meat, all-purpose flour, salt, and black pepper in a large bowl. Toss everything together until the meat is evenly coated with the flour mixture.
Browning the Beef: Heat the olive oil in a skillet over medium-high heat. Add the coated beef cubes and cook them until they turn beautifully browned on all sides. This step helps to seal in the juices and enhance the overall flavor. Once browned, transfer the beef to your trusty slow cooker.
Sautéing the Vegetables: In the same skillet, add the minced garlic, chopped onion, sliced carrots, and sliced celery. Sauté them for around 3-4 minutes, or until the vegetables start to soften and release their delightful aroma. Once done, transfer this veggie medley to the slow cooker, joining forces with the beef.
Adding the Flavorful Touches: Now, it's time to add the remaining ingredients to the slow cooker. Drop in the cubed potatoes, beef broth, red wine (if you're feeling adventurous), tomato paste, Worcestershire sauce, bay leaves, dried thyme, and dried rosemary. Give everything a good stir to ensure that the flavors meld together beautifully.
Slow Cooking Magic: Cover the slow cooker and set it to low heat for 7-8 hours or high heat for 4-5 hours. This long, slow cooking process allows the beef to become tender and allows the flavors to fully develop and mingle with each other. The anticipation will build as your kitchen fills with the enticing aroma of the stew.
Final Touches: Once the cooking time is up, it's time to remove the bay leaves from the stew. Take a moment to savor the delightful aroma that fills the air. Now, it's time to taste and adjust the seasoning if needed. Grab a spoon and let your taste buds guide you. If you feel like it needs a bit more salt or pepper, go ahead and add a pinch to bring out the flavors even more.
Serving and Enjoying: Finally, the moment you've been waiting for! Ladle the piping hot Slow Cooker Beef Stew into bowls, and if you'd like, garnish each serving with a generous sprinkle of freshly chopped parsley. The vibrant green adds a pop of color and freshness to the dish. As you take your first spoonful, let the warmth of the stew envelop you, and savor the tender beef, the rich broth, and the delightful medley of vegetables. It's a taste of comfort and satisfaction.
The Versatility: Customize to Your Heart's Content
While this Slow Cooker Beef Stew recipe is fantastic as is, feel free to unleash your creativity and make it your own. Here are a few ideas to personalize your stew:
Vegetable Variations: If you're a fan of peas, mushrooms, or any other vegetables, go ahead and add them to the stew. They'll complement the flavors and add extra nutritional value.
Herb Substitutions: Don't have thyme or rosemary on hand? No worries! Feel free to experiment with other herbs like oregano, basil, or even a touch of sage. Each herb brings its own unique flair to the dish.
Extra Flavor Boosters: Craving an extra layer of richness? Consider adding a splash of balsamic vinegar or a dollop of Dijon mustard to elevate the flavors to new heights.
Serving Suggestions: While the stew is delicious on its own, you can pair it with some crusty bread, fluffy mashed potatoes, or even a side salad for a well-rounded meal.
Slow Cooker Magic: Effortless and Delicious
One of the best things about Slow Cooker Beef Stew is that it's a set-it-and-forget-it kind of meal. Once you've done the initial preparation, your trusty slow cooker takes over and works its magic. It slowly simmers the ingredients, allowing them to meld together, resulting in a tender and flavorful stew that's worth the wait. Plus, as the stew cooks, your home will be filled with mouthwatering aromas that will make you even more excited for mealtime.
Not only does the slow cooker save you time and effort, but it also intensifies the flavors and ensures that the beef becomes incredibly tender. The long cooking process allows the ingredients to release their juices and meld together harmoniously, creating a rich and satisfying dish.
A Warm and Comforting Delight
Slow Cooker Beef Stew is more than just a meal; it's a comforting embrace on a chilly day. With every spoonful, you'll feel the warmth seeping into your bones and a sense of contentment washing over you. It's the kind of dish that brings people together, as the aroma beckons family and friends to gather around the table.
So, the next time you find yourself craving a hearty and soul-soothing meal, reach for your slow cooker and give this Slow Cooker Beef Stew recipe a try. With its tender beef, vibrant vegetables, and aromatic herbs, it's sure to become a beloved favorite in your kitchen. Enjoy the flavors, savor the moments, and let the Slow Cooker Beef Stew warm both your body and your soul.