Hey Yum Yummers!! Ever wondered how to make cream meringues like these…
They look good, don't they? Well these creamy little sweet bombs are very easy to make and with Christmas coming up, and the diet planned for January 1st, why not give them a go? Go on, indulge a little!!
Now, these dessert beauties only really need 4 ingredients. Well, 5 if your conscience says you need to add some fruit ????. But still, a very small number and minimal cooking. It's just making a meringue and then making a cream sandwich. Easy!
C'mon, I'll show you how…




1. Get the ingredients together
As always, do the preparation first. It makes whatever you are cooking so much easier and less stressful. For this cream meringue recipe, and to make approximately 16 cream meringues, all you need is the whites from 8 large eggs, 230 grams of caster sugar, 230 grams if icing sugar, and a small tub of double cream.
2. Make the meringues
To make the meringue add the egg whites to a mixing bowl and whisk until the mixture is fluffy and light and makes peaks if you remove the whisk.
Once whisked add the sugar a spoonful at a time and whisk in. Now, sieve the icing sugar over the meringue and fold into the meringue gently. You want to avoid beating the air out of the meringue mixture.
Now, line two baking trays with non-stick liner ready for the baking.
Once all of the icing sugar has been folded into the meringue mixture and, using a piping bag, pipe the meringue mixture onto the baking trays in small domes, around 3-4 cm in diameter. I use a starred nozzle to get a more decorative effect. Once piped the meringues should look something like this:
Now, bake in a pre-heated at 110C / 100C Fan for around 75 minutes, or until the bases of the meringues have turned golden in colour. Then remove and cool. Make sure that you cool the meringues separately and do not stack them up on each other. If you do this they may stick together and lose their shape when you pull them apart.
3. Finish the cream meringues
Whilst the meringues are baking whip the double cream to a thick and creamy consistency, being careful not to over whip. Remember, if you do overwhip the cream, and it becomes grainy then just add a couple of spoonfuls of un-whipped cream and stir in. It should then be fine.
Once the meringues are cooled, and using a piping bag and a plain large nozzle, pipe cream onto the base of one meringue and make a sandwich with another. Repeat this until all meringues are used up.
I finished the meringues by adding some raspberries and a sprinkle of icing sugar but this is optional. One other variation is to add a little raspberry jam to the base of the meringues before you add the cream. Or any flavour jam depending on your taste.
I've already taken the time to bake up a batch of beautiful meringues, and I also love treats to give as gifts and share with neighbors, friends, and loved ones, especially during the holiday season. The meringues deserve to be wrapped in an equally nice package that looks as great as they taste! If you are looking for simple and unique ways to pack them, a plain box that includes the personalized best wishes written on the custom labels outside is enough.
And that about it my Fine Foodie Friends!! I hope you like this little post on how to make cream meringues and give it a go yourselves. If you do, I'd love to know how you get on. Or check out some of my other delicious recipes like those below.
As always, many thanks for reading and until next time…Steve.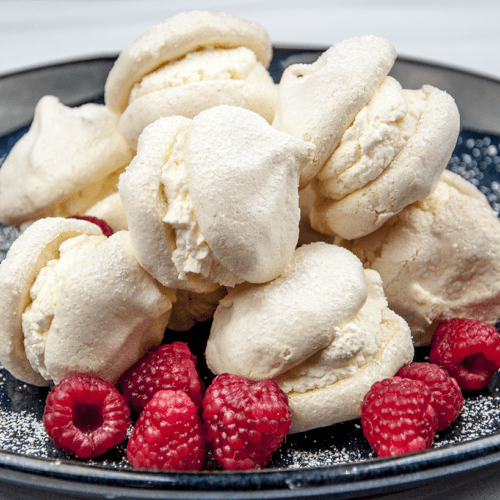 Cream Meringues
Course:
Cakes, Dessert, Pudding
Keyword:
Cream, meringue, raspberries
Ingredients
8

large egg whites

230

grams

caster sugar

230

grams

icing sugar

1

small tub of double cream

1

punnet

raspberries

optional
Instructions
Firstly, get all of the ingredients measured out and together ready for cooking.

Next, whisk the egg whites until they form a thick creamy mixture and are able to make peaks.

Now, add the sugar a dessert spoonful at a time and whisk in, keeping the same consistency.

Next, sieve the icing sugar over the meringue mixture and gently fold in.

With a piping bag and large nozzle pipe the meringue mixture onto a baking tray lined with a non-stick liner. The meringues should be 3-4 cm in diametre.

Now, bake the meringues in a pre-heated oven at 110C / 100C Fan for 75 minutes, or until the base of the meringues are firm and golden brown. The remove and cool on a wire rack.

Now, whisk the cream and add to a piping back with a large plain nozzle. Pipe the cream onto the base of a meringue and make a sandwich with another. Repeat this until all of the meringues are used up.

Garnish with fresh raspberries and sieved icing sugar. Wonderful cream meringues in no time.
Recipe Notes
For some addiional flavour spoon some jam on the base of the meringue before piping the cream. Any jam will do depnding on what you like.