Wild mushroom soup. What a lovely thought. Wholesome, healthy and very tasty. Simple to make and depending on whether you use the optional butter and stock it can be great for vegetarians and vegans. What a versatile soup. Serve with crusty granary bread and you have a great lunch or appetizer.
Right then my fine foodie friends, let's make it…
1. Get the ingredients together
As always, get all the ingredients together ready for cooking. Quite simple here. The only preparation is to finely chop the shallots and make the stock. Remember, if vegetarian or vegan, the stock can be vegetable or just replaced with the equal amount of water. The butter is also optional and extra virgin olive oil can be used instead. I also decided not to add the cream in the end as the soup was just right without it.
2. Make the raw soup
To make the raw soup, that is, before blending, first, sweat the shallots off in the oil or butter for around 3 minutes. You do not want to colour them so use a low heat and put the lid on the saucepan to, in effect, steam the shallots.
Once the shallots are softened, add the mushrooms and sweat off for 5 minutes. The, add the sherry and reduce this by half.
And that's the raw wild mushroom soup done. Now to blend and cook through.
3. Blend and finish the soup
With the raw soup cooked, pour this into an electric blender and blend until smooth and silky. Now, return this to the pot and continue to simmer for 20 minutes.
If you find any impurities float to the top of the soup just spoon these off and discard.
After 20 minutes of simmering simply season the soup to taste and then it's ready. I like to garnish the soup for serving with a little-sauteed mushroom but, again, this is your decision.
Also, serve with some crusty granary bread for a tasty and filling winter lunch. Yum!
Well, that's all folks! I hope you enjoyed this simple but very tasty wild mushroom soup. If you do give it a go I'd love to hear how you get on. Just use the comments section below.
Or, if you wanted to be notified of new recipes just sign up to the newsletter at the top of the page and I'll keep you updated.
As always, many thanks for ready and until next time… Steve.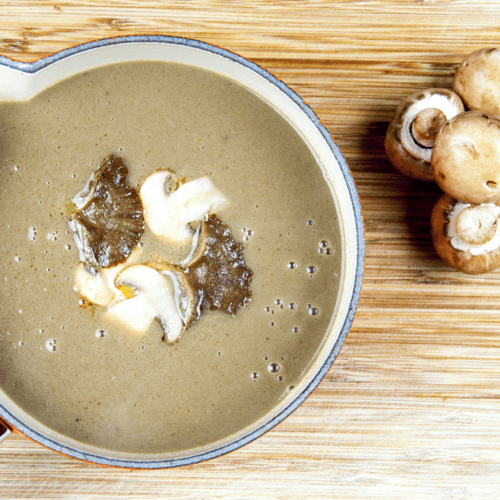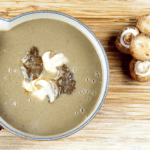 Wild Mushroom Soup
Wonderfully warming wild mushroom soup. Very easy to make and a fantastic winter lunch when served with some fresh crusty granary bread. Yum!
Course:
Appetizer, Lunch, Soup
Keyword:
mushroom, Soup, Vegan, Vegetarian, wild mushroom
Ingredients
0.25

cup

shallots finely chopped

Metric 60 grams

1.5

cups

mushroom - you choose which, combine button mushroom if you like

Metric 400 grams

19

fl oz

water

Metric 570 ml

10

fl oz

chicken or vegetable stock

Metric 290 ml

1/3

cup

butter (extra virgin olive oil is fine if vegan)

Metric 100 grams

Seasoning

1/4

cup

sherry
Instructions
First, and as always, get all of the ingredients together.

Next, using the half of the butter or olive oil sweat off the shallots for around 3 minutes. Do not colour them so use a light heat and the lid on your saucepan. 

Now, add the mushrooms and cook through for 5 minutes. Remember to keep a couple if mushroom slices back to use as garnish. Then add the sherry and reduce this down by half.

Now add the water and stock. If you are unsure about the stock you can just replace it with the same amount of water. Bring this to the boil.

Next, using a food blender, blend all of the soup until smooth and silky. Then return this to the saucepan.

Now, cook this through by simmering it for around 20 minutes and then season to taste. If you like you can now add the remaining butter or a drizzle of extra virgin olive oil to add a nice sheen to the soup. This is optional though.

Finally, light sautee the mushroom slices off and garnish the soup. There you have it. A wonderful warm wintery wild mushroom soup. Serve with fresh and crusty granary bread. Yum!