I've experimented with a lot of smoothie ideas in the last couple of weeks or so. Some have been a disaster but many have been great. All of those that are healthy and have tasted great have been posted. I have to say, however, this Green Goddess, as I've called it, is not only the best green smoothie that I've created so far but the best of all smoothies! Look at this beauty…
Green apple, avocado, baby spinach, cucumber, honey and almond milk. Now that is one fantastically healthy group of ingredients. Yes, it's vegetarian-friendly. Yes, it's vegan-friendly. But it doesn't matter what diet you may be on. Make this, get it down you before you leave the house in the morning, and you'll be bouncing towards your day. Yum!
1. A closer look at the ingredients
Let's have a quick look at some of the health benefits of the main ingredients in this super green smoothie.
a) Apples
Remember the old proverb… An apple a day keeps the doctor away. Well, maybe a little exercise and less saturated fat may help too but apples are very healthy. They are not only full of fibre but also antioxidants. These are great for detoxing and help reduce the risk of developing cancer, increasing your blood pressure, or developing diabetes or heart disease. An apple a day…
b) Avocado
Avocados are high in many vitamins and high in fibre. Avocados also have more potassium than bananas which is great for maintaining healthy blood pressure levels. The main benefit of avocados, however, is the fat they contain. Avocados contain loads of monounsaturated fatty acids. These are linked to olive oil and help to reduce cholesterol levels. Something we all must keep an eye on.
c) Baby spinach
Baby spinach, or spinach generally, is very high in many vitamins and iron. Remember Popeye. The main health benefit with spinach is that it is difficult to find other vegetables with such high levels of Vitamin K in them. Vitamin K is critical to use humans as it helps maintain healthy bones.
d) Cucumber
The key benefit of cucumber is the fact that it is very low in calories as it's over 90% water. To this end, cucumber also helps with hydration.
Now we know just how healthy this green smoothie is let's make it…
2. Gather and prepare the ingredients
As already mentioned, you only need 6 ingredients for The Green Goddess. Apple, avocado, spinach, cucumber, honey and almond milk.
The only preparation required is to remove the core from the apple and the stone and skin from the avocado. Finally, peel and deseed the cucumber.
Now you're ready to blend and blitz…
3. Blend and blitz
All you have to do here is put all of the ingredients straight in your blender and turn it on.
Blitz until smooth and there you go my healthy friends. The Green Goddess has arrived. A wonderfully refreshing green smoothie to kick off your day. What more do you need?
Many thanks for reading all. I hope you enjoyed this short post. There are many other healthy smoothies on The Yum Yum Club so if you want to see the selection just click here ▶ or why hot have a look at some of The Yum Yum Club's recipes like these…
Until next time… Steve.
4. Nutritional values
5. Printable recipes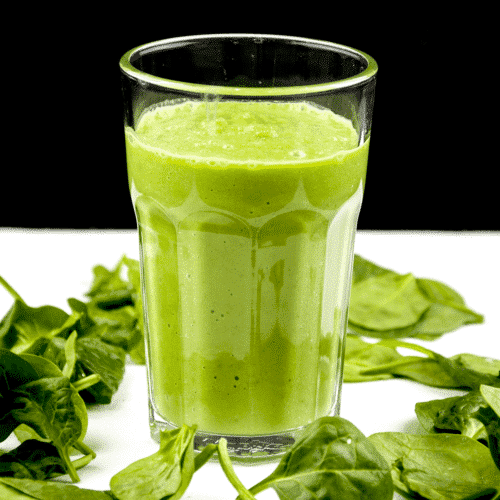 The Green Goddess
The Green Goddess is the ultimate green smoothie. Fresh green apple, avocado, spinach and cucumber. What a refreshing start to the day. Fantastic and yummy! | theyumyumclub.com
Course:
Breakfast, Lunch, smoothie
Cuisine:
American, English
Keyword:
apple, avocado, cucumber, Healthy, smoothie, spinach, Vegan, Vegetarian
Ingredients
1

green apple with the core removed

1/2

avocado

1

cup

washed baby spinach

1/2

peeled and deseeded cucumber

1

cup

almond milk

1

tbsp

honey
Instructions
First, gather all of the ingredients together.

Next, prepare the ingredients by removing the core from the apple, removing the stone from the avocado and peeling and deseeding the cucumber.

Put all of these ingredients into your blender and blitz until smooth.

Pour into a glass and enjoy a great start to your day. Yum!