Super low-calorie smoothie this time my healthy food friends. Blackberry and raspberry smoothie. A true taste of countryside berries. One could even say a bevvy of beautiful berries! I'll stop now… ????
But seriously, just 4 ingredients. Blackberries, raspberries, milk, and vanilla essence. Almost fat-free and 130 calories per cup. What a great start to the day, or even a light lunch. Perfect!
The printable recipe is below but let's just make it together. It's so simple…
1. A quick word about the ingredients
If you've read some of my other smoothie posts you will know I like to add some informative comments about the health values of the primary ingredients. With this one it both blackberries and raspberries. Let's look at them in turn.
a) Blackberries
Blackberries are full of Vitamin C and high in fibre. Vitamin C supports the immune system and helps us recover from illness quicker. Fibre is great for reducing cholesterol and losing weight by making you feel fuller for longer. But that's not all. Just one cup of blackberries provides over 1/3 of the daily requirements of Vitamin K. This help with blood clotting and bone strength.
b) Raspberries
Raspberries have similar qualities to blackberries but, in addition, are high in antioxidants and gallic acid. Both these help with the immunity system as we, as humans get older.
So, let's make this super healthy smoothie…
2. Get the ingredients together
As already stated, only 4 ingredients for this super low-calorie blackberry and raspberry smoothie. You can make 4 good cupfuls with just 300 grams frozen blackberries, 200 grams frozen raspberries, 600 ml of non-fat milk, and a touch of vanilla essence. That's it…
2. Blend and blitz
Use a food processor if you have one. If not a stick blender will do. Just remember that the stick blender may take a little while longer because the fruit is frozen. If using a stick blender also use an oversized bowl. This will help with any splashing that may occur.
And that's it. This is a very quick, healthy and low-calorie smoothie. Start the day the right way.
I hope you enjoyed this one. As always, these smoothie posts are only short but healthy tasty food doesn't need to be complicated. Give it a go at home and let me know how you get on. Just use the comments box below.
Also, remember, this is just one of an ever-growing series of smoothie recipes. Check out the smoothie page by clicking the photo below. And remember to bookmark it. I'm continually adding more and more healthy smoothies to this page. Yum! ????
As always, thanks for reading and until the next healthy smoothie… Steve.
3. Nutritional values
4. Printable recipe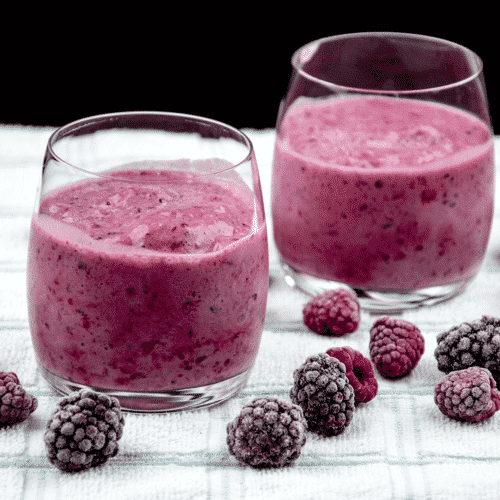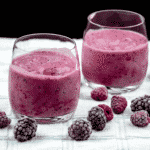 Blackberry and Raspberry Smoothie
This blackberry and raspberry smoothie is a very tasty and healthy smoothie. Just 4 ingredients. Blackberries, raspberries, milk, and vanilla essence. It takes no time to make and at 130 calories a serving you can't go wrong! Yum! | theyumyumclub.com
Cuisine:
American, English
Keyword:
blackberry, raspberries, raspberry, smoothie
Ingredients
600

ml

milk

300

grams

frozen blackberries

200

grams

frozen raspberries

1

tsp

vanilla essence
Instructions
First, as always, get all of the ingredients together.

Now, add the vanilla essence to the milk and mix well.

Place all of the ingredients in a blender.

Blitz, pour and enjoy! Yum!!