This super strawberry and chia seed smoothie has it all. Healthy, tasty, low-calorie and cholesterol free. Vegan-friendly too.  It's also only 4 ingredients. Strawberries, banana, almond milk, and chia seeds. 10 minutes to make max and your day can't start any better. Fantastic and oh so yummy.
What's more, and if you are new to chia seeds, these very small beauties are serious bad boys, in a good way. They come from the chia plant (right) and have so many healthy qualities there are too many to mention in this smoothie post. If you would like to learn more about chia seeds and their healthy qualities there is a great article if you click here.
So, let's make this strawberry and chia seed smoothie…
1. A quick word about the ingredients
As this is meant to be an informative blog, and we are talking about healthy ingredients, I wanted to provide a couple of comments about the health benefits of this strawberry and chia seed smoothies key ingredients.
a) Strawberries
These fantastic fruits are packed full of vitamins and are considered in the top 20 of antioxidant fruits. Strawberries are low in calories, being around 33 calories per average strawberry. They are also high in fiber, fat-free, sodium free, and cholesterol free. Frozen strawberries are basically as good as fresh ones by try and go for those that are unsweetened to keep the sugar levels down.
b) Bananas
Bananas are brilliant as they are high in fiber. This supports slow digestion and thus keeps you from feeling hungry longer. The high fiber also supports a healthy heart. Bananas are also full of vitamins and nutrients including a high level of potassium. Potassium helps, amongst other things, keeping your heartbeat regular, maintains good blood pressure, and also keeps your brain focused. All this makes bananas a formal super fruit.
c) Chia seeds
Chia seeds are high in fiber, low in calories and full of nutrients. However, their main benefit is as an antioxidant. This is proven to be critical to us humans as we grow older. Antioxidants help fight free radicals which can cause diseases as we age, like cancer.
d) Almond milk
Almond milk is low in calories and low in sugar in its unsweetened form. It is also high Vitamin D. One of its key uses, however, is as a dairy substitute so is great for those who have dairy allergies or follow a vegan diet.
2. Get the ingredients together
As mentioned above, only 4 ingredients for this super healthy strawberry and chia seed smoothie. To make 2 good sized smoothies you just need 2.5 cups frozen strawberries, 2 bananas, 300 ml almond milk, and 2 tablespoons of chia seeds. That's it…
3. Prepare the chia seeds
The first thing you need to do is add the chia seeds to 1/3 of the almond milk and set aside in the fridge. It's only to allow some of the milk to soak into the seeds and soften them up. It only takes 5 minutes or so.
4. Blitz and blend
Unlike most smoothies, it's better to prepare this strawberry and chia seed smoothie in separate stages. Don't worry, it will still only take 5 mins or so…
First, and using a food processor or stick blender, blitz the rest of the almond milk with the bananas. Then add the strawberries and do the same.
Finally, add the almond milk and chia seed mix and do one more final blitz. If some of the seeds stick to the side of the blender just scrape them down.
And that's it. A wonderfully healthy strawberry and chia seed smoothie that will set you up for the day the right way.
These smoothie posts are only short but healthy tasty food doesn't need to be complicated. I hope you enjoyed it and give it a go at home. If you do, let me know how you get on. Just use the comments box below.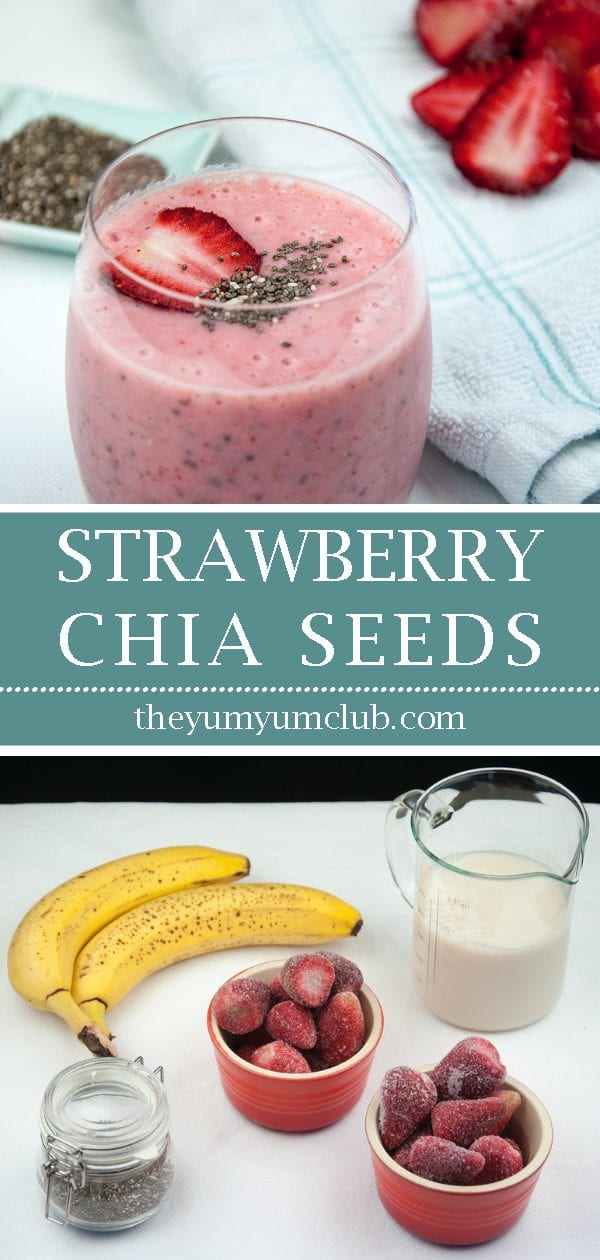 This is just one of The Yum Yum Club's healthy smoothie collection. Check out the smoothie page by clicking the link to see the whole healthy collection. Also, remember to bookmark it. There are 3-4 added every week. Yum! ????
As always, many thanks for reading and until the next healthy smoothie… Steve.
5. Nutritional values
6. Printable recipe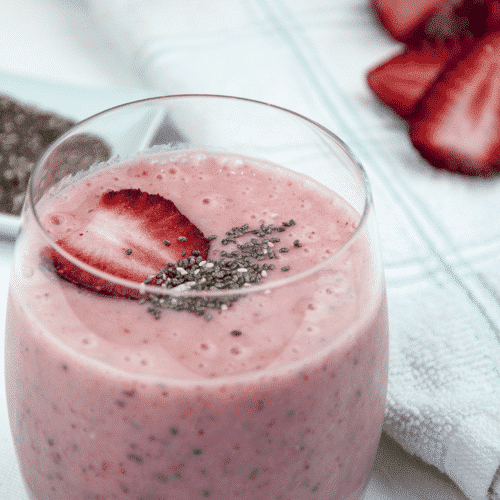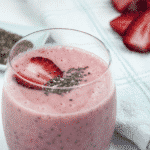 Blackberry and Raspberry Smoothie
Strawberry and chia seed smoothie. Nutritious, healthy, low-calorie and cholesterol free. This vegan-friendly smoothie has it all. A great start to the day!! | theyumyumclub.com

Course:
Breakfast, Drink, Lunch, smoothie
Cuisine:
Healthy, smoothie, vegan
Keyword:
banana, chia, chia seeds, smoothie, strawberry
Ingredients
ml

almond milk

grams

frozen strawberries

2

bananas

2

tbsp

chia seeds
Instructions
Get all of the ingredients together.

Place chia seeds into 1/3 of the almond milk, stir well and leave in the fridge for 10 minutes.

Place the almond milk and bananas in a blender and blitz until smooth.

Now, add the strawberries and blitz again.

Finally, stir the almond milk and chia seeds again and add to the blender. Blitz and scrap the sides of the blender if needed.

That's it. Drink and enjoy. Yum!