Hey there fellow bloggers. Today I wanted to branch away from pure recipe ideas and talk a little about increasing traffic to your site and, specifically, the use of Yummly as a resource.
Before I start, however, I do want to make it clear that although The Yum Yum Club does use Yummly as a traffic generating resource there is no link between the two sites. The Yum Yum Club is my independent food blog whereas Yummly is a California based recipe recommendation site.
Ok, with that cleared up, let's have a deeper look at Yummly.
In simple terms, Yummly is a food, or recipe submission site similar to many others out there. However, it has a number of different dynamics that differentiates itself from some of its competitors.
1. The key functions
a) The Yum button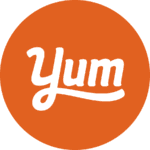 The  Yum button is shown on the right of this paragraph and you may have seen it on other food sites. This simple button makes life easy. You know when you use other food submission sites like foodgawker or dishfolio it takes a little time to add your content to the site, and, what's more, it has to get approved. Which is no mean feat in itself.
Well, once you've added the Yum button to your site it's a simple one click and your recipe is in your Recipe Box. Just one click and you're done. From there, all visitors to Yummly can search and find your recipes and click directly to your blog.
b) Use bookmarklet to add recipes to your recipe box
Yummly has a function called bookmarklet which, in a very similar way to Pinterest, allows you to attach other people's recipes to your recipe box. Basically, sharing the love and expanding recipes food to the social network. You can even create specific categories, similar to Pinterest boards, on which you can attach recipes.
c) Join the Yummly Publisher Network
Once you have set yourself up on Yummly (see below) you can join their Publisher Network. This means that Yummly, in effect, promotes your recipes without you having to do a thing. It does this by highlighting your recipes on special pages or through promotions. This, again, adds traffic to your site.
2. Yummly really works
Although I have only recently signed up to Yummly (it is free, by the way), I am already seeing traffic coming through. However, the interesting thing is that having researched other, more mature Yummers it's clear that Yummly as a traffic source is generally a close third to Facebook and Pinterest. These are not insignificant numbers and makes Yummly a must for any serious blogger.
3. How to sign up to Yummly
Signing up is simple. Just follow these simple 4 steps:
a) Sign up on Yummly
You can sign up here. It's just a simple task, no different from any other social media site. You can link your Facebook and Pinterest accounts too.
b) Install the Yummly bookmarklet on your browser
You do this by dragging the bookmarklet icon into your bookmark toolbar. Anytime you find a recipe you like on the web you can then click this and add it to your Recipe Box.
c) Install the Yum button on your blog
This will then allow you to attach all of your blog recipes to your Recipe Box. I did this all in one go to get it done but you can do it over time if you want.
Yummly is very helpful here and has great information on how to add the Yum button to your blog, whichever platform you are using. Just click here and follow the instructions.
d) Join the Yummly publisher network
This is the final stage and to become a member of the publisher network you need to complete the instruction in this application form. It can take a week or so to get this activated but it's well worth the wait.
Well, that's it gang. If you haven't already I strongly urge you to sign up to Yummly. I'm sure it will help increase your blog traffic and should certainly be part of your traffic generation strategy.
Any questions just let me know through the comments section below.
Thanks for reading and good luck with your blogging… Steve.