I love raw carrot but, in truth, it can be a little dull sometimes. Cue this spicy carrot, sesame and scallion salad. This is a great salad recipe. Simple to make with only 3 ingredients (the clues in the name). The dressing is also simple and has only 4 ingredients, olive oil. garlic, chilli and lemon juice.
Altogether, this is a low-calorie and zero cholesterol healthy vegetarian and vegan salad. It's also damn tasty. Yum!
You can eat this spicy carrot, sesame and scallion salad as a simple grab and go snack. Take it to work and just munch on it through the day. Fantastic! Or, do as I did and have to accompany a pasta dish. Well, I say past but I had some wonderful creamy chicken gnocchi. Click the link if you'd like to see this beauty.
In the meantime, let's make this great healthy salad.
1. Gather all of the ingredients together
As I said, just 3 ingredients for the salad and 4 more to add a little spice. The measurements are in the printable recipe below and make 4 salad bowls. Just scale up or down as you require.
2. A little bit of prep…
You need to do a little bit of preparation before putting the salad together. Nothing too strenuous but we'll look at each ingredient individually.
a) The sesame seeds
You can simply use the sesame seeds straight from the packet but I like to roast them. It releases some of the oil and makes a great toasty and nutty taste.
The best way to dry roast the sesame seeds is to put them in a small skillet or frying pan over low-medium heat and keep tossing over until they go nice and golden. The dry roasting takes around 5 minutes and the end result should look something like this.
b) Grate the carrot
You can do this by hand but I find the average manual hand grater grates the carrot to thin to the extent that it draws out too much moisture. I, therefore, use a 4mm grating disc with my blender. It keeps the carrot large enough to be crunchy in the mouth.
c) Slice the scallions
Nothing complicated here. Just peel, wash and slice the scallions into around 4 mm slices. Again, wide enough to keep a great crunchy texture.
d) Finely chop the garlic and chilli
It's the garlic and chilli that gives the salad dressing its heat. Raw garlic and chilli are great for this. Just finely chop so that when mixed with the carrot the garlic and chilli will coat the full salad. Obviously, you can add more garlic and chilli than I have recommended if you want more heat.
Once chopped just add some oil to stop the garlic and chilli drying out.
3. Assemble the salad and enjoy
Now the fun part. All the ingredients should be prepared and you should have a table full similar to this.
Using a large mixing bowl add the grated carrot, dry roasted sesame seeds, and scallions and mix all together. Now add the garlic and chilli, the rest of the oil, and the lemon juice. Mix all together so the dressing covers all of the salad. Taste and season if you feel the need. Then just eat and enjoy!
And that's it, gang. Spicy carrot, sesame and scallion salad. Simple, healthy and great as a side dish or a light snack on its own. Yum!!
I hope you all enjoyed this post and give it a go yourselves. I'm sure you'll enjoy it and would love to know how you get on. Let me know through the comments section below.
Oh, and if you want to be kept up to date on new recipes just let sign up to the newsletter and the top of this page, or just check out some of those below…
Many thanks for reading and until next time… Steve.
4. Nutritional values
5. Printable recipe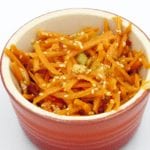 Spice Carrot, Sesame and Scallion Salad
This spicy carrot, sesame and scallion salad is so simple and so healthy. 3 ingredients for the salad, 4 ingredients for the spicy dressing, and just over 200 calories per bowl. Yum! | theyumyumclub.com
Course:
Dinner, Lunch, Salad, Side Dish
Keyword:
carrot, Chilli, Garlic, Healthy, Salad, scallions, sesameseeds, spicy
Ingredients
2

carrots

1

bunch

scallions

2

tbsp

sesame seeds

3

tbsp

Extra virgin olive oil

1

clove of garlic

20

ml

lemon juice

1

birds eye chilli
Instructions
Gather all of the ingredients together.

Dry roast the sesame seeds.

Grate the carrot using a 4mm grater if you have one.

Finely chop the garlic and chilli and mix with some of the oil.

Place the carrots, sesame seeds and scallions in a bowl and mix together.

Add the oil, lemon juice, garlic and chilli and mix well. Season if required and enjoy. Yum!