Chocolate dipped coconut macaroons! Need I say more…?
Well, of course, I do. Chocolate dipped coconut macaroons. Yes, they do have a little sugar in them. Yes, they have some calories. Yes, eating 10 in one sitting is not a great idea but just look at them. Don't they look just so good…
I know! Wow right? Well, the look is nothing compared to the chocolate and coconut taste, and that chewy texture is just fantastic. Each mouthful coats your tongue all over and has you crying out for more…
But, as I alluded to above, everything in moderation right? These are so delicious they will have you crying out for more, but 2 or 3 at any one time is probably enough.
Having said that, here's the great thing about these bad boys. They keep!! That's right. You can make a load of them and, assuming you have at least a modicum of will power, store them in a fridge for around a week. Or even freeze them for up to a month.
With that in mind let's get on and make some…
1. Gather all of the ingredients together
There are only 6 ingredients for these macaroons. Dark chocolate for dipping and then just desiccated coconut, caster sugar, flour, egg whites and vanilla extract for the macaroons themselves. The printable recipe below gives measurements for 6 large or 12 small macaroons but just scale up or down depending on how many you want to make.
2. Prepare the macaroons for baking
This is the messy part, so make sure you're hands are clean…
First, take all of the ingredients barring the chocolate and place in a mixing bowl. Mix together with a wooden spoon until the mixture is all sticky and gooey.
With the mixture made you now need to decide on what size macaroons you want. Personally, I either go for dessert spoon size for large or teaspoon size for small. Either way, using your spoon of choice scoop up a spoonful of the mixture and then roll it into a ball in the palms of your hands. Then simply place the ball on a baking tray that has been lined with greaseproof baking paper and press down lightly with your fingers.
Note that you don't want to flatten the uncooked macaroons so just press down lightly. Also, leave space around them as they will spread when in the oven.
3. Bake the macaroons and cool
Once all of the macaroons are on baking trays place them in a pre-heated oven at 180C / 160C Fan and bake for 14-16 minutes until golden brown. You may need less time if the macaroons are small. Just keep an eye on them.
Once baked, and using a slice, remove the macaroons from the baking paper and place on a wire rack to cool.
Yes, you'll notice that 6 went into the oven but there are only 5 on the cooling wire… I told you they were good! Yum!! ????
4. Melt the chocolate and finish the macaroons
You can melt the chocolate in a microwave but if you haven't got one then just form a bain marie. Do this by adding some water to a small saucepan and place the chocolate in a glass bowl over the pan. Heat the pan on a stove and as the water heats the chocolate melts.
By the time the chocolate has melted the macaroons should have cooled. Now just dip the macaroons in the chocolate and then place back on the cooling wires. Then, and using a spoon, drizzle melted chocolate over the macaroons and leave to cool until the chocolate has set.
And that's it my coconut craving chums. Chocolate dipped coconut macaroons cooked to your liking. Give them a go. They're easy and everyone will love them…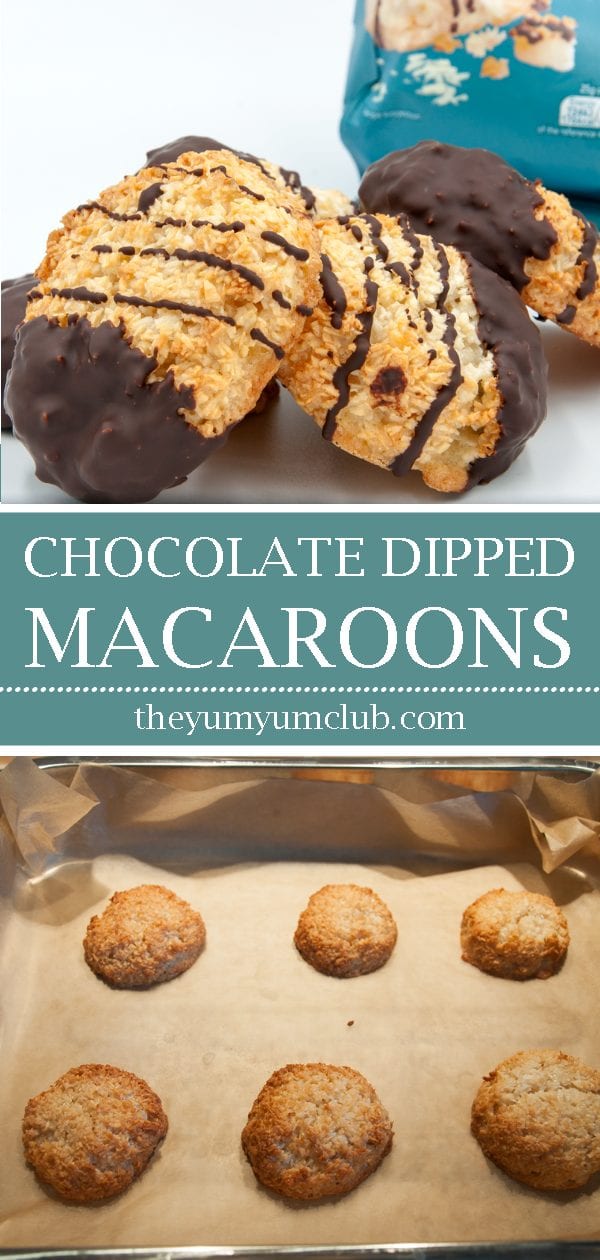 I do hope you enjoyed this short and sweet, no pun intended, post. If you like this and wanted to be kept up to date on all new recipes as released just sign up to our weekly newsletter at the top of this page. Or just have a look at out the recipes page where you'll find great recipes just like the ones below…
As always, many thanks for reading and until next time… Steve.
5. Nutritional values
6. Printable recipe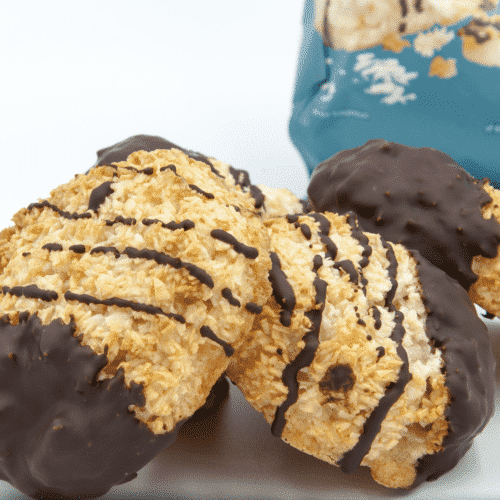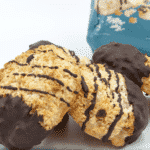 Chocolate Dipped Coconut Macaroons
Ok, so they're sweet and sugary and have the odd calorie or two but with only 6 ingredients these chocolate dipped coconut macaroons are irresistible. Yum!! | theyumyumclub.com
Cuisine:
American, English
Keyword:
Chocolate, coconut, macaroon
Ingredients
100

grams

desiccated coconut

100

grams

caster sugar

2

egg

whites

1

tbsp

flour

1

tsp

salt

1

tsp

vanilla extract

75

grams

dark chocolate
Instructions
First, as always, gather all of the ingredients together.

Put the coconut, sugar, flour, salt, egg whites and vanilla extract into a bowl and mix thoroughly. The end result should be a gooey and sticky mixture.

Line your baking tray with greaseproof baking paper.

Depending on how large you want the macaroons, using a tablespoon or teaspoon, scoop spoonfuls of the mixture and make a ball in your hand. Place these on the baking tray and press down lightly with your hand.

Place the macaroons in a pre-heated oven at 180C / 160C Fan and bake for 14 - 16 minutes until golden brown.

Using a slice remove the macaroons from the baking paper and place on a wire rack to cool.

Using a bain marie melt the chocolate while the macaroons are cooling.

Once the macaroons have cooled and the chocolate has melted dip each macaroon in chocolate and then use a spoon to drizzle chocolate over the top. 

Allow these to cool and then tuck into these wonderful chocolate dipped coconut macaroons.