Hi everybody! Welcome to the April 2019 Business Report. April has past which means another business report for The Yum Yum Club is due. In fact, I'm a little late with this one as it's been a busy time all around.  But what about my life's priority (don't tell Jen ????), The Yum Yum Club?
Well, April has been a growing month again. Traffic is up, revenue is up and expenses are flattish. That still does not mean that any profit has resulted. However, things seem to be moving in the right direction.
The key focus points on this report are the financial and traffic analysis as normal. I'll then discuss the signing with Ezoic, who they are and what they do. Finally, I'll try and summarise the next steps and how some of the weaknesses will be addressed.
1. The Financials
As usual, I won't be retiring quite yet but total revenue for April 2019 was £49.28. These beat the previous best month of March's £23.13 by £26.15 or 113%!! No bad right? This progress looks even better when viewed graphically…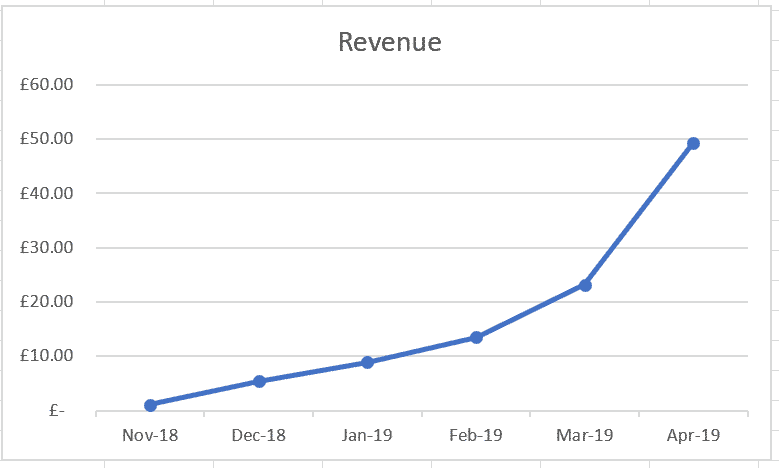 As with last month, and just for fun, I took the original early stages growth rate and knocked it down to 50% and projected a potential growth path. I've continued this and kept the original profile as a baseline and will start to plot actual revenue growth.… for a little interest and fun…
For those of you who read the March Report, you will know that the initial Financial target for The Yum Yum Club was £100 per day or £3,000 per month. Well, looking at this projection…
Regarding the income and expenditure breakdown for April 2019?
Income
Google Adsense – £4.53
Media.net – $1.52 (£1.16)
Ezoic – $56.88 (£43.59)
Affiliate Programs $0.00
Amazon £0.00
TOTAL £49.28
Expenditure
Ingredients – £315.71
Advertising – £293.08
TOTAL – £608.79
Putting this all together you'll remember that at the end of March the cumulative loss since the start of the project was £3,230.96. With the net loss of £559.51, this means the accumulated loss to the end of February is £3,790.47
As mentioned lasted month, this is an ever growing loss position. However, I do feel that most of the equipment and subscription required to operate for the rest of the financial year, and beyond is covered. There will just be the cost of ingredients and advertising. Hopefully, with growing revenue.
Let's now focus on the traffic numbers.
2. April overall traffic
Overall traffic for April was up a great deal compared to March. Total April traffic is shown below…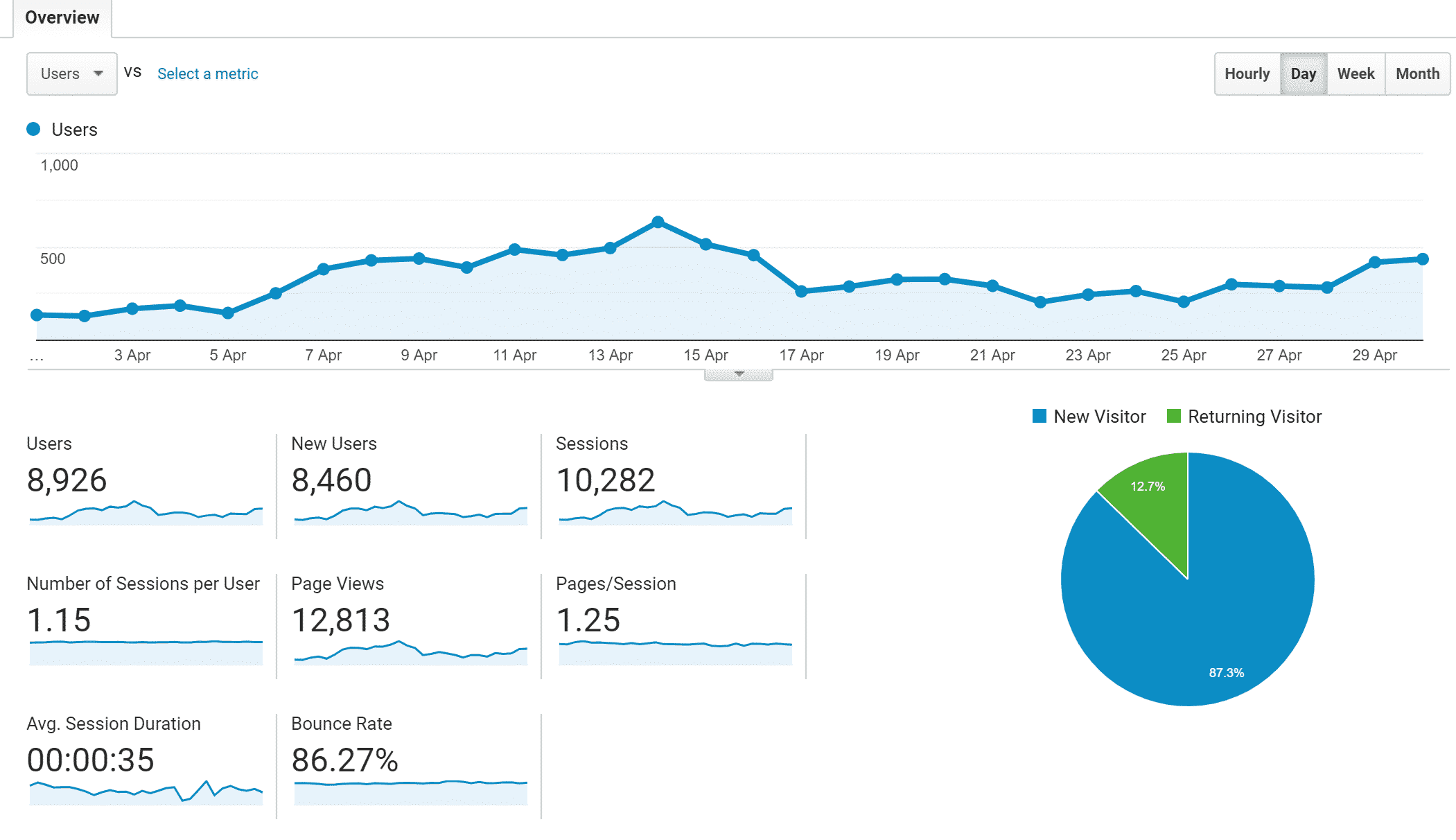 It was shown in the March Report that total users were 4,420 with 5,371 sessions and page view of 6,765. April shows a substantial increase in traffic for March. For the number of sessions, which is a key measure, this is a 91% increase!
Now, let's have a look at the breakdown of the traffic sources.
3. April traffic sources
The overall view of traffic sources for April is illustrated below.
As can be seen Social as a source is 71% of the total traffic which is similar to the 73% of March. This makes sense as Facebook has been focused on throughout April. Referrals are down from 10% to 8% but again, not a big change. Further, Direct and Organic continue to grow in real numbers as well are the % of the total. This is a good trend.
We'll now look at each of these sources individually.
4. April Social Traffic
From the Social traffic source, it is clear that Facebook is the key contributor with Pinterest a reasonable 2nd. Note that Instagram Stories is related to Facebook so these 2 numbers can be added together.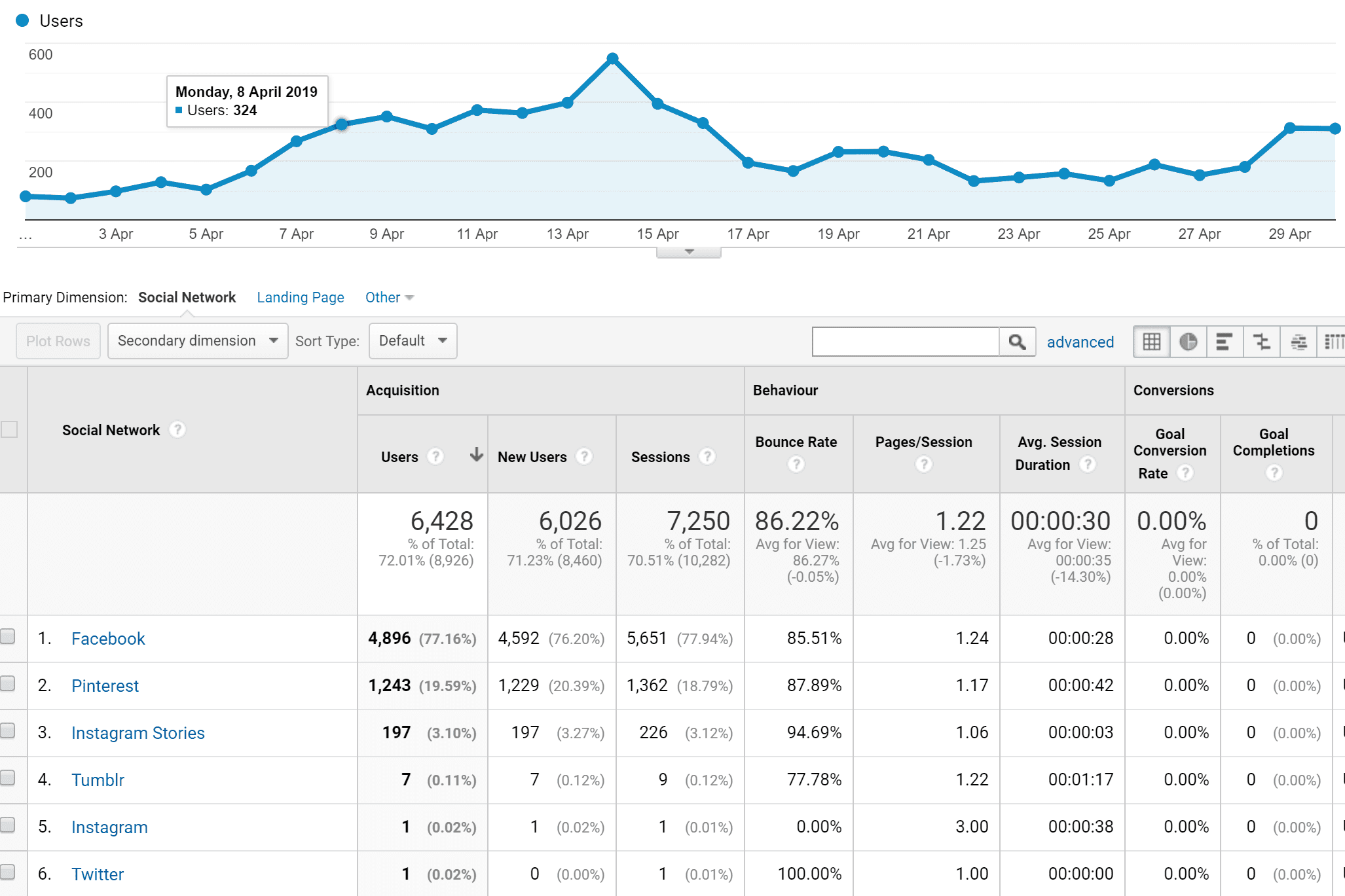 So let's have a look at these two critical sources one by one.
a) Facebook traffic
Facebook was the largest single source of traffic in April.
You'll remember from the March Report that from late March Facebook had been focused on. Specifically in 3 areas.
i) Facebook groups
In March I joined around 40 or so Facebook recipe sharing groups where I can post new and old recipes and also repeat post after a reasonable period of time. This is generating a good amount of interest and traffic. It seems impossible to distinguish from the individual facebook sources but it is clear that as soon as I post a recipe on these groups that recipe gets viewed on numerous occasions. I also get a number of likes and comments. At the back end of April, I increased the number of groups to over 70 and continue to see good results from these groups. What's more, they are free.
ii) The Yum Yum Club Facebook page
In addition to the various Facebook groups that are posted to The Yum Yum Club has also set up its own dedicated Facebook Page. This can be found by clicking here
. Please, click, like and share 
.
This page means that The Yum Yum Club is seen as a specific food page and not my own personal page. I have extended invites for my own network to like and follow this page. In addition, I have promoted the page. The logic behind this is that if I can get a reasonably large number of followers then they will also automatically see my new recipes as posted and will potentially click, like and share these and thus generate more traffic. At the beginning of April, The Yum Yum Club's Facebook page had 430 followers. At the end of April, it had over 1,000.
iii) Advertising and promotion
This is where all of the advertising money is spent. In April I mixed the expenditure with money spent driving clicks to The Yum Yum Club website and some to getting members to The Yum Yum Club Facebook page. I know that the money spent did drive traffic to the site but, as mentioned above, it is difficult to distinguish particularly how much. In May, I am also spending around £10 per day on advertising but it is only to generate clicks to the website. From here I will be able to calculate how effective this spend is.
b) Pinterest traffic
Pinterest traffic in April is flat at best and, in truth, declining…
What's even more worrying is that even though a great deal of effort has gone into growing Pinterest traffic, there has been no growth, even when looking back 3 months…
This is very puzzling as I post regularly on a number of group boards and through Tailwind Tribes. Moreover, my number of posts on Pinterest are growing so one would expect some growth simply due to quantity. Pinterest is a key area for traffic going forward. In fact, at the start of this journey, the expectation was that longer-term, Pinterest and Organic traffic would be the big contributors.
With the Facebook strategy now being relatively repetitive, I need to spend May and June having a serious look at why Pinterest is not yielding what is expected. If any of you have any tips I'd love to hear them?
5. Direct traffic
The direct traffic to The Yum Yum Club has slowly increased throughout the past few months.
The growth since February has been steady and mirrors the growth in the general traffic and the relatively stable % of total users who are returning users. The bottom line is that it's good that the site has some regular customers, so to speak.
6. Organic traffic
Organic traffic is key to longer-term growth as it reflects how search engines, and particularly Google, see the site. If The Yum Yum Club is getting an increasing volume of users from search engines then it's content is seen as good and of a sufficient quality to be liked by the big companies.
It's clear from this February through April view that organic traffic is growing. I put this down to a solid focus on keywords. I make sure that all posts have a listed keyword that is relatively low in Goog search. Ideally around 100k but certainly below 1m.
Organic traffic will continue to be monitored closely.
7. Ezoic
Ezoic is a US-based company focusing on maximizing website advertisement placements through machine learning. In simple terms, Ezoic's software monitors, at a very granular level, how users interact with advertisements on any specific website, or even webpage, and places advertisements at an optimized level.
I work closely with two guys called Adam and Charlie and to date, I am seeing a marked improvement in my revenue. I start in the second week of April so as May and June are reached it will interesting to see how my Earning Per Million Views increase. That, added to my own traffic increase activities should, I hope, continue to see the revenue grow.
I would recommend any website/blog talking to these guys and understanding how they may be able to help.
8. Next steps
April was a very busy month. I set up 2 other websites at the same time as managing The Yum Yum Club. These other 2 are at very early stages and may stay dormant for a while. I'd like to also look at a shopping site and aim to have this up and running by the end of May.
Nevertheless, the focus is required on The Yum Yum Club and key activities are as follows:
Keep regular food posts. There are over 125 individual posts on The Yum Yum Club now and so keeping up with at least 3 posts a week is key.
Pinterest needs to improve. I can't say anything else about this as I don't know why it's not.
I need to maximize the Facebook ads and make sure it is money well spent.
Keep monitoring Ezoic and hopefully see continued growth in EPMV.
Consider affiliates. Revenue is still only advertisement based. This needs to change.
I hope you found this April Business Report useful. If you have questions or comments I'd love to hear them. Otherwise, keep trying the recipes and the May report will be out early June.
Regards,
Steve.