Are you following a ketogenic diet and missing out on your favorite pizza? Well, worry no more! I've got just the solution for you: Keto Cauliflower Pizza Crust. Not only is it low in carbs, but it's also a delicious and creative way to incorporate more vegetables into your meal. In this article, we'll dive deep into the world of Keto Cauliflower Pizza Crust and explore everything you need to know about this mouthwatering low-carb alternative.
The Magic of Cauliflower
Cauliflower is the star ingredient in this keto-friendly pizza crust. It's a versatile vegetable that can be transformed into a rice-like consistency, making it a perfect replacement for traditional pizza crusts. With its mild flavor, cauliflower provides a neutral base that allows the other ingredients to shine. Plus, it's packed with essential nutrients like vitamins C, K, and B6, as well as fiber and antioxidants.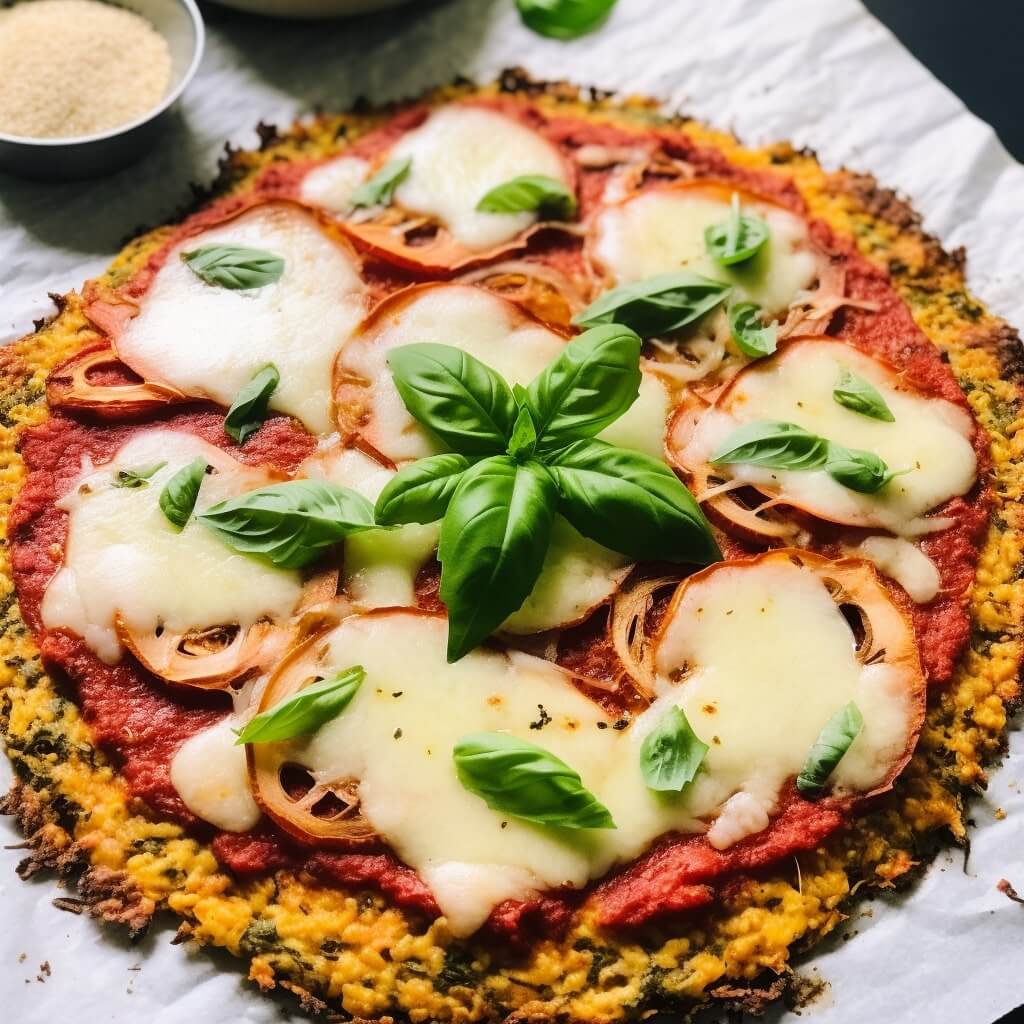 The Perfect Crust Recipe
Now, let's get into the nitty-gritty of making this Keto Cauliflower Pizza Crust. Here's a step-by-step breakdown of the recipe:
Ingredients:
| | |
| --- | --- |
| Amount | Ingredient |
| 1 medium | Cauliflower head, cut into florets |
| 1/2 cup | Shredded mozzarella cheese |
| 2 tbsp | Grated Parmesan cheese |
| 1 tsp | Dried oregano |
| 1/2 tsp | Garlic powder |
| 1/4 tsp | Salt |
| 1/4 tsp | Black pepper |
| 1 large | Egg, beaten |
| Pizza toppings of your choice | |

Instructions:
Preparation: Preheat your oven to 425°F (220°C) and line a baking sheet with parchment paper.
Cauliflower Rice: Place the cauliflower florets in a food processor and pulse until they resemble rice-like grains.
Microwave: Transfer the cauliflower to a microwave-safe bowl and microwave for 5 minutes until tender. Allow it to cool for a few minutes.
Remove Moisture: Place the cooked cauliflower in a clean kitchen towel or cheesecloth and squeeze out as much moisture as possible.
Mixing the Ingredients: In a mixing bowl, combine the squeezed cauliflower, shredded mozzarella cheese, grated Parmesan cheese, dried oregano, garlic powder, salt, and black pepper. Mix well.
Adding the Egg: Add the beaten egg to the cauliflower mixture and stir until everything is evenly combined.
Shaping the Crust: Transfer the mixture to the prepared baking sheet and shape it into a thin, round crust.
Baking: Bake in the preheated oven for 12-15 minutes until the crust is golden brown and firm.
Cooling: Remove the crust from the oven and let it cool for a few minutes.
Toppings: Add your favorite pizza toppings to the crust, such as tomato sauce, cheese, vegetables, and meats.
Final Bake: Return the pizza to the oven and bake for an additional 8-10 minutes until the cheese is melted and bubbly.
Serving: Remove from the oven and let the pizza cool slightly before slicing and serving.
Get Creative with Toppings
One of the best things about pizza is the endless variety of toppings you can choose from. The same goes for your Keto Cauliflower Pizza Crust! While traditional toppings like tomato sauce, cheese, and vegetables work perfectly, feel free to experiment and get creative. Here are some ideas to inspire you:
Margherita Madness: Keep it simple and classic with fresh basil, sliced tomatoes, and mozzarella cheese.
Meaty Feast: Load up your crust with cooked bacon, sausage, and pepperoni for a protein-packed delight.
Veggie Extravaganza: Pile on a rainbow of veggies like bell peppers, mushrooms, onions, and olives for a colorful and nutritious treat.
Greek Delight: Opt for a Mediterranean twist with feta cheese, Kalamata olives, red onions, and a drizzle of olive oil.
Pesto Passion: Swap traditional tomato sauce for pesto, and top it off with sun-dried tomatoes, pine nuts, and fresh basil leaves.
Benefits of Keto Cauliflower Pizza Crust
Besides its fantastic taste, Keto Cauliflower Pizza Crust offers several benefits for those following a ketogenic diet:
Low in Carbs: Cauliflower is naturally low in carbs, making it an excellent choice for keto dieters. By using cauliflower as the base, you can indulge in pizza while keeping your carb intake in check.
Vegetable Power: This crust allows you to sneak in more vegetables into your meal. It's a clever way to boost your veggie intake and reap their nutritional benefits.
Gluten-Free: If you have gluten sensitivities or follow a gluten-free diet, cauliflower crust is an ideal alternative to traditional wheat-based pizza crusts.
Customizable: The versatility of cauliflower crust means you can customize it to your liking. Experiment with different flavors and toppings to create your unique pizza masterpiece.
Conclusion
Keto Cauliflower Pizza Crust opens up a world of possibilities for pizza lovers on a low-carb diet. By swapping out the traditional crust for a cauliflower-based alternative, you can enjoy a delicious, nutrient-rich pizza while staying true to your ketogenic lifestyle. With its versatility and endless topping options, this crust is sure to satisfy your pizza cravings. So, gather your ingredients, get creative with your toppings, and enjoy a guilt-free slice of keto-friendly goodness!
Remember, the journey to a healthier lifestyle doesn't have to mean sacrificing your favorite foods. With recipes like Keto Cauliflower Pizza Crust, you can indulge in delicious meals while staying on track with your goals. So, grab that cauliflower and let's get cooking!