Are you looking for a light and refreshing dish to savor during the summer months? Look no further than the Gluten-Free Quinoa Salad! This vibrant and wholesome salad is not only packed with flavor and texture, but it's also entirely gluten-free. Whether you're following a gluten-free diet or simply want to enjoy a nutritious and delicious meal, this recipe is sure to please your taste buds. Let's dive into the details and explore the wonders of this delightful salad.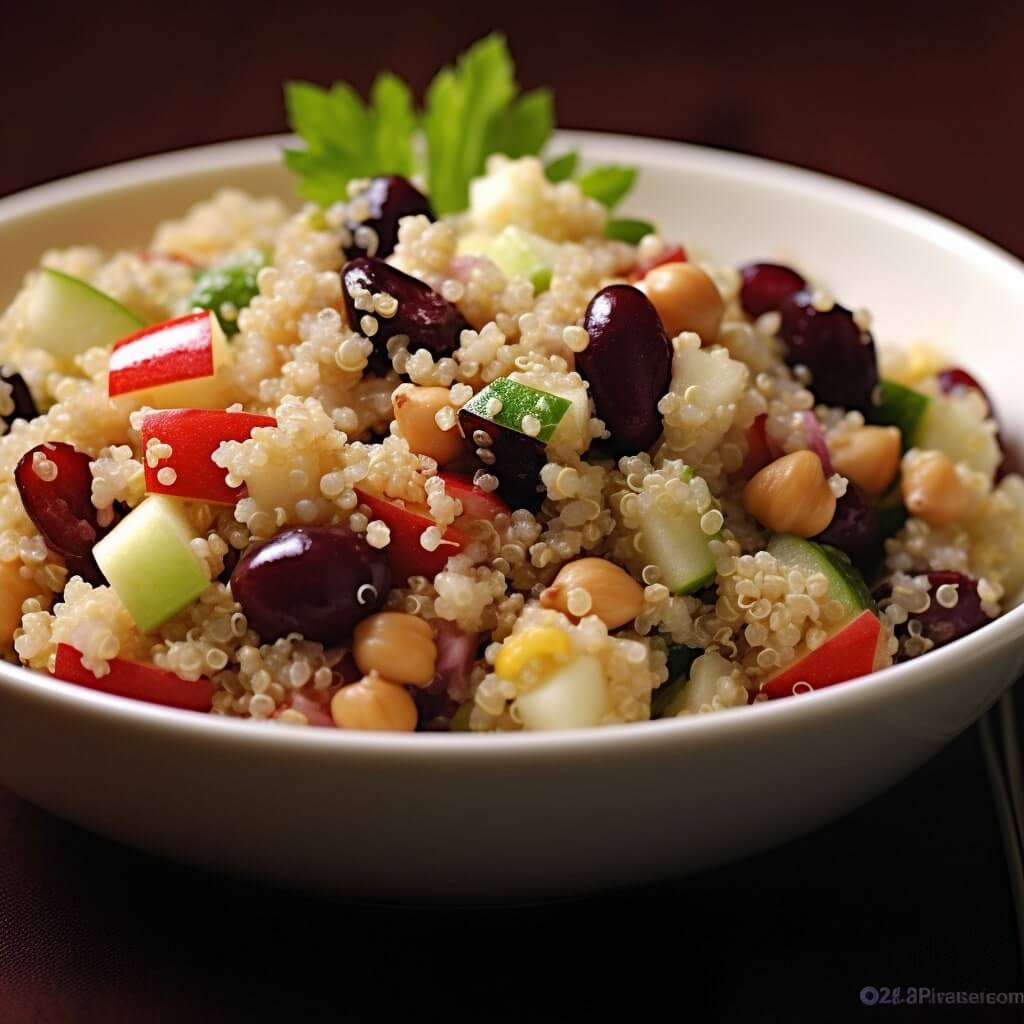 The ingredients: A Symphony of Freshness
To create this mouthwatering salad, you'll need a handful of fresh and nutritious ingredients. Here's what you'll need:
| | |
| --- | --- |
| Amount | Ingredient |
| 1 cup | Cooked quinoa |
| 1 cup | Cherry tomatoes, halved |
| 1/2 cup | Cucumber, diced |
| 1/2 cup | Bell peppers (assorted colors), diced |
| 1/4 cup | Red onion, finely chopped |
| 1/4 cup | Kalamata olives, pitted and sliced |
| 1/4 cup | Fresh parsley, chopped |
| 2 tbsp | Lemon juice |
| 2 tbsp | Extra virgin olive oil |
| 1 clove | Garlic, minced |
| 1/2 tsp | Dried oregano |
| Salt and pepper, to taste | |
| Optional add-ins: | Feta cheese, avocado slices, toasted nuts |

Assembling the Salad: A Symphony of Colors and Textures
Now that we have our ingredients ready, it's time to bring them together in a harmonious ensemble. Here's how you can assemble your Gluten-Free Quinoa Salad:
In a large bowl, combine the cooked quinoa, halved cherry tomatoes, diced cucumber, diced bell peppers, finely chopped red onion, sliced Kalamata olives, and fresh parsley. The vibrant colors and various textures will create an enticing visual appeal.
In a separate small bowl, whisk together the lemon juice, extra virgin olive oil, minced garlic, dried oregano, salt, and pepper. This zesty dressing will infuse the salad with a burst of tangy flavors.
Pour the dressing over the quinoa and vegetable mixture, ensuring everything is evenly coated. Toss gently to combine, allowing the flavors to meld together.
Taste the salad and adjust the seasoning according to your preference. You might want to add a pinch more salt, a squeeze of lemon, or a sprinkle of dried oregano to enhance the flavors.
Let the salad sit for at least 10 minutes before serving to allow the flavors to mingle and develop. This resting period allows the ingredients to absorb the dressing, resulting in a more cohesive and flavorful salad.
If you're feeling adventurous and want to take your salad to new heights, now is the time to add any optional add-ins. Crumbled feta cheese adds a creamy and tangy element, while avocado slices bring a buttery texture and healthy fats. Toasted nuts, like almonds or walnuts, provide a delightful crunch and a hint of nuttiness. Feel free to get creative and customize your salad to suit your taste buds.
Once the flavors have melded together and you're satisfied with the taste, it's time to serve your gluten-free quinoa salad. You can enjoy it chilled or at room temperature, depending on your preference. The cool and refreshing nature of the salad makes it perfect for those hot summer days.
Whether you're hosting a summer gathering, going on a picnic, or simply looking for a nutritious meal, this gluten-free quinoa salad is sure to be a hit. Its vibrant colors, fresh flavors, and satisfying textures will leave you wanting more.
Conclusion
This recipe is highly customizable, so feel free to experiment with different vegetables, herbs, or even dressings according to your liking. You can add ingredients like diced avocado, roasted corn, shredded carrots, or even fresh herbs like basil or mint to give your salad a unique twist.
In conclusion, the gluten-free quinoa salad is a versatile and delightful dish that embodies the essence of summer. Packed with nutritious ingredients and bursting with flavors, it's a refreshing option for those following a gluten-free diet or anyone seeking a vibrant and wholesome meal. So, gather your ingredients, let the flavors come alive, and indulge in the deliciousness of this gluten-free quinoa salad.