Hi Yum Yum Fans! I hope all is well and you're having a great day…
For today I've gone for a quick and versatile fun dip that we all know and love. Only with a twist! You all know good old smooth guacamole but what about a chunky version? Yep, that's right, chunky guacamole. A healthy dip with a lovely chunky texture, and for good old Jen, an optional little kick!
Now, I have cheated a little here because although a very yummy dip, it is, well, just a dip. Not really a recipe suitable for a food blog but I'm having it with some homemade tzatziki, which you can find by clicking the link, and a very special fajita made with chicken an aubergine (eggplant for you non-Europeans ????).
Why not try all three for the family. A great touch of El Paso wherever you may be…
As always the recipe is below and you can use the print function to give you a hard copy and avoid getting bashed avocado all over your laptop! As a quick guide though just follow these quick and easy steps:
The Tomato
Make sure it's a bull tomato and what I mean by that the one you see in a supermarket in small packs of probably two or so. Even better, support your local grocery store and buy one from there. They will sell single ones if you only want one for this recipe. I will get a picture in due course but if you are unsure what a bull tomato is, then click the link and you should see a number of examples.
Next, simply take the Tom and cut it into small pieces. Nothing fancy or scientific here. Just cut it into quarters, remove the hard stalk part and cut into small pieces.
2.
The Herbs and Heat
Now grab the garlic and give it a good old crushing. I do this in a pestle and mortar but a standard garlic crusher is also fine. Next, finely chop the onion and coriander and then de-seed and finely chop the bird's eye chilli. Finally, squeeze in the lemon and lime juice.
Now a word about the chilli. I always tend to make my guacamole hot simply because Jen and I like it that way. However, this really is optional. If you don't want any heat then leave them out. If you want some heat then de-seed and finely chop. If you want it to blow your socks off then simply finely chop and add the seeds and all.
Once the chopping is all done just add this all to the toms and mix well.
3.
The Avocado
Now, these bad boys need to be ripe but not too old. If the skin looks dark and is turning black then don't buy them. If they have green skins but you can press your finger and make a dent in the skin that holds you are good to go. Basically, you need a soft fruit but not a mushy one.
Once you've found your avocados simply cut them in half and remove the stone (but keep it for now, I'll explain why in a bit). If you are unsure how to de-stone an avocado then simply take a large sharp kitchen knife and lightly chop the stone such that the knife is stuck in the stone. Then twist the knife whilst holding the avocado and the stone will come out.
Finally, spoon the avocado fruit out of the skin and add it to the tomato, herb and spice mix.
4.
The Chunky Guacamole
Now take a fork and mash the avocado as best you can and then finish off with a whisk until you have it as chunky as you like. Then transfer to a serving dish and there you have it. Chunky Guacamole!
5.
Top Tips
Just a couple of quick tips:
a) Smooth or Chunky Guacamole:
Firstly, if chunky is not your thing then you can simply blitz the whole mixture with a hand blender. It takes no time and you then have your traditional smooth guacamole.
b) Using the Stone:
If you are not going to serve the guacamole straight away then there is a risk of the avocado turning a little brown. Now, the lemon and lime juice will help with a bit but one other thing is to push one or two of the avocado stones into the mix and this also helps. Don't ask me how, but it does. Then cling film over the dish and refrigerate before serving. Obviously, remove the stones when you do finally serve.
I do hope you like this recipe as much as Jen and I. Be great to know your thoughts, or, if you have any questions, just drop them in the comments section below.
Enjoy and until next time…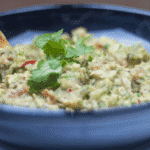 Chunky Guacamole
Course:
Dip, Side Dish, Snack
Ingredients
3

ripe avocados

Make sure their soft but not dark and bruised

1

bull tomato

1

clove of garlic

1

small red onion

2

chillies

Optional

Juice of one lime

Juice if one lemon

1

handful of coriander roughly chopped
Instructions
Chop the tomato into small chunks and place into a large bowl.

Finely chop the red onion. Crush the garlic. De-seed and finely chop the chillies (again, optional depending how much heat you like). Then chop roughly the coriander and add all three to the tomato.

Cut the avocados in half and remove the stones and spoon out the fruit from the skins. Add these to the bowl and squeeze the lemon and line juice of the lot!

Now just mash the lot together. I tend to start with a fork and mash the avocado and then finish off with a whisk to make sure it's all mixed together thoroughly.

Then pour in to a fresh bowl and service with tortillas or any Mexican dish. Try my favourite chicken and aubergine fajitas. They're fantastic and you can find them here.