Mussels with white wine, garlic, parsley, and cream. A classic Moules Mariniere recipe. This is one of Jen and my favourite recipes. It is so easy to make. So tasty. And, if you forget about the cream, very healthy!! ???? Serve it with a good white burgundy and heaven awaits. Just Yum! More on the wine a little later…
Fresh seafood is probably my favourite food. However, I have a small problem. I live in a small town in the Cotswolds area of the UK and I am probably at the furthest point away from the sea as anyone in the UK can be! Bummer eh! Now, don't get me wrong. There are local shops that do sell fresh seafood. All the chain supermarkets sell seafood but we all know that their seafood products, although perfectly edible, are not always "out of the sea yesterday" fresh. Further, the selection is not always the greatest.
So what to do? Well, fortunately, with this wonderful age we live in, you can get almost anything delivered. A shameless plug but I know, but I use The Cornish Fishmonger and, for anyone in the UK in the same predicament as me, I highly recommend you do the same. Fresh seafood delivered to your door in next to no time. A great selection, great freshness, and a good price.
OK, now that the wonderful mussels have been delivered what shall I make? Well, there are many dishes where mussels are just fantastic. Pasta, risottos, paella and more. However, with this being my first post using these marvellous molluscs I thought the classic moules mariniere or mussels with white wine, garlic, parsley, and cream would be the best option.
Come and join me through the super seafood surprise. So simple but just so tasty…




1. Get the ingredients together
Ignoring the basics of oil and seasoning, there are only 6 ingredients for this recipe, mussels, butter, shallots, garlic, white wine, and parsley. Finely chop the shallots, garlic, and parsley and lay out the rest of the ingredients altogether.
A couple of notes here. Firstly, don't go overboard with the quality of the wine. I mentioned above having a good French Burgundy with the mussels. However, this does not mean using the same Puligny Montrachet you plan to impress your partner with for the cooking ????. Just a cheap old Sauvignon Blanc will do.
Secondly, you will see some fancy parsley and celery thing at the bottom left of the recipe ingredients picture above. I'm sure most of you will know what this is, but for the benefit of those that don't this is homemade bouquet garni. These are so much better than the dried herb tea bag types you get from the supermarket (see right) and I highly recommend you make your own. I've written a separate post on how to do this. All you need is some celery, parsley, thyme and bay leaves. Just click this bouquet garni link and I'll show you how to knock one up in 2 minutes flat.
OK, now with all of the recipe ingredients ready let's prepare the mussels.
2. Prepare the mussels
This can be the most lengthy part of the this recipe's preparation. However, the quality of the mussels from The Cornish Fishmonger means that a lot of the work has been done. Still, to ensure food safety you should always go through these 3 steps.
a) Wash the mussels in plenty of cold water
This is simply running all of the mussels under a cold water tap. Nothing scientific here and I do this whilst, at the same time, completing the second and third step.
b) Debeard the mussels
Whilst washing each mussel check if each one has a beard? This is basically a bit of thread that the mussel has produced to help it attached to rocks. It actually looks like a bit of brown seaweed…
You can scrub this off with a brush but I tend to just pull them off. Just be a little careful that you don't pull half the mussel out too. If you do then discard the mussel. Once properly debearded the mussel should be clean like this:
c) Discard any dead mussels
Dead mussels are likely to make you ill. Now, I don't say this scare you or deter you from eating mussels. I can say with my hand on my heart that I have never been ill over mussels. You just need to discard any dead ones. The good news is they are easy to find.
The simple test is if any of the mussels are open when you clean then just push the shell closed. If the shell stays closed or closes on its own accord, then the mussel is alive and can be used. If the shell opens again when you release the grip then it is probably dead and should be thrown away. See the pictures below:
Now, to put this into context, out of the 2 kg mussels I prepared I found only this one in this condition. There really shouldn't be that many.
3. Cook the moules mariniere
This is the best bit!
Firstly, take a large saucepan and add a good glug of olive oil and the butter. Melt this off gently and add the chopped shallots and garlic. Once the shallots and garlic have softened add white wine and reduce for 2 minutes. Just enough time for the alcohol to steam off.
Next, add the mussels and a good pinch of Maldons Sea Salt and ground black pepper. Replace the saucepan lid and steam the mussel for 3-4 minutes or until the mussel shells are open, shaking the pan occasionally.
Next, add the cream and parsley and gently stir into the mussels.
Finally, heat this through for around 1 minute and then serve straight away remembering to discard any that are not open. I like to serve these wonderful mussels with white wine, garlic, parsley and cream with some crusty bread to mop up the sauce.
That's almost it Yum Yummers. As usual, all comments and questions are welcome and I really do hope you enjoy this recipe and much as Jen and I did.
On a parting note, however, I did want to mention the wine Jen and I had to accompany this wonderful recipe. I mentioned above having a Frech Burgundy. I'm no wine snob in any way but I do recommend something with a little texture and depth. Maybe even a little buttery. We had the below St Aubin from Hubert Lamy. It was very good!
May thanks for reading and until next time…Steve.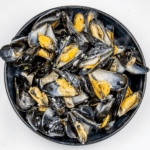 Mussels with white wine, garlic, parsley and cream
Course:
Appetizer, Dinner, Fish, Lunch, Main Course, Seafood
Cuisine:
French, Healthy, Seafood
Keyword:
Fish, moules, moules mariniere, mussels, seafood
Ingredients
4.5

lbs

fresh mussels

Metric 2 kg

1.25

cups

double cream

Metric 300 grams

1

cup

of finely chopped parsley

4

cloves

garlic, finely chopped

4

small shallots finely chopped

1/2

bottle of cheap cooking white wine

0.25

cup

butter

Metric 50 grams

1

homemade bouquet garni

Seasoning
Instructions
Finely chop the garlic, parsley, and shallots and lay out with all of the other ingredients.

Run all of the mussels under cold water.

Check each mussel and debeard as appropriate.

Discard all dead mussels.

Add the oil and butter to a large saucepan and gently melt. Next, add the garlic and shallots and sweat for a couple of minutes.

Add the white wine and reduce for 2 minutes.

Now add the mussels and seasoning and stir. Place the lid on the saucepan and steam the mussels for 3-4 minutes or until the mussels are open.

Next, add the cream and parsley and stir into the mussels. Heat through for one minute and serve immediately with crusty bread.

Try a decent white burgundy as a pair to the mussels and you will be in heaven! Yum!!