Hey there my fine food followers! Ever wanted a healthy, hot, and high protein start to the day? Even on a workday? Look no further. Very tasty. Relatively healthy… I did use back bacon after all ????. And just 3 ingredients. Enter stage left my wonderful Avocado Breakfast Boat. Yum!
What's great about these bad boys is that with 5 minutes prep and 15 minutes cooking you can eat them any day of the week. If a weekend, put the avocado breakfast boats together, place them on the oven, and go and read the paper, or take the dog out for a quick walk.
If it's a workday then do the same and grab a quick shower. By the time that Armani suit or Chanel dress is on.. yeah, right!!… ???? these playful protein pockets of perfection will be ready for wolfing down before the big day starts!!
These are so easy so let's get on and make them…
1. Cook the bacon
I've put this first on the assumption that you want these avocado breakfast boats on a busy work or school morning because the bacon can be grilled the night before. Just grill, leave to cool, cut into small squares, and leave in the fridge overnight.
I used unsmoked back bacon simply because I'm not keen on the smokey flavor and back bacon is leaner than streaky. However, you use whatever you like. Even pancetta if you're feeling flush.
2. Get the ingredients together
There's only 3. Avocado, eggs and that bacon you made last night.
3. Assemble the avocado breakfast boats
This is a simple 3 stage process. Firstly, half the avocado and remove the stone. If you are unsure how to remove the stone follow my short tutorial by clicking here.
Secondly, break the eggs over the avocado so that the yolk sits where the stone was. A tip here is to use a medium or small sized egg. If you use a large one then the white tends to tip away and it all becomes a bit messy.
Finally, sprinkle the cut bacon over the egg yolk.
4. Bake the avocado breakfast boats
The final part is to simply bake these beauties. 15 minutes in a preheated oven at 220C / 200C Fan should do it. Time for that coffee or shower…
Once baked that should look something like this. Yum!
OK, my foodie followers, that's it for now. I hope you enjoyed this shorter than normal post. Having said that, 3 ingredients can be just as tasty as 30!! As always, your comments and questions are welcome. Just use the section below.
Many thanks for reading and until next time… Steve.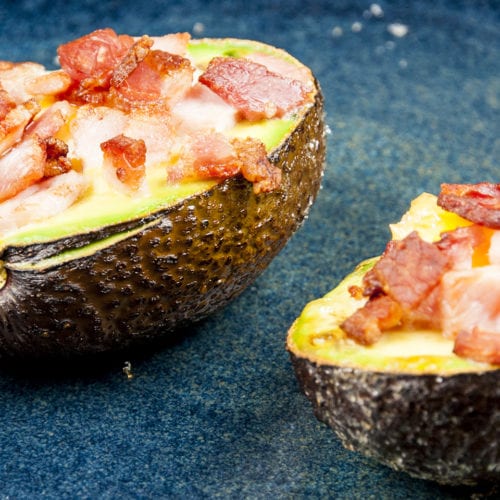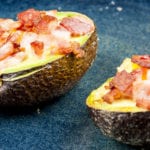 Avocado Breakfast Boats
How to make avocado breakfast boats. Only a 3 ingredients recipe and 5 minutes preparation. Healthy and full of protein. What a great start to the day. Yum!

Course:
Breakfast, Brunch, Lunch
Keyword:
avocado, Bacon, Eggs, protein
Ingredients
2

ripe avocados

4

medium sized eggs

3

rashers of bacon
Instructions
Grill the bacon and cut into small squares. Do this the night before and refrigerate if you are in a hurry the next morning. 

Half the avocados and remove the stones.

Break the eggs into the avocados so the yolk sits where the stone was.

Sprinkle the chopped bacon over the avocado and egg.

Bake in a pre-heated oven at 220C / 200C Fan for 15 minutes.

Enjoy and get on with your day with a full stomach and lots of energy!!