Chewy chocolate cookies. You know the type. You find them in every coffee shop you go to. They are full of sugar, full of calories, and really not very healthy. However, they are really good! That chewy, sugary dough with chocolate, peanuts, candies etc. etc. etc. are just so moreish. Food temptation at its best…
Before going over the steps for creating chewy chocolate cookies, it's a good idea to know some facts regarding this popular dessert or snack. What would cause chocolate cookies to become chewy? Sugars are responsible for making chocolate cookies chewy because they're fats that liquefy when heated in the oven. Both white and brown sugars are important in making cookies. White sugar makes cookies crispier. Adding brown sugar to your chocolate cookie recipe will result in a chewier cookie. It is because brown sugar contains more moisture than white sugar.
So how about making these yourself. Keeping them in a jar so you can treat yourself anytime. But how's your self-control? Just make sure you don't eat them all in one go!!
Let's give it a go…
1. Gather all of the ingredients together
Making the basic chewy cookie dough only really needs flour, eggs, butter, baking powder and sugar. But then there's the fillings. I've added a little vanilla essence and ended up splitting the dough in two and making chocolate cookies with half and adding peanut M&Ms in the other. You can also add chewy types of candy if you prefer to do so. The fillings can be flexible but the cookie dough is standard.
The recipe measurements are detailed in the printable recipe below and makes around 16 cookies. Just scale up or down depending on what you require.
2. Prepare the dry ingredients
To prepare the dry ingredients simply sieve the flour and baking powder into a bowl and then add the salt. Then just set aside.
Now, take the M&Ms, if using them, and bash them lightly just to break them a little.
3. Prepare the wet ingredients
Although not all wet ingredients in the true sense, the next step is to make the cookie paste. To do this, take a second mixing bowl and place in the two sugars, the eggs, the vanilla essence and the melted butter.
Mix all of the ingredients together to form the cookie paste.
4. Finish the dough and prepare the cookies
Now, finish the cookie day off by folding in the dry flour mix.
Once folded in, split the dough in half for the two different ingredients and fold these into each half respectively.
With the cookie dough now ready, line 2 baking trays with greaseproof paper and spoon individual cookie dollops onto the trays. Don't worry about the shape, the cookies will flow out in the oven, just try and keep each cookie a similar size. Also, make sure you leave a reasonable gap between each cookie.
5. Bake the cookies and enjoy
With the cookies ready for baking, place them in a pre-heated oven at 180C / 160C Fan and bake for around 20 minutes or until the outside of the cookies starts to brown.
Once baked, remove from the baking tray and place on cooling wires to cool.
And that's it. Wonderful chewy chocolate cookies made right at home. Make them and eat them anytime. Yum…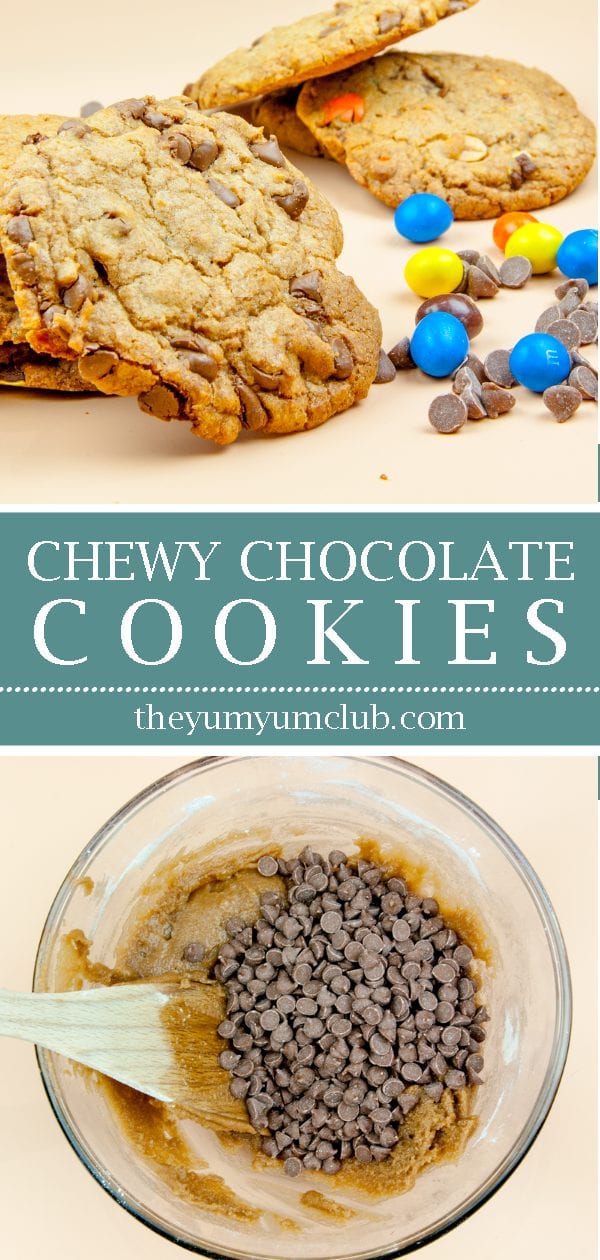 Children and adults will surely love this chewy chocolate cookie recipe. You can serve it with coolers, such as fruit shakes, juice, or yogurt. Also, hot beverages do well with chewy chocolate cookies such as milk or hot chocolate. 
You can make any ordinary day more special by baking similar goodies, perfect for family bonding while watching TV or on a picnic. They also make healthy and delicious treats after schooling. Chewy chocolate cookies are also great giveaways during holidays, birthday parties, Thanksgiving, and even Halloween.
I do hope you enjoyed this very sweet post. A great little treat. However, if eating a couple of these make you feel a little guilty then why not try one of The Yum Yum Club's more healthy recipes like one of the below…
As always, many thanks for reading and until next time…Steve.
6. Nutritional values
7. Printable recipe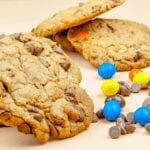 Chewy Chocolate Cookies
Chewy chocolate cookies. Just like the ones you get from your local coffee shop. Sweet, chewy, chocolaty and so yummy. Make them at home. Eat them anytime. | theyumyumclub.com
Cuisine:
American, English
Keyword:
biscuit, cookie, cookies, snack
Ingredients
250

grams

flour

1/2

tsp

baking powder

170

grams

melted butter (unsalted)

220

grams

brown sugar

100

grams

white sugar

15

ml

vanilla essence

1

egg

1

egg yolk

165

grams

milk chocolate chips

165

grams

M&Ms
Instructions
First, gather all of the ingredients together.

Sieve the flour and baking powder into a bowl and then add the salt.

Put the white and brown sugar, eggs, vanilla essence and melted butter into a bowl.

Mix this all together to form a paste.

Now fold in the flour mixture to create a slightly thicker paste.

Split the mixture into two and mix in the chocolate chips and M&Ms into each half respectively.

Now spoon dollops of the mixture onto baking paper lined baking trays. Leave enough of a gap between each cookie as they will flow whilst baking.

Place the cookies in a preheated oven at 180C / 160C Fan for around 20 minutes or until the edges of the cookies have browned over.

Once baked, place on a wire tray to cool.