Granny Smith and cinnamon smoothie. I'm not sure about you but it conjures up the image of an English garden in summertime. Sitting outside and just take in the sights and sounds. Fresh apples. Wonderful spices and honey taken from local bees. Ahh, bliss…
Well, there's a little more to it than that. As well as the relaxing notion created above, this wonderful recipe provides and very healthy a low-fat drink. Have it as a breakfast start to the day and the high fibre content will keep you going for hours. More than that, it has great antioxidant qualities.
The key to this tasty smoothie is the apples…
1. Granny Smith apples
So why did I choose Granny Smith apples? Well, before I explain this I will add that any apples will do so don't worry if you cannot get them at your local store. Any apple will make this great smoothie.
Granny Smith apples are perfect for combining with cinnamon and honey. Their tart and sharp taste are complimented by the spice and the natural sweetness of the honey and go together to make a sort of apple pie smoothie. In fact, I almost called this recipe the Apple Pie Smoothie.
More than this though, Granny Smith apples, above all other apples, have the highest content of antioxidants and the lowest calories. They are also high in fibre and vitamin C. If you'd like to read a little more about this green beauties click the link here…  ▶
In the meantime, let's make this bad boy…
2. Gather all of the ingredients together
As with most healthy smoothies, this is a simple recipe with just 6 ingredients. The fantastic Granny Smiths and a sprinkle of cinnamon obviously. In addition, however, I've added honey as a natural sweetener and used almond milk for the liquid. This makes this recipe suitable for those on a vegan diet. In addition, there is some banana and avocado to add thickness and a little more healthy fibre, amongst many other benefits.
I've spoken about the healthy benefits of Granny Smith apples above but the avocado, banana and almond milk should not be overlooked. I've spoken of their great health and particularly antioxidant benefits in previous smoothie post. You can see these here ▶. However, if you'd like a more detailed view on the health benefits of bananas and avocados respectively I found these two great articles that go into a great deal of depth…
The printable recipe is below and makes 6 good sized smoothies. Obviously, just scale up or down as you need.
3. Remove the apple cores
To remove the apple cores simple cut each apple in 4 and slice diagonally across the to remove the core. See the video below for a live demonstration. The end result should be similar to eh following…
Note that I have left the apple skins on. This can be removed and will result in a smoother smoothie. However, the bulk of the health benefits of the apple are in the skin so I do advise leaving it on.
4. Prepare the avocado
To prepare the avocado the stone needs to be removed and the fruit removed from the skin. Again, this can be viewed in the video below. However, I prepared a more detailed tutorial in The Yum Yum Club's techniques section. You can view this by clicking the photograph below…
5. Blend, blitz and enjoy
With all of the ingredients prepared it's now time to make the smoothie. It's a smoothie so just add them all to a blender (use a hand blender if you do not have a kitchen blender) and blitz. Blitz for around 30 seconds to 1 minute until smooth and then serve.
And that's it my smooth smoothie fans. Granny Smith and cinnamon smoothie. Very healthy, very filling and a great start to the day. Take a second for lunch and you can relax a little over dinner. Yum!
6. Video tutorial
I know this is not a difficult recipe but I decided to keep the standards up and make a video tutorial anyway ????. I hope you enjoy it if or no other reason than the fantastic ragtime piano and my fancy knife work! Haha!
If you like this recipe then why not sign up to the newsletter at the top of the page and I'll keep you updated on all new features. You can also follow us on Facebook or Pinterest at the top right of the page.
As always, many thanks for reading and until next time… Steve.
7. Nutritional values



8. Printable recipe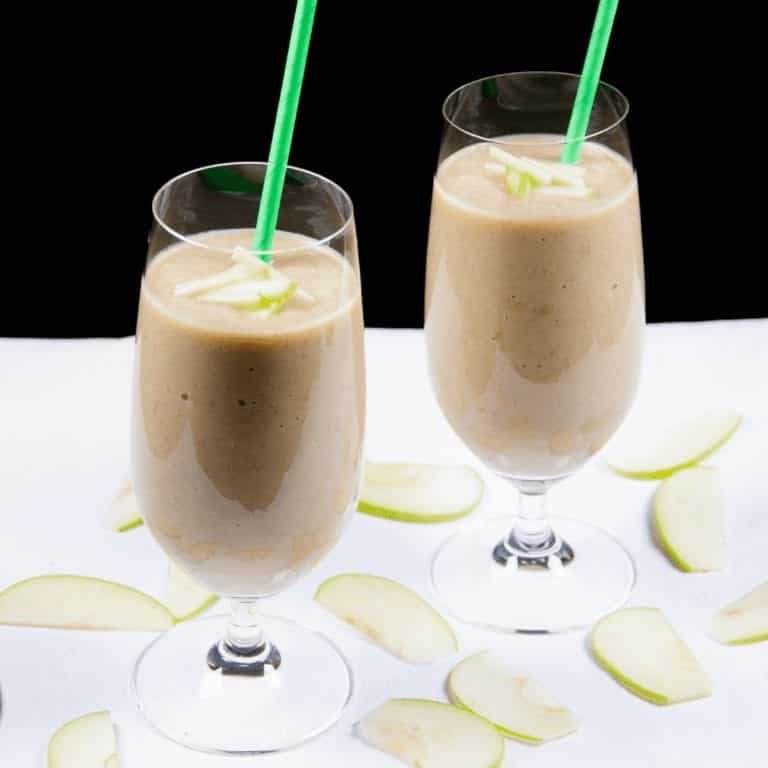 Granny Smith and Cinnamon Smoothie
Granny Smith and cinnamon smoothie. The freshness of a green apple combined with spicy cinnamon. Thicken this with banana and avocado and you have a fantastic start to the day. Yum! | theyumyumclub.com
Course:
Breakfast, smoothie
Cuisine:
American, English
Keyword:
almond milk, apple, avocado, banana, Breakfast, cinnamon, smoothie
Ingredients
2

banana

1

avocado

6

Granny Smith apples

10

fl oz

almond milk

Metric 300 ml

2

tsp

cinnamon

3

tbsp

honey
Instructions
First, gather all of the ingredients together.

Remove the core from the Granny Smith apples. Keep the skins on if you wish.

Remove the stone from the avocado.

Place all of the ingredients into a blender and blitz. 

Garnish with some sliced apple and there you have it. Healthy and very tasty Granny Smith and cinnamon smoothie. A great start to the day. Yum!