Well, it's almost that time of year…sleigh bells and reindeer, turkey and stuffing, parsnips and sprouts. Yep, Christmas is almost upon us. Time to be merry to all and, no doubt, entertain friends and family throughout the festive period. Now, they all know you like to cook. And the more you cook the higher their expectation each time. Right? It's the downside of having a hobby which involves other people looking to you for inspiration. So, how do you impress from the start?
We have all heard the old adage that you never get a second chance to make a first impression. So, following this, it makes sense that the moment all those friends and family walk through the door, you need to have something that you can greet them with that results in a gasp and a wow!! Queue these wonderful Christmas parsnip canapes…
Now, parsnip crisps (or chips if you're Stateside) are simple to make and are a great healthy alternative to your standard Walkers or Doritos. I'll show you how we make them below but, today, you are not going to just sprinkle salt on them and hand them out. Oh no. You're going to make a chunky guacamole and add a spicy prawn to half of them. Then, a wonderful smoked salmon, cream cheese and pistachio mix for the other half. These are yummy I can tell you…
So let's make them…



1. The ingredients and preparation
There is a quite a bit of preparation for these Christmas parsnip canapes but it will be worth it I promise. You'll need to prepare the cream cheese and pistachio, and the guacamole. You'll also need to cook the spicy prawns and the parsnips. Finally, you'll have to roll the smoked salmon and then put the canapes altogether.
As usual, the printable menu is at the foot of this post. However, I'm now going to walk you through how to make these wonderful Christmas parsnip canapes in detail…
2. Make the cream cheese and pistachio topping
This is very simple to make. Just take your cream cheese. I used a tub of Philadelphia cream cheese but any cream cheese will be fine. In fact, if you feel extravagant then replace the cream cheese with goat's cheese. It will give a far stronger taste.
Next, take the cheese and put it in a bowl and whisk through with a fork just until it turns a little more creamy than straights out of the tub. Then crush some pistachios. 12-15 should be enough and add to the bowls. Finally, wash and finely chop 3 good sprigs of dill an add this to the bowl.
Now just mix all of this together and place in the fridge while you make the guacamole.
3. Make the chunky guacamole
A couple of weeks or so ago I did a separate post on how to make chunky guacamole. If you click the link you will find it there along with a printable recipe.
Once made, cover with clingfilm and put the chunky guacamole in the fridge while you turn to the parsnips.
4. Shallow fry the parsnip chips
You will need large parsnips for this. The larger the circumference the better. Firstly, top and tail the parsnips and, using a potato peeler, peel the outer skin off the parsnips. Next, and using either a large kitchen knife or a mandolin, slice the parsnips around 2-3mm thick. You can see examples of size in the picture below.
For the frying take a standard frying pan and add around 3cm of vegetable oil. Heat this up ready for frying. Now add the sliced parsnips a batch at a time. You should not overfill the frying pan.
Fry them until the edges start to turn brown. Be careful now because they will start to crisp up and burn very quickly. Remove from the oil with a slotted spoon and place on some kitchen paper and leave to cool.
4. Cook the spicy prawns
I used ready cooked prawns but you call use raw. Just roll the prawns in a little cayenne pepper or chilli powder, depending on your taste, and then either cook or heat through in the pan, depending on whether the prawns are raw or pre-cooked.
Now just place in a bowl and leave to cool.
5. Roll the smoked salmon
This is the final part of the preparation before you can assemble the canapes.
Simply take a sliver of smoked salmon and cut a strip off around 2 cm in width. Cut as many as you require for the smoked salmon canapes and then just roll them up as if you were rolling up a poster or a rug. Next sit them up vertically and add a little sprig of dill to each one. A bit like little Christmas trees…
6. Assemble the Christmas parsnip canapes and serve
This recipe shows you how to prepare 2 different types of canapes. Firstly, for the spicy prawn Christmas parsnip canapes take your shallow fried parsnip and put a teaspoon dollop of chunky guacamole into the centre of the parsnip. Now take spicy prawn and place it into the guacamole so that it stands proud.
All ready for eating…
For the smoked salmon canapes again take the parsnip slice but this time add a teaspoon full of the cream cheese and pistachio mix to the centre. Now take your smoked salmon and dill roll and place this in the centre of the cream cheese. Finally, sprinkle a few more crumbs of pistachio and serve. Yum!
And that's it my foodie friends! Christmas parsnip canapes that will make your friends and family gasp and go wow!! Remember though, they'll want even more next time!! ????
As always, your comments and questions are welcome so please let me know how you get on, or any other variations you may have. I'd love to try them.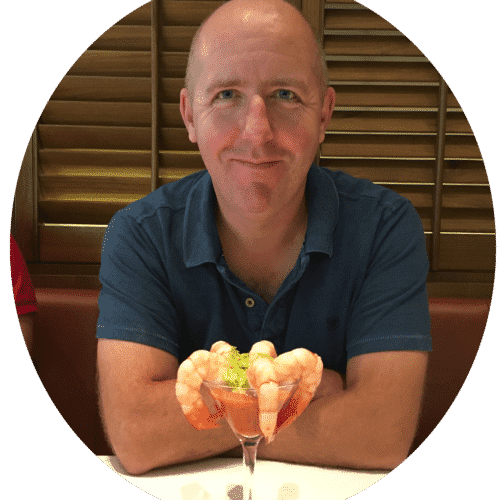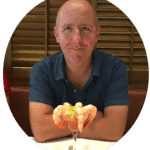 Until next time and thanks for reading…Steve.
Like the canapes? Why not try these other snacks and dips…
Christmas Parsnip Canapes
Keyword:
Canapes, Dip, Easy, Healthy, Mexican, Prawns
Ingredients
2

large parsnips

top and tail and peel

1

dish of chunky guacamole

see the chunky guacamole recipe on recipe page

1

tub of cream cheese

15

pistachios

crushed

3

sprig of dill

finely chopped

Dill for the smoked salmon garnish

3

slices of smoked salmon

1

bag of large shelled prawns

cooked or raw

Vegetable oil for shallow frying the parsnips

Seasoning

Cayenne pepper
Instructions
Make the cream cheese and pistachio mix by adding 12-15 crushed pistachios to the cream cheese. Then add 3 sprigs of finely chopped dill and mix in thoroughly.  Season and leave in the fridge.

Next, pour the vegetable oil into a average sized frying pan until there is around 3cm of oil in the pan. Heat the oil to frying temperature and then add the sliced parsnips. Fry until they start to turn brown and then remove with a slotted spoon and place on kitchen paper to cool.

Now take the prawns and coat with either cayenne pepper or chill powder. Then fry the prawns and cook through if raw, or heat through is pre-cooked.

Next make the smoked salmon rolls. Cut each sliver of smoked salmon into 2 cm strips and the roll each strip as if you were rolling up a poster or a rug. Finish by adding a sprig of dill to the top of each roll.

Finally assemble the canapes. For the spicy prawn canapes take a teaspoon and spoon the guacamole into the centre of the parsnip slice. Then finish by slotting a spicy prawn on the top. 

For the smoked salmon canapes take a teaspoon and spoon the cream cheese and pistachio mix into the centre of the parsnip slice. Then finish by adding a smoked salmon roll to the cream cheese and sprinkle with some pistachio crumbs.

And there you have it. Christmas Parsnip Canapes that will make your friends and family gasp and go wow!!