Today Jen fancied something a little Greek. Just to be clear, something a little Greek. Not, a little Greek!! ????
Being New Year though it needed to be relatively healthy. I was a little stumped, to be honest. Usually, for my Greek dishes, it's kebabs or some form of griddled lamb with lots of pitta bread. Pretty tasty but a little calorific too.
A took a step back, therefore, and mused the idea over a glass of ouzo. Just to get in the mood. And then, of all things, Jen smashed plate and there I was, in the land of Greek inspiration. All I could think about was the wonderful strong taste of good quality feta cheese. Still a few calories there but I thought, in a salad? With a touch of smoked salmon to add some healthiness? I think both the touch of Greek and our dual consciences would be appeased.
Smoked salmon and feta salad. Perfect…
Not difficult to make as I'm sure you've gathered but still enough for some great photos. Let's make it together…
1. Get the ingredients together
As always, I recommend getting all of the ingredients together before starting. For this herculean salad, there are only 7 so easy to do. Smoked salmon, feta cheese, hard-boiled eggs, lettuce leaves, roughly chopped bull tomato, sliced red onion, and sliced cucumber. To hard boil the eggs just place into salted boiling water for 12 minutes. The cool under cold water and remove the shells before use.
The measurements are in the printable recipe but remember these are for one salad only so just scale up as you need too.
2. Prepare the salad
For the base salad, first, take the lettuce, I use Little Gem, and remove any less than fresh outer layers. Break the remaining lettuce apart and present in the salad bowl.
Now, add the sliced cucumber, chopped tomatoes, and olives if using them. I didn't for this one simple because it forgot to but them. Yes, I was in trouble…
Half the eggs and lay those on top.
Now time to add the Feta cheese. When you buy feta cheese it's worth paying that little extra to get the best full-fat cheese. I know it has a few more calories but it is so much better than cheap alternatives. Just crumble this over the salad.
Note that I don't add olive oil as a dressing to this salad because the feta cheese is usually protected in olive oil and this tends to be enough.
With the feta now added lay the smoked salmon slices over the top.
And finally the sliced red onion and a touch of sea salt and ground black pepper.
And there you have it. A wonderful touch of Greece in a Smoked Salmon and Feta Salad with less than 500 calories! Yum!!
Ok, that's all for now folks. I hope you enjoyed this salad post as much as I enjoyed eating it. I highly recommend you give it a go. If you do I'd love to know what you think. Just use the comments section below.
Also, If you want me to let you know about more recipes as they get posted just subscribe to my newsletter at the top of the page, or follow me on social media. Again, links on the top of the page.
As always, many thanks for reading and until next time… Steve.
3. Nutritional values
4. Printable recipe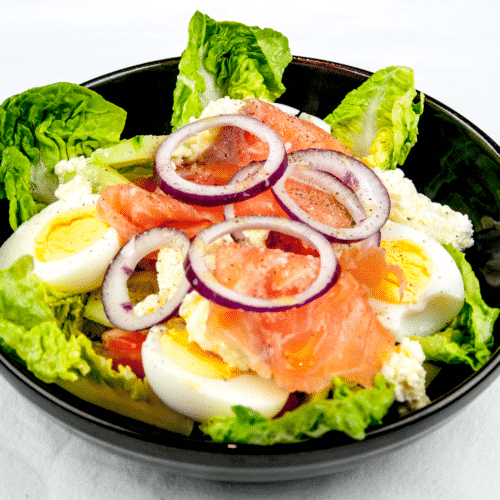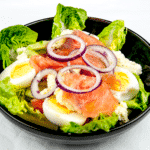 Smoked Salmon and Feta Salad
This is a fantastic smoked salmon and feta salad. The feta and the smokiness od the salmon really work. A touch of Greece in your own home Yum!

Course:
Appetizer, Dinner, Lunch
Cuisine:
American, English, Greek
Keyword:
feta cheese, olives, Salad, Smoked Salmon
Ingredients
2

large slices of smoked salmon

1/2

cup

room temperature feta cheese

2

large eggs boiled

1/2

bull tomato roughly chopped

1

baby gem lettuce

1/2

cup

sliced red onion

7

black pitted olives (optional)
Instructions
First, get all of the ingredients together.

Now prepare the salad by removing the outer leaves of the lettuce, break the other leaves away, wash and present in the salad bowl. 

Now, add the tomatoes, cucumbers and optional black olives.

Next, half the hard boiled eggs and add these to the salad.

Finally, place the red onion slices and season with sea salt and ground black pepper. Enjoy!!